Current trials with intravesical treatment in high-risk BCG-naïve NMIBC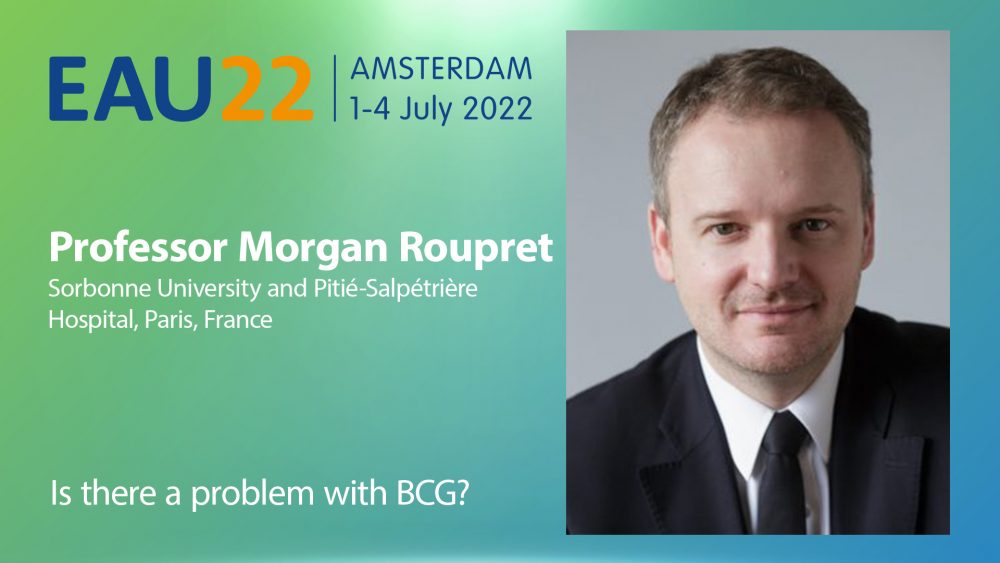 Intravesical therapy with chemotherapy or BCG is the recommended adjuvant treatment after TURBT to minimise the risk of recurrence. BCG shortages continue and BCG is not suitable for all patients but alternatives are being developed and trialled.
In this video Professor Morgan Roupret (Paris, France) offers his perspective on the current status of BCG.
Professor Roupret is a full Professor of Urology at Sorbonne University in Paris. He works in Pitié Salpetriere hospital where he is in charge of the Department of Onco-urology.
BCG has been in use for many years and is the 'gold standard'  treatment in the EAU guidelines for adjuvant treatment after endoscopic surgery. "We should bear that in mind – that surgery is a key step in the treatment of these patients", he emphasises.  The question facing urologists today is whether there is a group of patients who do not respond to BCG and who should be considered for other treatments. It is also true also that there have been shortages in the production of BCG and this has led to difficulties in obtaining the quantity and the volume of BCG that was available 10-20 years ago, he acknowledges.  "So, we are considering new drugs or alternatives – not to replace but to challenge BCG", he says.
Intravesical therapy for BCG-Naïve NMIBC
Trials are under way to improve the effectiveness of intravesical therapy for high-risk, BCG naïve NMIBC, according to Professor Ashish Kamat (Houston, Texas, USA). These include:
Alternative drug delivery systems for intravesical chemotherapy
Intravesical immunotherapy or combinations of intravesical therapy with systemic immunotherapy
Genetically-modified BCG
Novel agents – EG-70 and N-803
Professor Kamat sounded a note of caution regarding the recent change in risk stratification for NMIBC tumours. In the most recent EAU guidelines, some Ta, grade 3 tumours are no longer always in the high-risk category. It is important to keep in mind that when many of the published studies were undertaken, the older classifications were used, he emphasised. "All Ta, high-grade tumours behave similarly", he said.
Other than BCG, chemotherapy is the current standard of care (SoC). Approaches designed to improve the effectiveness of chemotherapy include the use of mitomycin C gel, (UroGen Pharma) and the GemRIS intravesical device (Taris) which is "like a little pretzel that is impregnated with gemcitabine" and releases the drug slowly over a period of weeks. Heated chemotherapy using either Combat or Synergo systems is another option.
Sequential gemcitabine and docetaxel is "something that we all have to be aware of", noted Professor Kamat.  It is currently the SoC in the USA for BCG-unresponsive BC and has now been adopted for the BCG-naïve setting.  On basis of its success the BRIDGE study has been designed and is due to start shortly (A randomised phase III trial of intravesical BCG veRsus Intravesical Docetaxel and GEmcitabine in BCG naïve NMIBC). This has a non-inferiority design.
Hyperthermic intravesical chemotherapy (HIVEC) is very widely used in Europe but is not yet available in USA. A prospective registry in Spain shows good response rates with 87% and 84% two-year and five-year progression free survival (PFS) in high-risk patients (based on the old risk stratification criteria).
The Sunrise-3 trial compares TAR-200 (Taris 'pretzel' device containing 225 mcg gemcitabine) + systemic cetrelimab (PD-1 inhibitor) against intravesical BCG.
A number of studies are under way that incorporate systemic immunotherapy with or without intravesical BCG  e.g.  POTOMAC that includes durvalumab, ALBAN that uses atezolizumab, CREST that uses subcutaneous sasanlimab, and Keynote 676 (KN676) that uses pembrolizumab.
Intravesical pembrolizumab has been studied in a Phase 1 trial that had to close early due to the coronavirus pandemic. The results showed that there was efficacy but also significant toxicity, said Professor Kamat.
EG070 – a dual RIG-1 agonist/IL-12 local gene therapy – has been trialled in BCG-unresponsive NIMBC and is now being used in a Phase 2 study in the BCG-naïve setting in the LEGEND study.
Intravesical N-803 – an IL-15 superagonist that upregulates Natural Killer (NK) cells and T cells – is being trialled in combination with BCG (vs BCG alone).
Verity VPM1002 is genetically modified BCG –  "a supercharged BCG" – modified with listeriolysin pore-forming modification. It also generates a favourable pH for listeriolysin activity. Studies using this agent are still in the very early stages, he noted.
Guidelines for clinical trial design in NMIBC were drawn up in 2016 but since then the introduction of immunotherapy has changed the picture somewhat. New guidelines have been drawn up in collaboration with the Society for Immunotherapy of Cancer (SITC). EAU/SITC recommend that all high-grade tumours should be classified as high-risk for purpose of clinical studies. A further stipulation is that BCG-naïve patients should not be enrolled in single arm studies, there must be a control group. The POTOMAC trial underlines the reason for this – the cut-off date has been continuously pushed back because events are occurring at a slower rate than expected. Had this been a single arm study, with comparison with historical controls, the results could have been misleading.  Part of the reason for this is that contemporary BCG outcomes are much better than what many clinicians remember from old reports. Results from the MD Anderson Cancer Center show that when patients are given the appropriate resection with the use of blue light, progression and recurrence rates in high-risk patients are extremely low, he explained. Therefore, even in 2022, BCG remains "the treatment to beat" and it has to be the control arm for high-risk, NMIBC tumours that are BCG naïve – "so long as we have got BCG!", concluded Professor Kamat.
Interview and article by Christine Clark PhD FRPharmS.