Why bladder cancer matters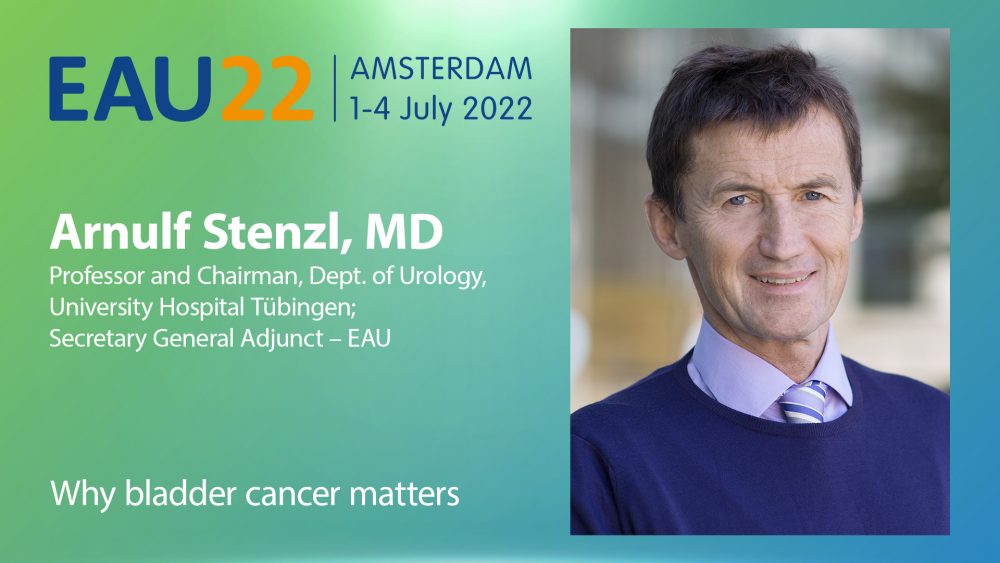 Bladder cancer is the 5th most common tumour in men and the 7-8th most common tumour women, according to Professor Arnulf Stenzl, Head of the Department of Urology in the University Hospital Tübingen, Germany. In this video he explains why bladder cancer matters.
At the time of diagnosis between a quarter and a third of cases are already advanced disease that goes beyond the mucosa and into the muscle. Sometimes the disease goes beyond the muscle and 10-15 percent of cases already have metastatic disease.
Bladder cancer is an expensive disease because many patients survive for long periods but require numerous interventions to keep them alive.  If the disease progresses, then major surgery, chemotherapy or immunotherapy is necessary. "All that is not pleasant for the patient, but in some cases, it is dangerous and even deadly", says Professor Stenzl.
Major advances and unmet needs
There have been several important advances in bladder cancer management in recent years including increased awareness of the disease and developments in diagnosis and treatment. However, urologists still have a wish-list of unmet needs.
In this video Professor Stenzl describes the major advances in bladder cancer in recent years and the as yet unmet needs:
One important advance has been the raising of public awareness of bladder cancer. This is especially important as bladder cancer is often a preventable disease, for example, arising from exposure to nicotine (from cigarette smoking) or occupational exposure to industrial toxins, explains Professor Stenzl.
Another advance has been the growing use of biomarkers to diagnose bladder cancer or to identify candidates for cystoscopy or biopsy.
Advances in techniques for detecting tumours and/or delineating high-risk areas during cystoscopy "is something that really helps" in finding actual disease and determining the extent of disease. This helps the clinician to formulate the most appropriate treatment strategy and may help to avoid unnecessary major surgery, he says.
Moreover, even non-muscle invasive bladder cancer (NMIBC) can be stratified according to molecular substaging and circulating tumour DNA in blood. This has been shown in both muscle-invasive bladder cancer (MIBC) and NMIBC. In addition, adjuvant immunotherapy after chemotherapy, where there is a high risk of recurrence after cystectomy, or after radiotherapy, might even cure patients if treatment can be continued for long enough.
Unmet needs in bladder cancer
One major unmet need is for early detection and prevention of disease progression so that patients do not reach the stage of having invasive or metastatic disease, explains Professor Stenzl.
Another unmet need is for a non-chemotherapeutic treatment for very advanced disease – something that could prolong systemic therapy with acceptable morbidity. Such a treatment could perhaps prevent progression and death (from bladder cancer) and might be a possibility within the next few years.
Shortage of good data is another unmet need. Registries for bladder cancer are needed to collect data and see "how patients with NMIBC as well as advanced disease fare and how they respond to different forms of treatment that are already available", he says.
Interview and article by Christine Clark PhD FRPharmS.