Lynch syndrome – what urologists need to know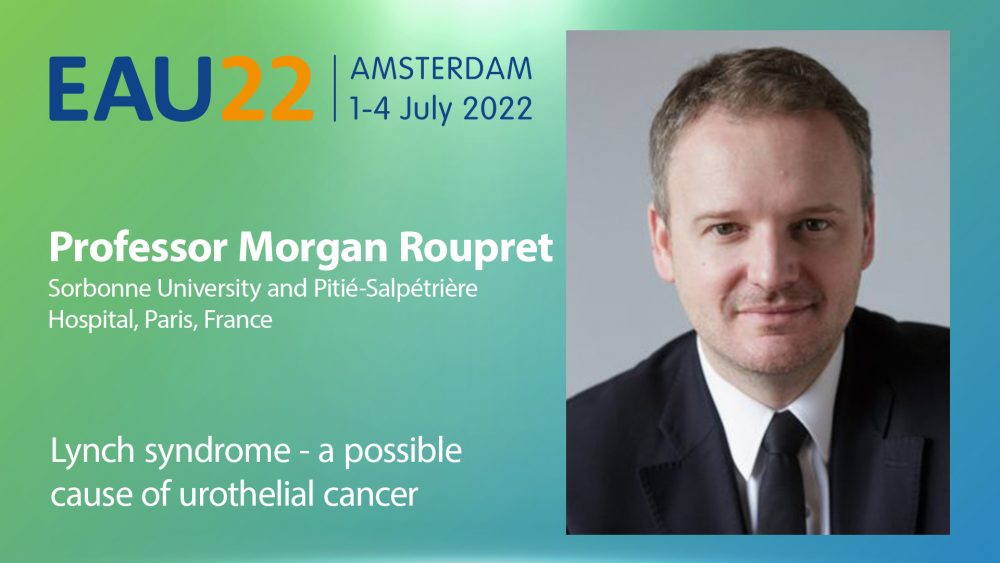 Lynch syndrome, an inherited cancer syndrome, has been prominently associated with colorectal cancer but other organs, including the urinary tract can also be affected. As a hereditary condition, it has important implications for patient management, as Professor Morgan Roupret (Pitié Salpêtrière Hospital, Paris) explained.
A small proportion (~5%) of urothelial cancers are caused by genetic factors and the most common of these is Lynch syndrome.  This was first described by Aldred Warthin in 1895 and is also known as hereditary non-polyposis colorectal cancer (HNPCC). Although commonly associated with colorectal cancer it also affects other organs and up to 40% of tumours are not colorectal. As it is an inherited condition, it is important for the clinical to take a careful family history.  Knowing that the median age for diagnosis of upper tract urothelial cancer is 75 years, "as soon as you meet a patient aged below 55 years with an upper tract tumour you should at least think about it", advised Professor Roupret.
Lynch syndrome is now known to be associated with defective DNA mismatch repair mechanisms, as a result of genetic mutations, and consequent microsatellite instability. The main genes involved are MSH2 or MLH1. Organs affected can include brain, skin, stomach, biliary ducts, upper urinary tract, small bowel, ovaries and endometrium. This means that patients with upper tract urothelial cancer (UTUC) may need to be referred to other specialists for further investigation and follow up.
The consequence of the defective DNA mismatch repair mechanism is loss of key cellular pathways and release of multiple neoantigens. It has an impact on the prognosis of colorectal cancer and also has implications for treatment. "The choice of treatment can be made according microsatellite instability status", explained Professor Roupret. "We don't know yet if there are consequences terms of choice of …treatment when it comes to urothelial cancer", he acknowledged.
The Bethesda criteria are used to test for microsatellite instability (MSI) and identify people with Lynch syndrome. Starting with a patient under the age of 50 years with colorectal cancer, a number of conditions have to be met. This further underlines the importance of the medical interview, noted Professor Roupret.
The EAU guidelines provide a flow chart for managing suspected HNPCC. (See figure 1). An essential element here is having "someone in your network who is able to do proper familial genetic counselling", he emphasised.
Figure 1: Flow chart for suspected hereditary UTUC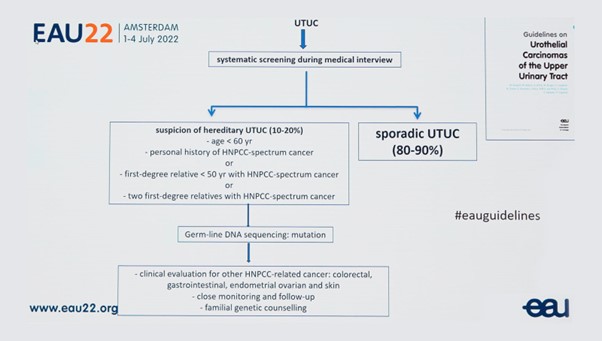 Interview and article by Christine Clark PhD FRPharmS.