Semaglutide: what you need to know about online supply and effective use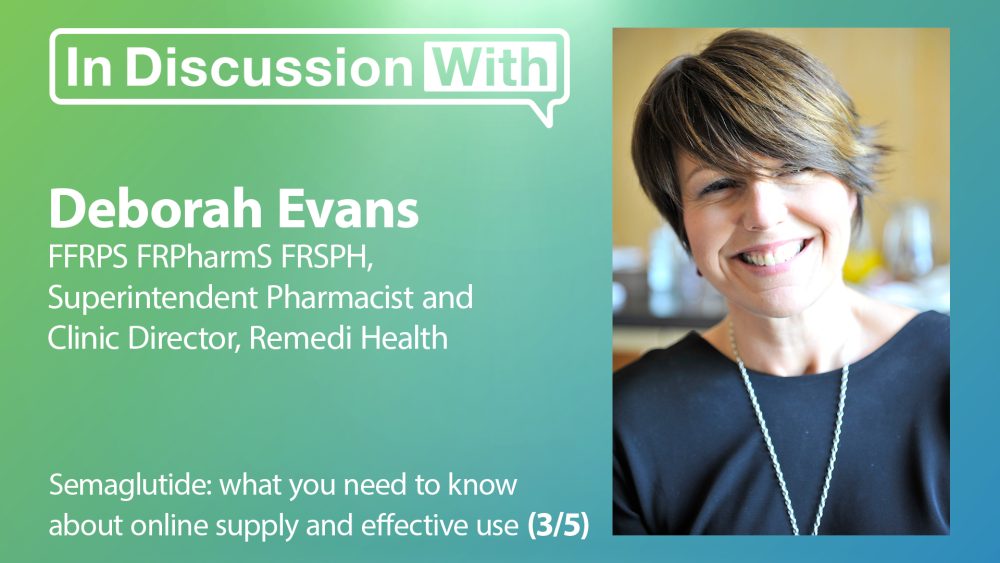 Online supply of semaglutide makes the medicine more accessible but may not provide the best support or guidance to enable people to get the best out of the treatment, according to Deborah Evans, Superintendent Pharmacist and Clinic Director at Remedi Health.
The availability of semaglutide via online suppliers has the merit of giving "wide access to an important medicine for many people who are struggling with being overweight, …. many of whom have …… comorbidities and are at risk of developing ….. cardiovascular disease", says Ms Evans. However, it is not the model that is followed at Remedi Health. "For us the engagement with the individual face-to-face is incredibly important. It's important for a number of reasons – we can properly understand some of the struggles that an individual has had with their weight over the years, what's worked for them, what hasn't worked for them [and] what their goals of treatment are. We can talk to them honestly and openly about the benefits of treatment but also the risks", she continues.  It is also important to demonstrate how to use (inject) the medicine and to ensure that clients "understand what to do if things don't go according to plan".  In addition, "we can engage them in behavioural change and [use] motivational interviewing techniques to make sure that any supply of medicine for weight loss is combined with a broader weight management program"., explains Ms Evans. "The vast majority of people will go on to gain weight once they stop the program that they're on, so you end up with this 'yo-yoing' which is not good for your health but it also is incredibly demoralising", she adds. Helping people to establish healthier habits and to understand that it's a long-term programme rather than a quick fix is important.
Ms Evans also notes that Ozempic has been widely advertised (by online suppliers) and she points out that in the UK it is illegal to promote prescription-only medicines to the public.
Titration of dose
Another important aspect of treatment with GLP-1 analogues is dose titration – carefully increasing the dose as higher doses are tolerated. "If we were to go in with the therapeutic dose straight away most people would have a significant amount of side effects – this feeling of fullness, delayed gastric emptying. They probably would be sick or feel sick and may have headaches so what we do is we titrate people up nice and slowly. So, we'll stick on a starting dose – usually of 0.25 milligrams, if we're prescribing Ozempic – for a month. So that's four weekly doses of 0.25 milligrams then we'll go up to 0.5 milligrams for the second month then we go up to one milligram for the third month and we titrate to [response] – to when people feel comfortable", explains Ms Evans. Responses to the drug vary. Some people do not need the full therapeutic dose while others can be impatient to increase the dose as quickly as possible to get the weight loss that they desire.  This is where the counselling is helpful "because people need to be encouraged that sticking with this, particularly when you don't feel great, is important because you will reach a therapeutic dose when it starts to have a big impact on weight loss, but it may not be immediately", says Ms Evans.
Read and watch the full series on our website or on YouTube.