Pharmacy-led obesity management with GLP agonists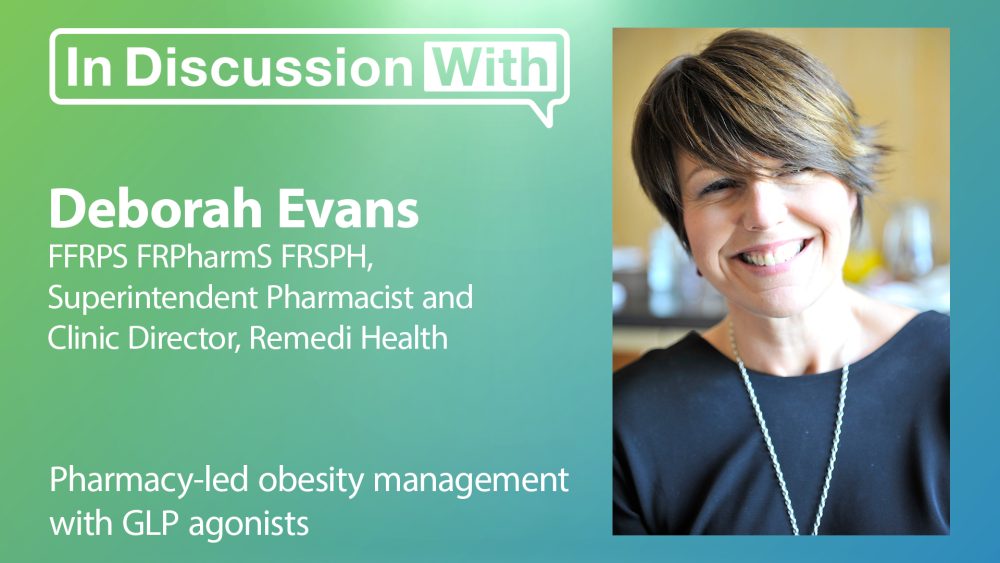 Deborah Evans is Superintendent Pharmacist and Clinic Director at Remedi Health, where she runs a weight management service, including the provision of semaglutide. In this series of short videos, she describes the service, her experiences with the drug and what questions patients should ask when considering treatment with a GLP-1 analogue.
Semaglutide and how it makes you want to eat less
Ms Evans explains that semaglutide mimics the action of glucagon-like peptide-1 (GLP-1) – a hormone produced in the intestines in response to the presence of food. It helps to regulate appetite by promoting feelings of fullness and reducing the urge to eat more. "One of the side effects of this medicine …… is that we can end up feeling really quite full to the point of nausea", she comments.
She emphasises that getting the best out of semaglutide involves some lifestyle changes. "It's important to make sure people understand how these medicines work, listen and tune in to their body, adopt a healthy eating plan and exercise – and then they will lose weight", she says.
Wegovy or Ozempic – does it matter?
Both Wegovy and Ozempic are brand names for semaglutide – the difference is that Ozempic is licensed for treatment of type 2 diabetes whereas Wegovy is licensed for weight management. Some problems have arisen as widespread publicity has driven demand for semaglutide and at present (June 2023) Wegovy is not yet available in the UK. For this reason, off-label Ozempic has been prescribed for obesity treatment and shortages in the supply of Ozempic have occurred.
The two drugs are presented in slightly different concentrations and dose schedules. In the landmark STEP1 trial semaglutide was given at a dose of 2.4 mg but Ozempic is not available in this dose. "If I go to the dosing of Wegovy,  you start at 0.25 then you go up to 0.5 then you do one milligram then you do 1.7 milligram and then you do 2.4 milligram and  you only reach 2.4 milligram by month five where whereas with Ozempic we do 0.25 for a month, 0.5 for a month then you probably stick around that for months three and four but you could go up to one milligram in the third month and then it stops", says Ms Evans. Higher doses can then be prescribed if required.
Semaglutide: what you need to know about online supply and effective use
Online supply of semaglutide has the advantage of making the medicine more accessible but may not provide adequate support to enable people to get the best out of the treatment, says Ms Evans.
"For us the engagement with the individual face-to-face is incredibly important. It's important for a number of reasons – we can properly understand some of the struggles that an individual has had with their weight …. [and] what their goals of treatment are. We can talk to them honestly and openly about the benefits of treatment but also the risks", she says.
Another important aspect of treatment with GLP-1 analogues is dose titration.  "If we were to go in with the therapeutic dose straight away most people would have a significant amount of side effects – this feeling of fullness, delayed gastric emptying. They probably would be sick or feel sick and may have headaches", she explains.
How to provide semaglutide in an ethical weight-loss clinic
Taking time to understand a patient's weight loss goals and checking their medical history to ensure there are no underlying problems that may need onward referral are both key elements of an ethical weight-management service.
Once again, Ms Evans emphasises that weight loss with semaglutide is not a quick fix and should be the result of an informed decision by the patient. "We use behavioural techniques to support them in whatever change they want to [make] and make sure that this is part of a broader health and well-being approach. ….  It's not cheap – it's an expensive treatment – and it could make them feel really quite unwell to start off with. People describe feeling nauseous [and] having headaches as they titrate up their medicine", she says.
Another important aspect of the service in clinical governance – especially important when the medicine has not been available for long and long-term safety data are lacking. "We need to make sure that we're safeguarding our patients and making sure that everything that we do is appropriately documented and supported with evidence", says Ms Evans.
Offering the best weight-loss service for the patient
People seeking semaglutide for weight management from a pharmacy-led service need to feel assured that the service is ethical and legal and has their best interests at heart.
Ms Evans suggests that there are a number of questions that people should ask and points that they should check to satisfy themselves that a potential supplier is offering a high-quality service. These include checking that online services are registered with the General Pharmaceutical Council (GPhC) (or General Medical COucnil (GMC) and checking that the information provided covers benefits, risk and side effects and what to do if something goes wrong.
Putting it all into perspective Ms Evans says:
"It is incredibly important to address the issue of being overweight and obesity. ……  For me, it's about helping those individuals who have for years struggled with being overweight or obese and are now heading to perhaps a shortened lifespan".
About Remedi Health
Ms Evans has a hands-on clinic role and regularly has 30–60-minute consultations with clients. Remedi Health offers a wide range of services including a menopause service, phlebotomy, diagnostics, vaccinations, ear health, allergy testing, DNA testing and pharmacogenomics. It also draws on the services of specialists including  dermatology specialist, an endocrinologist and a nutritional therapist.
Read and watch the full series on our website or on YouTube.