Semaglutide and how it makes you want to eat less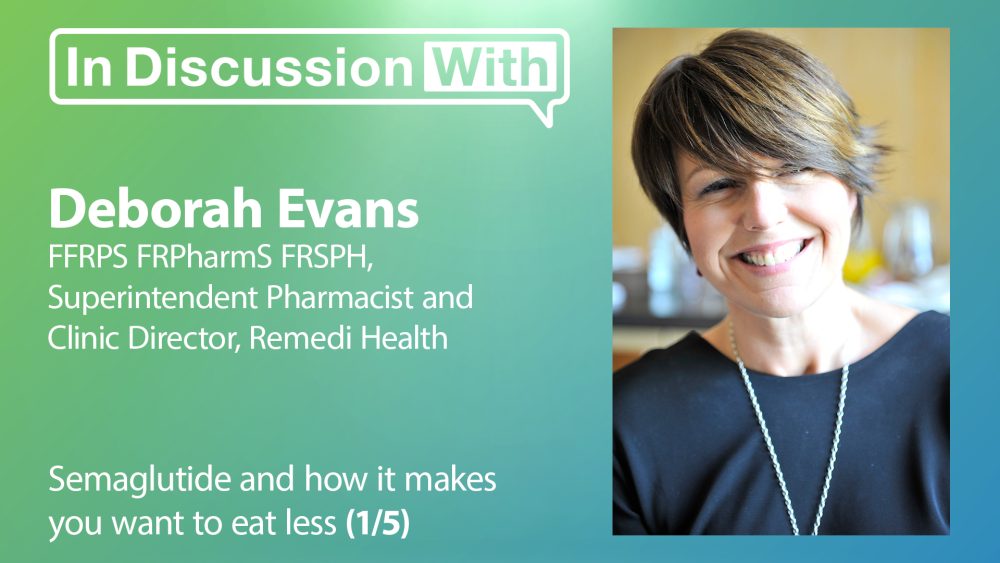 Deborah Evans is superintendent pharmacist and clinic director at Remedi Health, an independent pharmacy and healthcare clinic in Winchester. Remedi Health runs a weight management service and has experience providing semaglutide. IMI spoke to Ms Evans to find out more about the service and her experiences with the drug.
Semaglutide has been in the news frequently in recent months and sometimes information about what is or will be available appears to be confused or unclear. Ms Evans explains that semaglutide mimics the action of glucagon-like peptide-1 (GLP-1) – a hormone produced in the intestines in response to the presence of food. It helps to regulate appetite by promoting feelings of fullness or satiety. It also decreases food cravings and reduces the urge to eat more, she adds. "One of the side effects of this medicine …… is that we can end up feeling really quite full to the point of nausea", she comments.
GLP-1 also enhances insulin secretion from the pancreas and helps prevent insulin resistance and this why the drug was initially developed to help treat type 2 diabetes. "One of the benefits that was seen [with GLP agonists] was weight management and weight loss and so therefore they've now been developed and licensed for weight management", says Ms Evans.
"We have conversations with patients to recognize that it's not a magic injection that [allows you to] eat what you want and get thin – that's not it at all. What it'll do in addition to a good healthy eating plan and exercise is just work with your body so that your body isn't constantly craving food and …. derailing your diet plans – it helps to support you through that", she explains.
Patients' experiences
Reflecting on patients' experiences, Ms Evans says:
Certainly, the experience of clients that I've spoken to – both who've been on Saxenda  [liraglutide] and Ozempic for weight management – they talk about food being less interesting to them, not wanting to snack, feeling full quicker. So, if those things are happening and you're listening to your body then of course you're going to reduce your calorie intake and you are going to lose weight. But we do know of people that have had gastric bypasses and gastric bands, which is a really extreme way of managing obesity …… but we do know of people that find ways around that, despite having smaller stomachs, who then go on to put the weight on that they've lost. So, the body seems to have this reset mechanism that wants to bring you back to the weight that you were before. …… Regrettably, when you go on a weight loss programme you are working against your body's natural tendency to maintain and keep hold of the weight – it doesn't want to starve itself. So, if you switch your foods to calorie dense foods – you start eating liquefied Mars bars and those sorts of things – of course you're not going to lose weight even if your body takes less volume on board. So that's why it's important to make sure people understand how these medicines work, listen and tune into their body adopt a healthy eating plan and exercise and then they will lose weight."
Remedi Health
Ms Evans has a hands-on clinic role and regularly has 30–60-minute consultations with clients. Remedi Health offers a wide range of services including a menopause service, phlebotomy, diagnostics, vaccinations, ear health, allergy testing, DNA testing and pharmacogenomics. It also draws on the services of a dermatology specialist and a nutritional therapist.
Read and watch the full series on our website or on YouTube.