Trimodality therapy for MIBC – present and future directions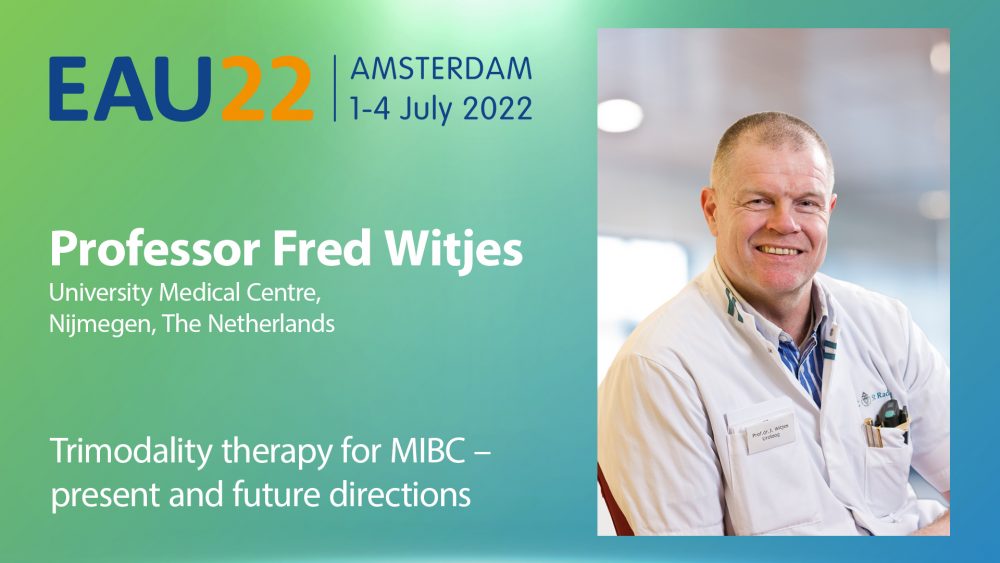 Trimodality bladder preserving treatment (TMT) for muscle invasive bladder cancer is gaining ground but careful patient selection is essential for success – only 10-20 percent of cases fit the eligibility criteria, according to Professor Fred Witjes (University Medical Centre, Nijmegen, The Netherlands).
In this video Professor Witjes summarises the key issues:
The current EAU guideline says that RC should be offered to people with T2-T4a, N0M0 disease or for high risk NMIBC. Pelvic lymph node dissection (PLND) should be an integral part of the RC.  Despite the 'strong' grading of the recommendation it is based on historical data rather than randomised trials, explained Professor Witjes.
Patients with invasive, non-metastatic disease are allowed to choose between cystectomy and bladder preservation. According to the guideline, bladder-preserving treatment must be based on multimodality or trimodality treatment; patients should not be offered single modality treatment, he emphasised. Moreover, patients need to be appropriately selected, well-informed and compliant.
The initial work up should exclude carcinoma in situ (CIS) and hydronephrosis. "The TUR should be as radical as possible" he said. A 2015 study had reported the release of tumour cells into the circulation during TUR, he noted.1
Trial evidence shows that chemoradiation is clearly superior to radiotherapy alone.2 "The conclusion is clear – the hazard ratio [of 0.66] is absolutely in favour of the combination", he said.  Experience from the Boston group over a period of three decades confirms that good patient selection and a radical TUR improves disease free survival (DFS) and overall survival (OS), he added.
The ideal candidates for TMT are those who have small, solitary tumours, have undergone TURs "as complete and safe as possible", have early-stage disease (T2-3a), absence of CIS and no hydronephrosis. Between 10 and 20 percent of patients with MIBC actually fit these criteria.
Neoadjuvant chemotherapy is given for cystectomy. For TMT, neoadjuvant chemoradiation uses much lower doses of chemotherapy e.g. 15mg/m2 cisplatin vs 70mg/m2. In this situation the chemotherapy acts as a chemo-sensitiser (for the RT). When it comes to the choice of chemosensitizer, there are no randomised controlled trials to guide clinicians. Nodal dissection is not recommended.
Adjuvant therapy improves survival after cystectomy, but it is difficult after TMT because the final stage of tumour pathology is unknown.
Almost all patients will have complications after cystectomy and diversion, if followed for long enough.  There are fewer complications after TMT. Should there be a recurrence of disease after TMT, the complications of a salvage cystectomy after TMT are comparable to those of a primary cystectomy, but long-term complication rates can be higher. This may reflect residual effects of radiation, he noted.
The oncological outcome – overall survival – for TMT, in well-matched patients, is similar to that for cystectomy, as long as patients are carefully selected, he emphasised.
In future, Professor Witjes expects to see further improvements as a result of the addition of immune checkpoint inhibitors, better patient selection and improvements in radiotherapy techniques.
"TMT is the only realistic bladder-sparing alternative to radical cystectomy in MIBC", he concluded.
Interview and article by Christine Clark PhD FRPharmS.
References
Engilbertsson H et al. Transurethral Bladder Tumor Resection Can Cause Seeding of Cancer Cells into the Bloodstream. J Urol 2015;193:53-57
James ND et al Radiotherapy with or without Chemotherapy in Muscle-Invasive Bladder Cancer. N Engl J Med 2012; 366:1477-1488
DOI: 10.1056/NEJMoa1106106