Randomised controlled trial of indomethacin for covid-19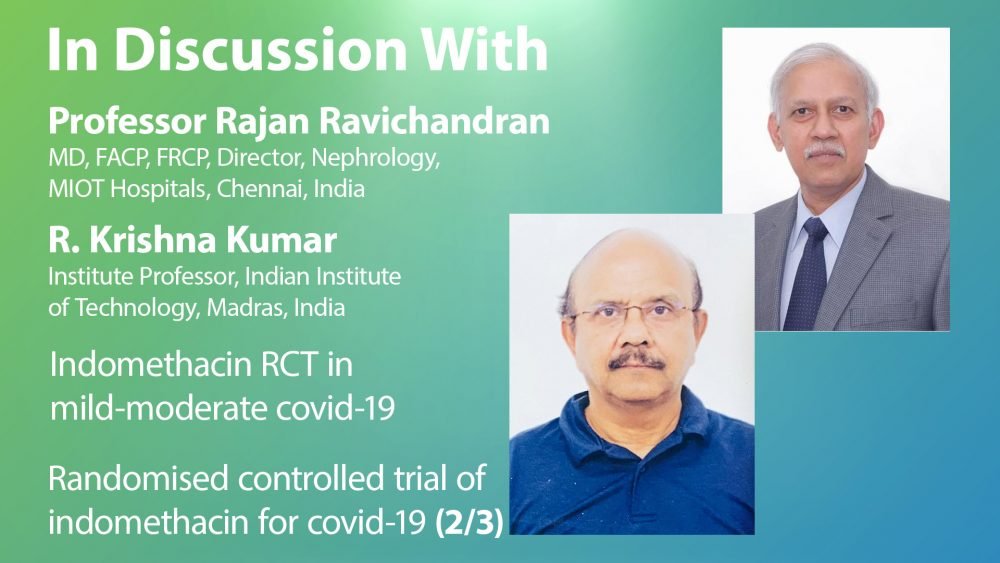 Rapid resolution of symptoms and improved oxygen saturation were key features of the response to indomethacin compared with paracetamol, according to Dr Rajan Ravichandran and Professor Krishna Kumar.
Dr Ravichandran described his experience of using indomethacin and his reasoning for using it in covid-19 in a previous interview. He went on to prescribe indomethacin to a small number of patients with covid-19, all of whom recovered without hospitalisation, despite having multiple comorbidities including renal disease, diabetes, obesity and advanced age. "That gave us the confidence to try out a larger number of patients [but] the Government was very reluctant for us to directly do a randomised controlled trial with a double-blind protocol. It wanted us to continue the government standard line of treatment – they recommended paracetamol in addition to whatever drugs were being given like ivermectin or doxycycline", he says. For this reason they undertook a comparative trial using a propensity score-matched control group. There were 72 patients in each group. "We found that the difference was drastic – not even one patient in the indomethacin group developed [oxygen] desaturation", says Dr Ravichandran.  In contrast, in the paracetamol group 28 patients required oxygen and longer periods of hospitalisation.  However, people were still sceptical about the results and felt that a randomised controlled trial was required for confirmation.
A randomised, controlled study comparing indomethacin against paracetamol, in addition to standard care for covid-19, was undertaken at Panimalar Medical College Hospital (CTRI/2021/05/033544). This centre was ideal for the study as the doctors were enthusiastic and a dedicated ward was available for the study. The primary endpoint was the development of hypoxia or oxygen desaturation.
After 210 patients had completed the trial the interim results were analysed. The two groups were well-matched. "The initial data itself was very good – in cricket language the first wicket stand was fantastic!" comments Professor Krishna Kumar.  As in the previous (non-randomised) trials there was rapid symptomatic relief with indomethacin. The median time for reduction of cough and myalgia was four days with indomethacin versus seven days with paracetamol.  Moreover, the interquartile range (IQR) was small for indomethacin showing that indomethacin effect was very consistent, regardless of comorbidities, age, gender, temperature or cough on admission, he noted.
In summary Dr Ravichandran said that the 210 patients comprised 102 in the indomethacin group and 108 in the paracetamol group. He says, "The indomethacin group became asymptomatic in half the time and [at the 14 day telephone follow up] we found that many patients in the indomethacin group had gone back to work and few of them complained of tiredness whereas many patients were still symptomatic in the paracetamol group". Furthermore, in the paracetamol group 20 patients developed desaturation requiring intervention – oxygen saturation falling below 93%. "In the indomethacin group what was striking is that with a couple of doses of indomethacin the oxygen saturation went up from 95 to 97-98%, so none of the patients really required any intervention and there was no drop in the oxygen saturation", he adds.
Professor Ramarathnam Krisha Kumar works at the Indian Institute of Technology, Madras. He is a biomedical engineer and has worked with Dr Ravichandran for many years.
Dr Rajan Ravichandran is Director of Nephrology at MIOT International Hospitals, Chennai. He has been designing and conducting trials of indomethacin in covid-19 for the past 18 months.
Read and watch the full series on our website.