Indomethacin RCT for covid-19 – features and conclusions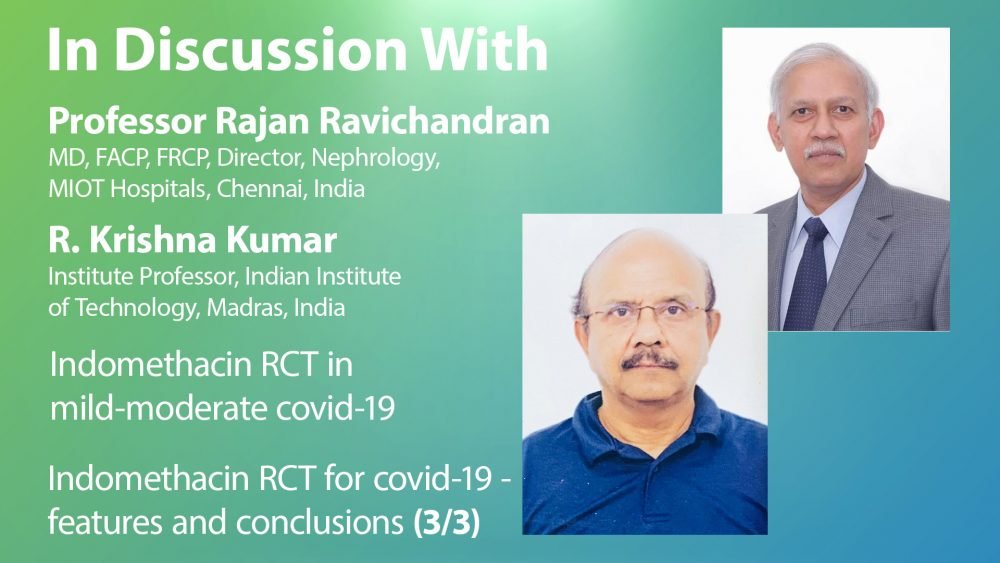 The RCT provides objective evidence of the effect of indomethacin and confirms the absence of adverse gastrointestinal effects; a future study could investigate indomethacin in severe covid-19, according to Dr Rajan Ravichandran and Professor Krishna Kumar.
In this study both groups continued to receive 'hospital standard care' comprising  ivermectin, doxycycline, vitamins, zinc and nutrition.
One result of interest is the reduction in C-reactive protein (CRP) – a marker of inflammation. There was a marked reduction with indomethacin but only a modest fall with paracetamol. The statistical analysis suggested a close relationship between the use of indomethacin and the fall in CRP – with an R-squared value of 0.85 vs 0.1 for paracetamol.
Dr Ravichandran commented, "I think that is very striking. CRP cannot be questioned because some of the [other] manifestations are subjective like cough or body pain …. whereas CRP, like temperature and oxygen saturation, is objective and more reliable. And the CRP drop I think is very significant in this study".
The investigators also noted that by the seventh day 25 out of 62 patients in the indomethacin group became rt-PCR negative compared with 17 out of 60 in the paracetamol group.
Although there has been concern that indomethacin might cause gastritis, stomach upset or stomach pains, this was not borne out by the study results. In fact nausea, vomiting and abdominal pain were more frequent in the paracetamol group. Furthermore, by the 14th day 51 people in the paracetamol group still had body pain compared to 14 in the indomethacin group; persisting joint pain was also more frequent in the paracetamol group.
Dr Ravichandran says, "This is interesting – that the so-called long covid has not been seen with the people who were receiving indomethacin. All of them seem to have recovered well. The long-term complications that have been seen with even mild and moderate covid in other patients have really not been seen but we have not studied it – it's only personal experience."
The investigators have submitted their findings to the Therapeutic Task Force in the UK as well as the NIH in the US.  "What we think is that if you use early indomethacin – early enough in covid – we can prevent hospitalisation – that's the first and foremost thing. This is going to reduce the stress on the healthcare system and of course people's confidence would also go up with this. Spread of disease is also likely to reduce if patients' cough is controlled well. If we can do further studies where we can show that the viral clearance is also better with indomethacin, obviously that would be a great advantage", explains Dr Ravichandran.
Plans are now afoot to start a trial of indomethacin in severely ill covid patients. Feedback from clinicians who have prescribed indomethacin for severe covid has been positive and a trial is now needed, explains Dr Ravichandran.
"I feel indomethacin works in early covid, it can work in long covid, it can also work in severe covid. It can work everywhere because it's a tailor made drug for covid", he adds.
Both investigators acknowledged the input of Mr Kris Gopalakrishan, the philanthropist who provided the funding for the studies. Mr Gopalakrishnan is an alumnus of the Indian Institute of Technology, Madras. He is also the Chairman of Axilor Ventures.  Without his generous funding it would not have been possible to undertake these studies, they said.
Professor Ramarathnam Krisha Kumar works at the Indian Institute of Technology, Madras. He is a biomedical engineer and has worked with Dr Ravichandran for many years.
Dr Rajan Ravichandran is Director of Nephrology at MIOT International Hospitals, Chennai. He has been designing and conducting trials of indomethacin in covid-19 for the past 18 months.
Read and watch the full series on our website.