Indomethacin – dual antiviral and anti-inflammatory for covid-19?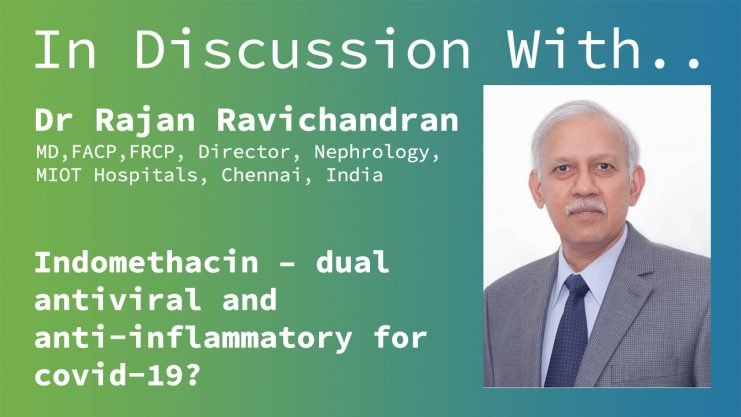 Interview and article by Christine Clark.
Indomethacin has both anti-inflammatory and anti-viral properties and it could help to hasten recovery from covid-19 infection
Indomethacin, if given early to patients with mild covid-19 disease could prevent hypoxaemia and potentially hasten recovery; it could also reduce the viral load and render patients less contagious, according to Dr Rajan Ravichandran. He recommends 75mg to 200 mg per day, depending on the patient's weight, in divided doses.
Indomethacin has antiviral activity. In 2006, laboratory experiments showed that indomethacin reduced the viral load in canine coronavirus dramatically. In fact, in 2007 a patent was granted in the US for indomethacin as a broad-spectrum antiviral agent, says Dr Ravichandran. In 2020 it was shown that SARS-CoV-2 – the covid-19 virus – was cleared from monkeys by indomethacin. There are also other published reports, he adds.
Indomethacin also has a powerful anti-inflammatory action – "100mg indomethacin is almost equivalent to 1600mg ibuprofen", he said. The drug has a long history of use – mainly to reduce inflammation in joints in patients with rheumatoid arthritis.
"If the drug is started early in patients with mild infection it could prevent the hypoxaemia and probably hasten recovery of these patients", says Dr Ravichandran. If it also reduced the viral load patients would become less contagious. So, the benefit is that the disease would be less severe for the individual and they would be less infective, he adds.
When used for short periods with a daily dose of less than 200 mg, the side effects are minimal. The main side effect of indomethacin is gastric irritation and this effect is most severe when the daily dose exceeds 200mgs. Proton pump inhibitors (PPIs) could be used for gastroprotection. The other serious side effects of indomethacin, when used for long periods, are reduced renal and hepatic function. In covid-19 indomethacin would only be needed for a maximum of two weeks.
Dr Ravichandran recommends a dose of 75mg to 200 mg per day, depending on the patient's weight, in divided doses.
"The medical community needs to be made more aware of the fact that indomethacin is a fairly safe drug that has both anti-inflammatory and anti-viral properties. The drug should be given a fair trial in patients with mild disease so that hospitalisation can be avoided", says Dr Ravichandran. This is particularly important where resources are stretched. For example, in India, many patients with mild disease are hospitalised and this has a serious impact on the whole healthcare system.
Based on an interview with Dr Rajan Ravichandran MD FACP FRCP, Director, Nephrology, MIOT Hospitals, Chennai, INDIA
Watch the other videos in the series
Indomethacin to combat cytokine release syndrome in covid-19