The link between ACE-inhibitor cough and covid-19 cough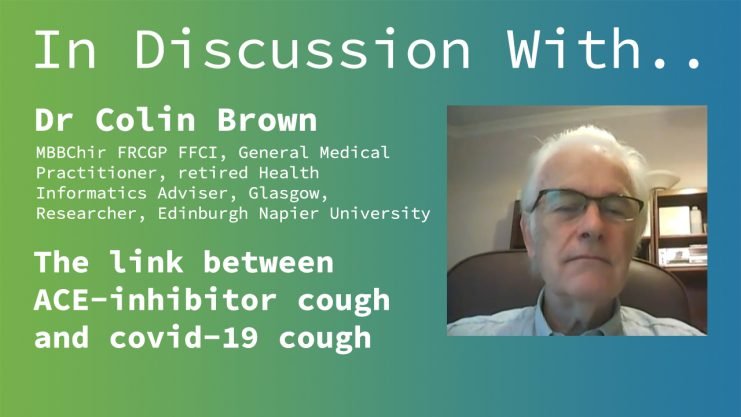 Article written by Christine Clark
Retired GP and researcher Dr Colin Brown realised that the similarities between the ACEI cough and covid-19 cough suggested a common cause and this could have implications for treatment.
A colleague's observation that full dose (600mg) aspirin stopped his ACE-inhibitor (ACEI) induced cough, and the report of indomethacin suppressing the cough of covid-19 prompted Dr Brown to investigate whether the two types of cough arose from a similar cause. He realised that the ACEI cough and the covid cough had many similarities – both are dry, hacking, unproductive, persistent and can be exhausting. Moreover, they are unresponsive to conventional antitussives, abnormalities of smell and taste are common to both, and they share a racial profile. 
Suppression of the ACEI cough with aspirin has been reported previously1 but it is rarely prescribed for this indication because it makes more sense to stop the ACEI.
Dr Brown reported his findings in the BMJ in July 2020.2
Reference
Tenenbaum AT, Grossman E, Shemesh J et al. Intermediate but not low doses of aspirin can suppress angiotensin-converting enzyme inhibitor-induced cough. Am J Hypertens 2000;13:776-782
Brown C, Griffiths G. Non-steroidal anti-inflammatory drugs and covid-19: Indomethacin or aspirin? https://www.bmj.com/content/368/bmj.m1185/rr-5
Read and watch the full series on our website.