Indomethacin to combat cytokine release syndrome in covid-19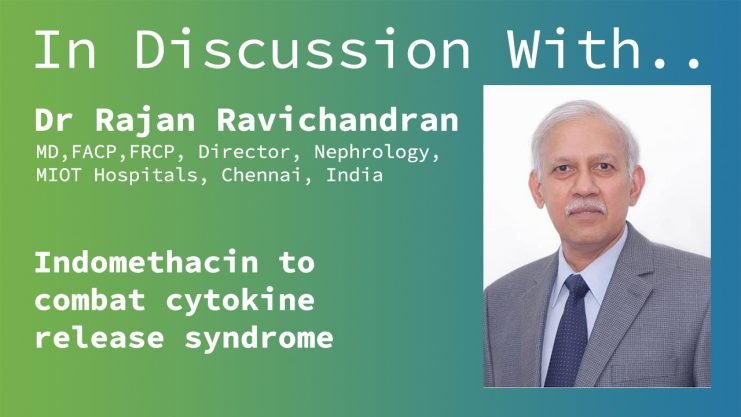 Interview and article by Christine Clark.
Dr Rajan Ravichandran's experience of using indomethacin to control cytokine release syndrome led him to realise that it could also be useful in the treatment of covid-19 early in the course of the disease.
Cytokine release syndrome was common with OKT3 – an anti-rejection drug that was used in patients who had received kidney transplants, explains Dr Rajan Ravichandran. Patients experienced fever, chills, hypoxia and hypotension which made it difficult to use the drug successfully. In 1989, doctors found that by 'priming' patients with indomethacin 100mg (by suppository) before administration of OKT3 the cytokine reaction was tempered and it was possible to complete the 10-day course of OKT3 successfully. (1,2)
In view of the fact that some patients with covid-19 experience a cytokine storm that can lead to fatal acute respiratory distress syndrome, it seems logical to use indomethacin in this situation.
Indomethacin could be most beneficial when used in mild or moderate covid-19 infection, when patients have fever and coughing but before hypoxaemia develops. This is the time when it could prevent the cytokine reaction and therefore reduce the severity of the disease.
The cost of indomethacin is modest. In India, a 25mg dose costs less than 10 cents (USD) so a course would be about $5.00. Compared with the cost of using, for example, tocilizumab, to treat cytokine storm, indomethacin is significantly cheaper. "We could save a lot of money if we could use a less costly drug to handle the cytokine storm", suggested Dr Ravichandran.
References
1. First MR et al. The effect of indomethacin on the febrile response following OKT3 therapy. Transplantation. 1992 Jan;53(1):91-4
2. Gaughan WJ Et al. A retrospective analysis of the effect of indomethacin on adverse reactions to orthoclone OKT3 in the therapy of acute renal allograft rejection.
Based on an interview with Dr Rajan Ravichandran MD FACP FRCP, Director, Nephrology, MIOT Hospitals, Chennai, INDIA
Watch the other videos in the series
Indomethacin – dual antiviral and anti-inflammatory for covid-19?