What the papers say – weekly digest (22/09/23)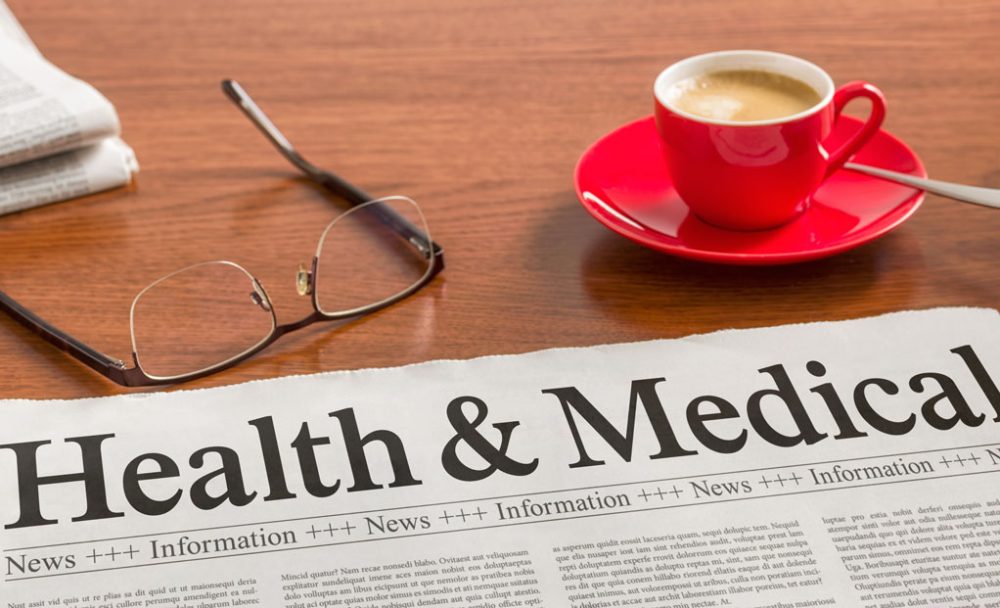 Your weekly digest of the top healthcare stories, covering news published from 18/09/2023 – 22/09/2023.
Express
Labour's record of running the NHS in Wales shows it cannot be trusted with the health remit in England, Conservatives claim. Tories point to figures showing Welsh patients are often waiting more than twice as long for procedures such as hip, knee or shoulder replacements. A Conservative source said: ''Labour's abysmal record running the NHS in Wales shows why they can't be trusted with the NHS in England. People are made to wait up to twice as long for common treatments.''
Young people have suffered the worst during the cost-of-living crisis, according to a new study of poverty indicators. One in five 16-to-24-year-olds are now classed as living below the poverty line, as a result of their household income being less than 60 per cent of the national average. The analysis, by the Open Data Institute, came after Works and Pensions Secretary Mel Stride last week said the triple lock for pensions is ''not sustainable'' in the long term as it placed too heavy a burden on the younger generation to pay for it.
Some 75% of disabled people have delayed contacting an essential service provider because of anxiety. It means millions may miss out on support and important information. Those with disabilities typically waited 82 days to contact providers. Feeling emotionally drained, anxious or demoralised were given as their reasons. Jose Luiz Rossi, of Experian UK & Ireland, which is helping to set up a ''support hub'' for people to tell businesses what help they need, said: ''We need to remove the frustration and anxiety people feel when contacting service providers. Nearly 30% of those with disabilities say they lost money because they could not easily contact essential services.
A third group of doctors may go on strikes, the British Medical Association announced. The medics' union said that specialist, associate specialist and speciality (SAS) doctors will hold an indicative vote on action. The move came as junior doctors and consultants began their first joint walkout yesterday (Wednesday). There are around 15,600 SAS doctors employed in England. Many operate alongside junior doctors and consultants in hospitals but some also work in the community.
Dung from endangered animals may help treat diabetic foot ulcers and stop the amputations of toes, feet and legs. Scientists say that naturally occurring viruses, or phages, in the poo kill bacteria that is resistant to antibiotics. The findings could save the NHS £1billion a year. One in 10 diabetics will develop foot ulcers. More than 1.25 million people worldwide died in 2019 due to antibiotic resistance, medical journal The Lancet said.
Guardian
More patients than ever before will be put at risk when consultants and junior doctors begin the ''biggest walkout the NHS has ever seen'', the NHS Confederation – the body that speaks for health trusts – said.  The number of operations and appointments cancelled because of industrial action is set to top 1m over the next few days, according to the confederation, which represents NHS providers in  England, Wales and Northern Ireland. Many hospitals are having to cancel operations that have already been cancelled at least once and sometimes as many as three times, according to the confederation. These cancellations are expected to particularly affect cancer patients, with a ''clear risk'' that the health of some patients will deteriorate the longer they are left to wait, according to healthcare leaders.
Thousands of people died avoidably after the government stopped telling the food industry to cut how much salt it puts into its products, new research has found. Salt is a major cause of high blood pressure, which leads to tens of thousands of people a year suffering or dying from a heart attack or stroke. The average amount of salt people in England consumed fell by almost 20% after the Food Standards Agency initiated a programme in 2006 which led to manufacturers reducing the salt content of processed foods. However, the coalition government abandoned it in 2011. Its ''public health responsibility  deal'' let producers set their own levels again. Researchers led by Jing Song from Queen Mary University of London (QMUL) said if the initiative had continued, average intake would have fallen by a further 1.45g a day between 2014 and 2018, preventing 38,000 deaths, 24,000 of which would have been premature.
Dozens of young adults born via sperm or egg donation will be able to find out their biological origins in the coming weeks, with the first just days away from being able to apply to find out more information about their donor, health officials have said.Data from the Human Fertilisation and Embryology Authority (HFEA) shows that by the end of 2024 more than 700 donor-conceived people will be able to request identifying information about their donor, should they wish. And by 2030, 11,427 young people will be able to request identifying information about their donor. The HFEA has launched a new campaign – Who is  My Donor – to raise awareness of the change and encourage donors to ensure their data is up to date with their clinic as the first young adults apply for information.
Hospital bosses fear that further strikes by doctors will push the NHS ''close to breaking point'' as it struggles to cope with its winter crisis in the months ahead. NHS chiefs are concerned that medics' plans to continue their campaign of stoppages until February will make it even harder for the service to negotiate a period when it is always under its greatest pressure. Four days of walkouts this week in England have included the first ever 24-hour joint strikeover pay yesterday (Wednesday) by consultants and junior doctors. Matthew Taylor, the chief executive of the NHS Confederation, which speaks for trusts, urged ministers and the unions representing doctors to reopen negotiations and agree a pay settlement. ''We need to see a resolution to this situation before  winter begins to bite'', said Taylor.
One of The Conservatives' biggest ever donors has profited from £135m of contracts with the Department of Health and Social Care in under four years. Frank Hester, a tech entrepreneur whose company supplies computer systems to the NHS, gave Rishi Sunak's party £5m this month – the joint biggest donation to the Tories in decades. His company, the Phoenix Partnership (TPP), paid out more than £20m in dividends between 2019 and 2022, with Hester the only shareholder. The group supplies software to about 2,700 GP surgeries in England as well as services to allow them to hold digital medical records.
Telegraph
Almost a million patients will have turned to private healthcare by the end of the year as waiting lists hit record levels, new research reveals.Many desperate NHS patients have been forced to use their life savings to fund private care, with the overall number going private rising dramatically in the past two years. NHS waiting lists rose to a record 7.68 million in July 2023, an increase of 105,000 compared to the previous month and a rise of nearly 750,000  compared to July 2022. Waiting lists are now more than three million higher than before the pandemic. Broadstone, a leading independent consultancy group which carried out the private healthcare analysis, calculated there has been a 44 per cent rise in private health admissions in the first four months of this year when compared to 2021 – from 158,000 to 227,000.
Labels on alcohol and hard-hitting TV campaigns about the dangers of unhealthy eating are needed to curb the huge rise in avoidable cancers, charities and health campaigners have warned. The World Cancer Research Fund (WCRF) said mass media campaigns, using tough messages mirroring the graphic photographs and wording on cigarette packets, should be used to tackle a widespread lack of awareness that alcohol and being overweight are both major causes of cancer. About 40% of cancers are preventable because they are caused by known risk factors, mainly smoking, alcohol, obesity and sunburn, the WCRF and Cancer Research UK (CRUK) say. A new report last week by Frontier Economics estimated that 184,000 cases of avoidable cancer would be diagnosed in the UK this year, costing the country £78bn.
Consuming large amounts of ultra-processed food, especially drinks containing artificial sweeteners, is associated with a higher risk of depression, research has found. Using data from one of the biggest studies of women's long-term health in the US, researchers at Massachusetts general hospital and Harvard medical school examined the diets and mental health of more than 30,000 primarily white middle-aged women between 2003 and 2017 who did not already have depression. The research, published in the American journal JAMA Network Open, found those who consumed nine portions or more of UPF a day had a 49% increased risk of depression compared with those who consumed fewer than four portions.
More than a million people aged 50 to 64 are currently unemployed due to long-term ill health or disability, a new report finds. The study shows 10 per cent of all people in that age group who are not in employment cite ill health or disability as their reason for not working. The Platinum Pound report, by think-tank Demos and not-for-profit housing group Anchor, shows almost half those out of work due to ill health or disability are over 50. It says the economy could unlock about £6.6billion a year by returning to pre-pandemic later-life workforce levels.
Millions of children in England were not seen by an NHS dentist last year, figures show. Data obtained by the Liberal Democrats shows that 4.4 million children in England were not seen by an NHS dentist in the year to June 2023. This equates to 39 per cent of all children. The figures show that 51.2 per cent of adults have not been seen by an NHS dentist in the past two years.
Times
Consultants have been paid more than £3,000 per shift to cover for striking junior doctors at premium rates demanded by the British Medical Association, it emerged yesterday. As junior doctors and consultants walked out together for the first time, an investigation found hospitals were paying far more for strike cover than they saved in wage deductions. University Hospitals Plymouth paid nearly £1.8 million in cover, of which £1.59 million went to consultants , over the first three doctor strikes, the BBC reported. Steve Barclay, the health secretary, has warned the union that it could face fines of up to £1 million if it took too many of its doctors out on strike simultaneously, as part of a consultation on NHS minimum service levels.
Publication of the report from the public enquiry into infected blood has been delayed until March due to the ''sheer volume and scale'' of the investigation, its chairman said yesterday. The investigation into how thousands of patients were infected with HIV and hepatitis C by contaminated blood products in the 1970 and 1980s had been due to publish its final report this autumn. It is estimated that at least 2,400 patients died. Thousands of adults and about 380 children received infected blood products or transfusions. Most of those involved were given injections of factor VIII, a product made in the US and which used contaminated blood from prisoners, drug addicts and others.
Doctors will be ordered off the picket line to ensure safety in hospitals, as ministers seek to blunt the impact of ''nightmarish'' industrial disputes on the NHS. Clinical staff deemed critical to safety will risk the sack if they refuse to work, under plans for minimum service levels in hospitals to be set out. Ministers insist that the measures are needed to protect patients after cases of hospitals left dangerously short-staffed during recent industrial action. But they risk further poisoning relations with unions. NHS bosses warn it could heighten tension in hospitals. The British Medical Association has criticised ''heavy-handed'' rules which it says will drive staff out of the NHS. Matthew Taylor, head of the NHS Confederation, warned of an ''increasingly nightmarish scenario for patients'' as co-ordinated strikes put them at the highest level of risk in living memory''.
One in five junior doctors are now part-time after  a leap of 56 per cent in only three years, according to figures exclusively seen by The Times. NHS leaders warned that the trend would inevitably mean more staff are needed to do the same amount of work, at a time when the health service is struggling with workforce shortages. Danny Mortimer, chief executive of NHS Employers, said allowing more doctors to work part-time was a ''positive step in the right direction ensuring that the NHS keep up with the modern age and gives doctors more flexibility, helping create that all important work-life balance.''
The NHS is not equipped to deal with the rising needs of transgender patients, a coroner has said. Sarah Clarke said that the services available to trans people were ''underfunded and insufficiently resourced''. The training of people who cared for trans patients, the lack of mental healthcare and long waiting lists for treatment all needed to be examined, she added. Clarke was speaking after an inquest was told that a trans woman had killed herself after spending almost three years on a waiting list.