Early mobilisation after hip fracture associated with improved survival and recovery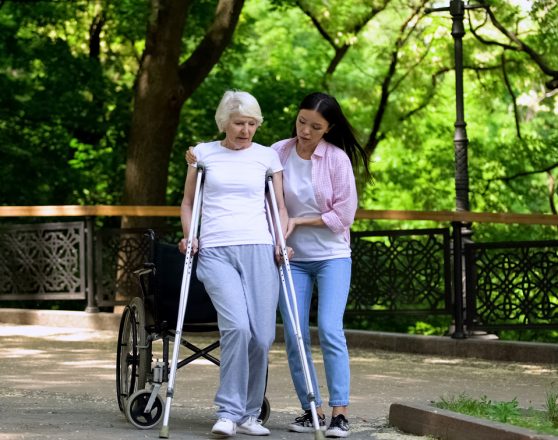 The Bone and Joint Journal
Early mobilisation after hip fracture surgery has become standard care on the basis of national guidance. The evidence for this is based on one trial of 60 patients which was of low to moderate quality.1 However, further trials may not now be ethical or feasible but analysis of real-world observational data presents an opportunity to study the association between early mobilisation and outcomes, according to the authors of a new study.
Researchers from Kings College London analysed the National Hip Fracture Database and hospital records for 126,897 patients aged ≥ 60 years who underwent surgery for a hip fracture in England and Wales between 2014 and 2016.2
Key findings
Overall 79% of patients mobilised early and the overall 30-day survival post-surgery was 94%. However, there was a greater probability of survival amongst those who mobilised early. (Early mobilisation is defined as the ability to sit or stand out of bed on the day of or the day after hip fracture surgery)
The weighted probabilities of survival at 30 days post-admission were 95.9% (95% CI 95.7% to 96.0%) and 92.4% (95% CI 92.0% to 92.8%), respectively, among those who mobilised early and those who mobilised late.
The weighted probabilities of recovering the ability to walk among those who could walk outdoors and indoors pre-fracture were 9.7% (95% CI 9.2% to 10.2%) and 81.2% (95% CI 80.0% to 82.4%), respectively, among those who first mobilised early, and 7.9% (95% CI 6.6% to 9.2%) and 73.8% (95% CI 71.3% to 76.2%), respectively, among those who first mobilised late.
When early mobilisation was achieved, this was associated with survival and recovery of pre-fracture walking abilities, irrespective of the presence of a dementia diagnosis.
An important new finding is that by 30 days post-admission, only 9% of those who could walk outdoors pre-fracture had recovered this ability, while 80% of those who could only walk indoors pre-fracture recovered the ability to do so, (among those mobilised early).
The authors proposed that early mobilisation should be a measured indicator of performance internationally. This would enable clinicians to determine the extent to which they are achieving early mobilisation with their patients and to evaluate the benefit of quality improvement initiatives to improve performance.
Reference
National Clinical Guideline Centre. The management of hip fracture in adults. London: National Clinical Guidelines Centre, 2011
Goubar A, Martin FC, Potter C, Jones GD, Sackley C, Ayis S, Sheehan KJ. The 30-day survival and recovery after hip fracture by timing of mobilization and dementia: a UK database study. Bone Joint J. 2021;103-B(7):1317-1324. doi: 10.1302/0301-620X.103B7.BJJ-2020-2349.R1. PMID: 34192935