Choosing and using ivermectin for covid-19 in India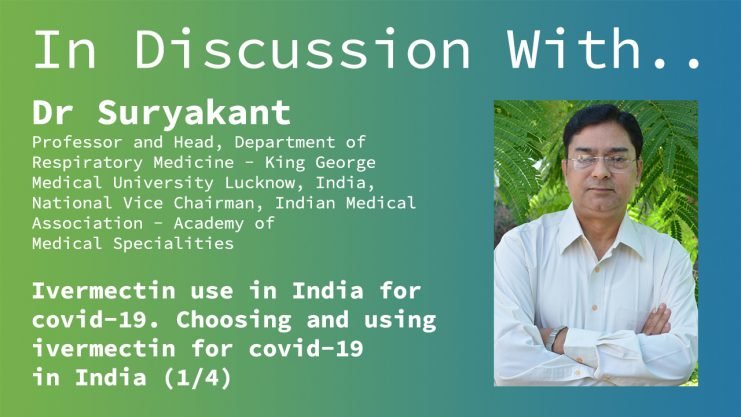 Interview and article by Christine Clark.
In the Northern in Indian state of Uttar Pradesh, ivermectin has been in use for treatment and prophylaxis of covid-19 since August 2020. In the current covid wave (April-May 2021) test-positivity has fallen from 20% to 4% in just 20 days. IMI spoke to Dr Suryakant, an expert respiratory physician based in Lucknow, to find out more.
Dr Suryakant is a passionate advocate for the use of ivermectin for covid-19 prophylaxis and treatment – "It lies in my heart", he says.
The discoverers of ivermectin received the Nobel prize in 2015 after the drug had been in use for more than 30 years and had made a profound impact on diseases such as onchocerciasis (river blindness) and filariasis. "It is not only an antibiotic and anti-parasitic drug, it is also an anti-cancer, immuno-modulator and antiviral drug", says Dr Suryakant.  Its antiviral effects were first reported in an in-vitro study that showed a 5000-fold reduction in viral RNA after 48 hours.1   There are now more than 40 clinical trials worldwide for ivermectin as prophylaxis and treatment for covid-19.
All the drugs used for covid-19 so far have been repurposed. Neither hydroxychloroquine nor remdesivir had proved to be successful, whereas ivermectin is effective and "is still in the playground", he explains.  There are four main reasons why he favours ivermectin – it is cheap, safe, cost-effective and readily available throughout India and the rest of the world, he adds. 
Turing to the way in which ivermectin is used, Dr Suryakant highlights two important examples – triple drug therapy (comprising ivermectin, doxycycline and zinc) in Australia and mass prophylaxis with ivermectin in Peru.  Now, ivermectin is in use in all the countries of the Indian subcontinent – including Nepal, Sri Lanka, Bangladesh, India, Bhutan and Pakistan. "Everybody is using ivermectin", he says.
One study in Bangladesh, used 12mg ivermectin once a week for prophylaxis in health care workers. "I think the time has come when we should do mass prophylaxis with this regimen", he says. 
Another study of ivermectin prophylaxis from Bangladesh showed almost a seven fold reduction in transmission of infection in health care workers.
The recent review by Kory and colleagues   provides a very useful summary of the trials that have been published.2
Seven states in India are now (at the time of interview) using ivermectin in government protocols for covid treatment. They are: Uttar Pradesh, West Bengal, Maharashtra, Assam, Goa, Karnataka and Kerala. The total population of these states is equivalent to more than 60% of the population of India, notes Dr Suryakant.
Goa is latest state to opt for ivermectin prophylaxis.  "Three days [ago] Goa issued a Government Order for mass prophylaxis using ivermectin for the people of Goa", said Dr Suryakant. Goa is the first state in India to use ivermectin in this way, he emphasised.  Uttar Pradesh was the first state to issue a Government Order for the use of ivermectin for treatment and prophylaxis for asymptomatic and mild cases of covid-19 and for prophylaxis of health care workers and home contacts. Dr Suryakant was the external adviser for this Government Order.
References
Caly L et al. The FDA-approved drug ivermectin inhibits the replication of SARS-CoV-2 in vitro. Antivrial Research 2020; 178: 104787https://doi.org/10.1016/j.antiviral.2020.104787
Kory P et al. Review of the Emerging Evidence Demonstrating the Efficacy of Ivermectin in the Prophylaxis and Treatment of COVID-19. Am J Ther. 2021; 28: e299–e318.
Dr Suryakant is brand ambassador for covid vaccination in India. He is a respiratory physician and past president of several chest associations in India. He has also held a leadership position in the Indian Medical Association, a body with 400,000 members.
Read and watch the full series on our website.
Find Dr Suryakant's YouTube channel here.