VARSITY: head to head comparison of adalimumab vs vedolizumab in UC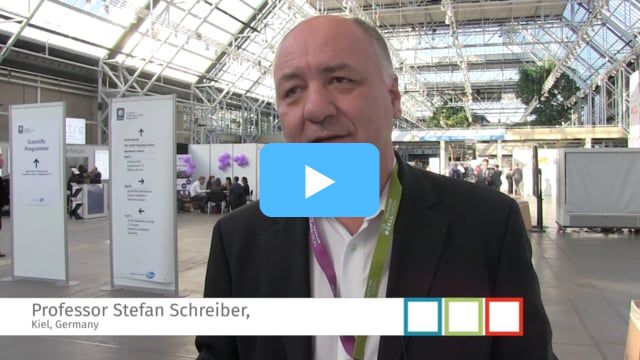 The first-ever head-to-head comparative trial of two biological therapies in IBD indicates that UC patients treated with vedolizumab are significantly more likely to achieve remission than with adalimumab. More head-to-head trials are due to be completed shortly and the results are expected to be as important for clinical practice as the SONIC, CALM and NOR-SWITCH studies.
Professor Stefan Schreiber (Germany) discusses data coming from the VARSITY study comparing adalimumab with vedolizumab, as well as what can be learned from this study.
The results of the VARSITY study were presented as a late-breaking abstract at ECCO 2019 by Professor Stefan Schreiber (University Hospital Schleswig-Holstein, Kiel, Germany). The objective of the VARSITY study was to compare the efficacy and safety of vedolizumab versus adalimumab at week 52 in patients with moderately to severely active UC. A total of 385 patients were randomised to receive vedolizumab and 386 to adalimumab.
The primary efficacy analysis showed that vedolizumab was significantly superior to adalimumab with respect to clinical remission rates at week 52 (31.3% versus 22.5%; p=0.0061). The superiority of vedolizumab over adalimumab was more pronounced in anti-TNF-naïve patients but was statistically significant also in anti-TNF-exposed patients. Vedolizumab was also superior to adalimumab in terms of mucosal healing rates in the overall population and in anti-TNF-naïve patients.
The difference in clinical response in favour of vedolizumab emerged after around six weeks of treatment and became statistically significant by week 14. Both treatments were well tolerated with a notably lower rate of infections in the vedolizumab arm. The investigators concluded that the VARSITY results support the use of vedolizumab prior to adalimumab in patients with moderate to severe UC (OP34).
Another vedolizumab study that was presented at ECCO 2019 was an update from the GEMINI long-term safety (LTS) study, presented by Dr Remo Panaccione (University of Calgary, Alberta, Canada). With a treatment duration of nearly nine years, this analysis represents the longest study to date of continuous vedolizumab treatment. The final results showed that vedolizumab was safe and well tolerated throughout the treatment period in both UC and CD patients, with no reports of progressive multifocal leukoencephalopathy and no new trends in terms of infections, malignancies, infusion-related reactions or hepatic events. In addition, patients in the GEMINI LTS study continued to achieve favourable clinical outcomes and the investigators concluded that vedolizumab is suitable for long-term treatment of UC and CD (OP26).
Based on presentations at the 14th Congress of ECCO, 6–9 March 2019, Copenhagen, Denmark.