BMI little effect on opioid patch's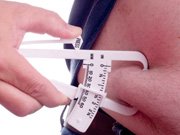 The pain-relieving efficacy of the buprenorphine transdermal medication system didn't seem to be altered by a patient's body mass, researchers said.
In the pooled analysis of previous research, normal-weight patients with a body mass index (BMI) <25 kg/m2 achieved a pain score of 7.33 compared with overweight patients (BMI 25 to 30 kg/m2) who achieved a pain score of 7.06 (P=0.0761), and obese patients (BMI ≥30 kg/m2) who achieved a pain score of 7.23 (P=0.7766 to normal), reported Marc Cataldo, PharmD, from Purdue Pharma in Stamford, Conn., and colleagues at the American Academy of Pain Medicine meeting.
The effect of body weight on the absorption of transdermal medications, which may lead to potential alterations in efficacy, has been a concern, the authors wrote. "We aimed to examine this by measuring the pharmacokinetics and analgesic efficacy of buprenorphine transdermal system in patients with different BMI," they explained.
They reviewed results in 2,654 patients from nine randomized, double-blind, clinical U.S. studies involving the 7-day transdermal buprenorphine (Butrans).
A subgroup analysis of BMI was performed for one 12-week clinical study that included patients taking transdermal buprenorphine 10 μg/hour and 20 μg/hour.
The pooled analysis included 78 normal-weight patients; 141 patients who were overweight; and 320 patients who were classified as obese. Patients who achieved at least a 30% decrease in pain included 61.5% of those considered normal weight; 71.6% of those labeled overweight, and 61.6% of those deemed obese.
In the subgroup analysis, the mean pain score over the last 24 hours at week 12 was similar across the BMI subgroups, the authors found.
"We found that there was no difference in response to treatment if the person was normal weight, overweight, or obese, although there appeared to be a trend for patients who were overweight to have a better response,"
"These data support the use of buprenorphine transdermal system in patients of various BMI," he added "No dose adjustment is required based on BMI."
However, Cataldo cautioned that the patch's dose must be titrated to provide adequate analgesia and minimize adverse events.
"We know that buprenorphine transdermal system works and is safe in the general studies," he said. "We have to recognize that the first thing we have to do with any of these drugs is to make sure they are safe."
Disclosure:
Cataldo and co-authors are employees of Purdue Pharma.
Webster disclosed commercial interests with AstraZeneca, Covidien Mallinckrodt, CVS, Jazz Pharmaceuticals, Medtronic, Nektar Therapeutics, Salix, and Theravance.
Reference:
Cataldo M, et al Evaluating the weight-based efficacy of 7-day buprenorphine transdermal system. AAPM 2013; Abstract 111.