Sporting stars get on their marks for new asthma run campaign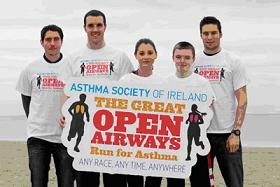 The Asthma Society today launched the Great Open Airways Run campaign to help make up the staggering 30% cut in funding for the organisation's vital work. 
Ireland defender and Sunderland star John O'Shea took time out of preparations for the friendly against The Czech Republic to support the Society's campaign.  John along with other household sporting names like Ronan O'Gara has asthma.
Ireland has the fourth highest prevalence of asthma in the world.  Over 470,000 people – nearly 20% of 13-15 year olds and over 7% of the adult population – live with asthma across the country.  One person dies from an asthma attack every week in Ireland.
In this international sports year, the Asthma Society is asking supporters to run, walk or jog for asthma in races and fun runs in their area.  The Society has to raise €160,000 this year to maintain vital services, including its busy helpline, which is relied on particularly by parents of children and young people.
The Society also wants to encourage people with asthma to exercise regularly, to join in sports and to stay fit and healthy.
"Exercise is a common trigger for asthma but exercise is good for everyone, including people with asthma," said Dr. Jean Holohan, CEO of the Asthma Society.  "Even if exercise is a trigger for your asthma that  does not mean the end of being active.  It can be prevented and treated so that everyone can reach their own sporting potential."
"We are here to provide advice and help to people with asthma and their families.  However, with the enormous reduction in state funding we are struggling to maintain vital services like our helpline.  We urgently need to make up the shortfall and so we are calling on our supporters to run any pace, any place, any time for asthma this sports filled year."
Other stars who don't let asthma get in their way supporting The Asthma Society included actress Charlie Murphy, who was announced as best actress at the Irish Times Theatre Awards this week; Brian Gregan, rising 400-metre star; Ruairdhi Higgins, Derry City midfielder, Colin Moran, former Dublin Gaelic Football star and under 12 World Kickboxing champion Niall O'Carroll.
For more information contact us on 01 817 8886