What the papers say – weekly digest (17/11/23)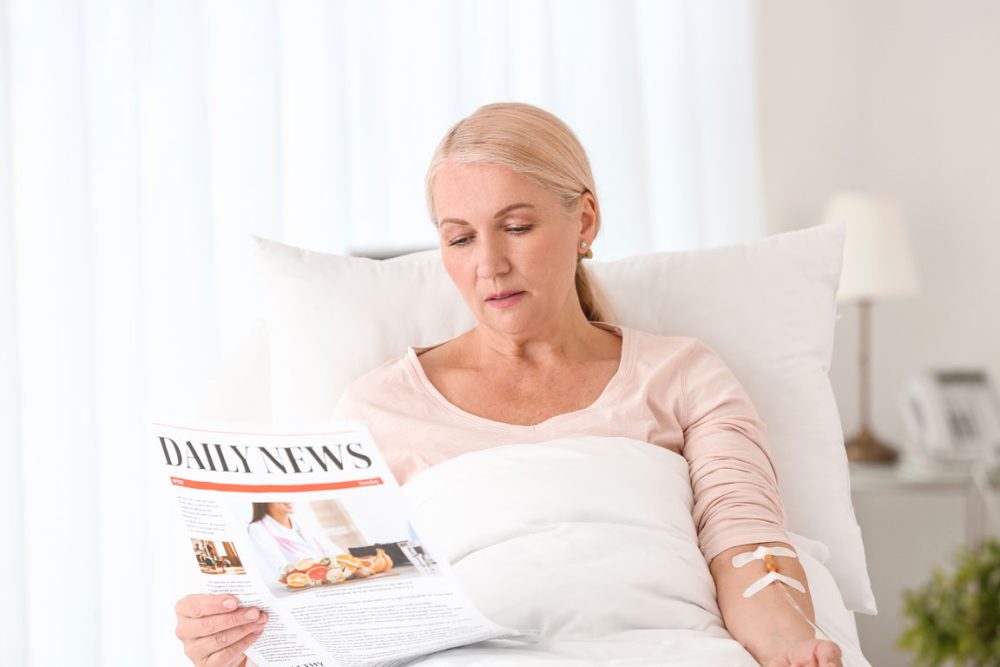 Your weekly digest of the top healthcare stories, covering news published from 13/10/2023 – 17/11/2023.
Daily Express
Eight in 10 leaders in the NHS fear this winter will be worse than last year – and two-thirds say 2022 was the most challenging ever. NHS Providers' annual survey of 185 trust bosses found 78% fear not having enough capacity to meet demand. Almost nine in 10 worry social care does not get enough investment and fewer than one in three thought they could provide high-quality care in the next two years. The membership body said the health service was facing its ''toughest test yet''. The warning came after the waiting list for planned appointments and procedures grew to a record 7.77 million in September. The poll also found fewer than half of trust bosses thought the quality of care on offer was high – with just 1% ranking it very high and 40% high while 49 % rated it average and 5 % low.
Autumn allergies are becoming more common, leaving thousands with sneezing fits and runny noses, according to experts. This phenomenon, called Autumn Sneezing Syndrome, is said to be caused by changing pollen patterns as well as an invasive plant called ragweed. 'Usually you get hay fever starting with the tree pollens in March and April and then grass pollens from May to August, then that was the end of it for most people,'  said Dr Adrian Morris, principal allergist at Surrey Allergy Clinic. 'But now we get people affected well into the autumn.' Studies previously suggested only a small number of people got hay fever allergies during the autumn. These were caused by increased levels of mould and fungal spores, often found in dead vegetable matter in gardens and woodlands including piles of rotting leaves, grass cuttings, compost heaps and garden sheds, according to charity Allergy UK. But Dr Morris said the number of people affected was increasing, in part due to allergic reactions caused by ragweed, which sheds its pollen later in the year than most plants. According to Thomas Jacques, an ear, nose and throat surgeon from the London Nose and Sinus Clinic, a daily antihistamine, which can be bought from supermarkets and pharmacies, can be highly effective for treating Autumn Sneezing Syndrome. He also recommended nasal steroid sprays, which can be taken alongside antihistamines.
Scientists have developed a breath test that can help people identify foods that trigger uncomfortable bloating. The device, called the FoodMarble, measures the level of gases in the breath – which experts claim can predict when a certain meal will lead to irritable bowel syndrome (IBS) symptoms. The chronic condition also prompts constipation, diarrhoea and  stomach cramps. Studies  have shown that FoodMarble reduces the bloating and flatulence in those regularly using the device – which measures hydrogen and methane levels as patients exhale. Experts claim certain food types that are difficult to break down are most likely to trigger these gases to build up. While uncomfortable bowel symptoms can affect anyone, experts say they are most common in people with IBS, which affects some 13 million Britons. This is due to the sensitive nerve fibres in their bowels which are easily irritated by excess gas. The FoodMarble device, which measures both hydrogen and methane levels, costs £199. It is designed to be used after every meal alongside an app, where users note down what they have eaten. Over time, the app is able to identify which foods are corresponding with higher levels of gas.
Vape advocates have hit out at Government plans to ban disposable e-cigarettes and their sweet flavours, claiming it would see one in five users switch back to smoking. Legislation to allow tighter restrictions was announced in the King's Speech, with Ministers said to be considering limiting vape flavours to tobacco and mint, banning shop displays, introducing plain packaging and a total ban on disposable vapes. Last month, the now former Health  Secretary, Steve Barclay said of particular concern was the 'way vapes are being marketed to children, making them look like sweets'. The environmental impact of millions of disposables, which contain batteries, piling up in landfill, was also a worry. However the move could backfire, said David Phillips of Vape Superstore, which surveyed 1,000 customers and found that 21 per cent of disposable vape users would go back to smoking. The poll also suggested that outlawing sweet 'e-liquids' – used with refillable vape pens – would see a third of vapers return to tobacco, while one in seven would resort to buying products with their favourite flavours on the black market. These findings echo previous research that suggested flavours were a key reason for smokers switching to vaping. Studies have also found that measures such as plain packaging gave the false impression that smoking and vaping were equally harmful, making smokers less likely to switch. Vape use has soared from about 700,000 adult users in 2012 to 4.7 million this year. Of these, about 2.7 million are ex-smokers, according to health charity Action on Smoking and Health (ASH).
An online pharmacy has sparked anger after launching a £39 sick note service, allowing people to be signed off work if they record a 30-second video of their symptoms. Pharmacy2U, Britain's largest online pharmacy, offers customers same-day medical sickness certificates, where a GMC-registered doctor signs them off if they pay the fee and upload a short clip of themselves. The site promises customers that if they submit a recording before 9pm, they can receive a sick note 'for work, college, or university' on the same day. Tory MP Nigel Mills said: 'Services like this make it no wonder that we currently have 2.5 million people signed off sick at the moment. The system is open to abuse.' Pharmacy2U, which reported a £2.9 million pre-tax profit in 2022, did not respond to a request for comment.
The Daily Telegraph
NHS league tables will be introduced under Labour, with no more ''turning a blind eye to failure'' the shadow secretary will say. Wes Streeting will today (Wednesday) promise ''far more transparency'' about poor performance, with patients able to see where is best and worst for care. Turn-around teams will be sent to failing organisations, with greater freedom for those meeting higher standards. The shadow health secretary said it was ''reform or bust'' for the NHS, saying Labour's reform agenda would ''get more out of the NHS for what we put in''. Writing below, Mr Streeting says: ''League tables will show where patients are getting a poor service – not to pit healthcare  systems against one another, but to drive improvement. Patients should be able to see whether they are getting the standard of care we expect of the NHS. Where performance is poor, we will send in turn-around teams of the best performing leaders to support them. No more turning a blind eye to failure.'' Performance would be measured against a range of measures, including waiting list times, efforts to prevent ill-health and to modernise services. At the start of the year Rishi Sunak said cutting waiting lists is one of his five priorities. The list has continued to grow, reaching a record 7.75 million, with 1 million operations and appointments cancelled because of strikes. Last week health officials said they were scaling back waiting targets, in order to pay some of the costs of a £1 billion strike bill.
The chief executive of the UK Health Security Agency, Dame Jenny Harries, has said antibiotics must be treated with respect, as deaths caused by resistant infections have risen for the second year in a row. The number of people who died from a severe antibiotic-resistant infection in 2022 was the highest since 2019 in a post-pandemic resurgence. There were 2,202 deaths last year, an increase of 92 on the previous year, while infection rates rose from 55,792 to 58,224. Dame Jenny said: Antimicrobial resistance is not a crisis of the future, but one that is very much with us right now.''
Pfizer has unveiled plans to cut 500 jobs at its laboratories in Kent as it races to strip $3.5bn (£2.8bn) worth of costs out in the face of falling demand for its Covid drugs. The pharmaceutical giant said it would be stopping its Pharmaceutical Sciences Small Molecule (PSSM) operations at its facility in Sandwich, Kent. These teams are responsible for turning experimental molecules into medicines used for clinical trials. Pfizer first discovered erectile dysfunction treatment Viagra at the Sandwich site. It said the move to stop PSSM work at the site came as part of efforts to cut costs across its business, having in October announced a $3.5bn plan to axe jobs and expenses. It followed disappointing sales of its Covid treatments, with Pfizer now expecting its revenues for the full year to come in between $58bn and $61bn. It previously forecast revenues would come in between $67bn and $70bn.
Not immediately revealing good news such as an engagement or pregnancy can make you feel more alive. Researchers used five tests on more than 2,500 people, and found those reflecting on something positive they had not yet shared were more enlivened than those who focused on personal data that is already known to others. Michael Slepian, associate professor at Columbia University in New York, said: ''When we feel our actions arise from our desires rather than external pressures, we also feel ready to take on whatever lies ahead. While negative secrets are more common than positive secrets, some of life's most joyful occasions begin as secrets, including marriage, proposals, pregnancies and surprise gifts. People sometimes go to great lengths to orchestrate revealing a positive secret to make it all the more exciting. Having extra time allows us more time with this exciting moment even if only in our own minds.'' The findings are published in the Journal of Personality and Social Psychology.
A  £1.1 billion flagship 'megalab' set up during Covid to defend Britain against future epidemics is up for sale after standing empty for 11 months. Industry insiders say the Government is trying to offload the Rosalind Franklin Laboratory in Leamington Spa for a fraction of the original cost to taxpayers. The then Health Secretary Matt Hancock announced the project in November 2020, and claimed the 'world-leading' diagnostics site would be able to carry out 300,000 tests a day. But it opened six months late and typically processed only 11,500 tests a day before closing 18 months later. Desperate estate agents are now offering packages that will see the site broken up to attract 'start-ups, scale-ups and small and medium-sized enterprises'. Jon Curtis, a leading expert on DNA testing, said: 'Post-Covid we should have had a low-cost, world leading testing facility. But now it's all up for sale. A legacy of failure and a vast waste of many hundreds of millions of pounds.'
The Guardian
Cervical cancer can be eliminated in England by 2040, saving thousands of women's lives, the head of the NHS will declare today (Wednesday). A combination of human papillomavirus (HPV) vaccination and screening for the disease means that elimination of it is a realistic ambition, according to Amanda Pritchard, NHS England's chief executive. It is thought to be the first time that any NHS leader, senior doctor or health minister has held out the possibility of banishing any form of cancer within a set time period. However, Pritchard will make clear that achieving that goal depends on schoolchildren and young adults getting vaccinated against HPV which causes 99% of cervical cancers, and far more women than currently attend screening appointments doing so. About 3,200 women in the UK are diagnosed with cervical cancer each year. It is the 14th most common cancer affecting women in Britain. Women aged 30-34 are most likely to be diagnosed with it. The disease develops when abnormal cells appear in the lining of the cervix and grow and in the end come together as a tumour. If the cells are not caught early the cancer can spread to other parts of the body. Advances in medical cancer, and especially the proven effectiveness of HPV vaccination, have helped persuade Pritchard that elimination by 2040 is feasible. NHS England said that Pritchard's determination to make cervical cancer a thing of the past was a ''pledge'' to eliminate it but she said that doing so was an ''ambition''. The World Health Organization says that cervical cancer will have been eliminated if no more than four women per 100,000 of the female population develop it.
A pioneering UK trial will allow patients with advanced bladder cancer to receive personalised drug treatments depending on the DNA in their tumours. Currently the deadly disease is treated using chemotherapy, surgery and sometimes radiotherapy. However, research suggests some patients would do better on new drugs known as immunotherapy that are tailored to boost an individual's immune system. Other patients do not respond to either chemotherapy or immunotherapy and their only hope is immediate surgery to try to root out the tumours. But scientists now believe they can predict which treatment is best suited for patients depending on the genetic traits of the cancer itself. In a first-of-its-kind trial, about 160 patients will receive treatment tailored to the DNA of their cancer. Researchers hope the study will fundamentally change the way cancer is treated on the NHS and will ultimately save thousands of lives. 'Most advanced bladder cancer patients receive the same treatment even though it works better for some and much worse for others,' says Professor James Catto, a urological surgeon and chief investigator of the study at Sheffield Teaching Hospitals NHS Foundation Trust. 'Survival rates for bladder cancer have remained unchanged for nearly three decades. We hope this trial could change that.' Each year about 5,000 people in the UK die from bladder cancer, which affects 10,000 annually. If spotted early it can usually be cured using surgery or drug therapies. In the new trial, taking place at 20 sites around the country and funded by the National Institute for Health and Care Research, half of the 320 participants will receive the current standard treatment – three months of chemo followed by surgery – while the other half will get a tailored treatment plan based on the DNA of their cancer. Participants will need to have bladder cancer which is in  danger of spreading but has not yet left the organ.
Millions of high blood pressure patients in Britain could soon be offered a simple twice-a-year jab instead of daily pills to protect against heart attacks and strokes. Just one dose of the drug, called zilebesiran, can send pressure plummeting within two weeks, and the benefits last for up to six months, according to new trial results. On average, patients saw a 10 to 12 point fall, which experts say equates to a 20 percent reduction in the risk of strokes, heart attacks and other cardiac events.  They also say the injections are so simple they could  be self-administered at home, like commonly taken diabetes drugs. The news was announced at the American Heart Association's annual Scientific Sessions in Philadelphia. Although only a few hundred patients took part in the early-stage trial, the results were so positive that they were hailed by cardiologists as a potential paradigm shift. High blood pressure, known medically as hypertension, is estimated to affect 14.4 million people in the UK – a quarter of all adults. However, the condition rarely has noticeable symptoms – and, of these, a staggering four million are thought to be undiagnosed, as they have never been tested. Zilebesiran works by switching off the gene concerned with the production of angiotensin, a hormone that narrows blood vessels leading to raised blood pressure. Several existing drugs target angiotensin, but this is the first to cut off production 'at the source'.
A vaccine to protect against chickenpox should become a routine childhood jab in the UK, government advisers have said, adding that the move would not only reduce the number of children who become sick from the virus, but cut the number of serious cases that can become fatal. At present the jab, known as the varicella vaccination after the varicella zoster virus that causes the disease, is only available on the NHS to children and adults who are in regular or close contact with people who could become very ill from a chickenpox infection or have a weakened immune system. This includes healthcare workers who have not had chickenpox before, as well as close contacts of vulnerable people. Under the new proposal from the Joint Committee on Vaccination and Immunisation, the UK would join countries that already offer the varicella vaccination as part of routine childhood immunisation programmes, including Germany, Canada, Australia and the US. Under the proposal, all children would be offered two doses of the vaccine – one at 12 months and another at 18 months – while the recommendations also include provision for a temporary catch-up programme for older children. A survey of about 600 parents published this  year by researchers at Keele University and University College London revealed about three-quarters said they would support such a move, with 18%  saying they were unlikely to accept such a jab for their child and about 8% unsure.
Fewer children are having rotten teeth pulled out since the sugar tax on soft drinks began, prompting calls for the levy to be extended to sweets, biscuits and cereals. The number of children aged up to 18 in England going into hospital to have teeth extracted has fallen by 12% since the sugar tax came into force in April 2018. The figures come from an analysis of NHS data on hospital admissions by researchers from Cambridge and Glasgow universities. The trend means that an estimated 5,638 fewer under-18s are undergoing teeth extraction under general anaesthetic every year compared with before the soft drinks industry levy started. Overall there has been a drop of 3.7 admissions per 100,000 children  aged 18 and under since 2018. However, the biggest falls were among children aged up to four years and five to nine years, with declines of 6.5 and 3.3 admissions per 100,000 young people that age, the authors found.
The Times
Thousands of lives could be saved every year by using an artificial intelligence tool that performs better than doctors in predicting whether patients will have a heart attack, a study suggests. The technology from the University of Oxford, based on 40,000 patients in British hospitals, can spot people with early heart problems that are missed on CT scans reviewed by the human eye. Those people could start preventive treatment, such as statins, cutting their risk of suffering or dying from a heart attack or stroke in the next decade. The AI tool is being piloted in five hospitals, and researchers hope it can be introduced more widely. About 350,000 people a year in Britain have a cardiac CT scan, the standard test to identify narrowings or blockages in the coronary arteries. The research, presented at the American Heart Association's Scientific Sessions, in Philadelphia, found the AI tool could improve treatment for almost half. Three quarters of people having a CT scan, typically after chest pain, will show no clear sign of narrowing, and patients will often be reassured and discharged. But many will go on to die from a heart attack, because undetectable deposits may break up if the arteries are inflamed and block them. Researchers trained the AI tool to look at changes in the fat around inflamed arteries, and information on narrowings and other clinical risk factors, to predict a person's risk of heart attacks or strokes. Among those with no obstructions to their arteries, those with the most inflammation in their blood vessels had more than tenfold greater risk of dying from heart-related problems than those with the least inflammation. The AI tool was tested on a further 3,393 patients over almost eight years and was found to predict the heart attack risk accurately. AI-generated risk scores were then sent to doctors for 744 patients, and 45 per cent had their treatment plans altered as a result. The researchers found the tool was cost-effective compared with standard NHS care, and estimated it could lead to 20 per cent fewer heart attacks and 8 per cent fewer cardiac deaths and strokes among those having the test.
A lack of sleep may increase women's risk of type 2 diabetes by putting strain on their insulin-producing cells, researchers have found. The essential hormone helps to keep blood sugar in a healthy range, but having too much insulin plus insulin resistance – where cells do not respond properly to it – are both linked to diabetes. A US study of 38 women found that if their bedtime was delayed to limit sleep to six hours, after six weeks their insulin resistance rose by an average of 15%. Blood sugar was stable, but researchers warned stress on insulin-producing cells could lead to type 2 diabetes. Study leader Dr Marie-Pierre St-Onge, a nutritional  medicine expert at New York's Columbia University, said: ''Women face many changes in their sleep habits due to childbearing, child rearing and menopause. Getting adequate sleep each night may lead to better blood sugar control and reduced risk for type 2.'' The findings were published in the journal Diabetes Care.
Mothers and babies are being put at risk by a ''toxic culture'' in maternity services, a report claims. Frontline midwives said working in NHS units was like playing a ''warped game of Russian roulette'', with a constant risk of harm or death. ''Dangerously'' low staffing levels meant women in labour were treated as if they were on a conveyor belt, midwives said, adding that one-to-one care was ''a thing of the past''. Maternity units ''often'' had less than half the staff needed to operate safely and unqualified students were left to look after several women on postnatal or labour wards. Midwives said they were given so many patients to care for that they often did not have enough time to complete basic care tasks, such as giving women painkillers or properly sterilising equipment. The report by Say No to Bullying in Midwifery, a campaign group of leading midwives and academics, featured the experiences of hundreds of staff who are working in or have recently left the NHS. Many had witnessed babies coming to harm as a result of ''unfathomable'' working conditions. The report said that midwives who raised the alarm about unsafe conditions were often bullied or threatened, and many left their job as a result. In the report's foreword, Mavis Kirkham, emeritus professor of midwifery at Sheffield Hallam University, said ''care has been squeezed out in the interests of efficiency''. Its authors pinned problems on chronic staff shortages and pressure to discharge mothers and babies to free up beds.
Hundreds of GSK scientists are set to lose their jobs as the drug giant embarks on a major restructuring of its research arm. The redundancies will be focused on staff in the FTSE 100 company's research department, which specialises in earlier-stage science before passing promising treatments on to development teams. The pharma company is splitting its research unit into teams embedded in three specialist areas: vaccines and infectious diseases, respiratory and immunology and oncology. It insisted that only a limited number of staff would lose their jobs as a proportion of the research workforce. A spokesman said it had grown its R&D spend significantly over the past five years and the restructuring was not about cutting costs. The majority of staff that have not had their jobs eliminated are in a ''pool'' with colleagues to compete for roles that will remain. In some pools six staff members are competing for two roles. This month the company upgraded its profit forecasts after strong sales of its vaccine for RSV, a respiratory illness common in small children and the elderly.