How GLP-1 agonists help in type 2 diabetes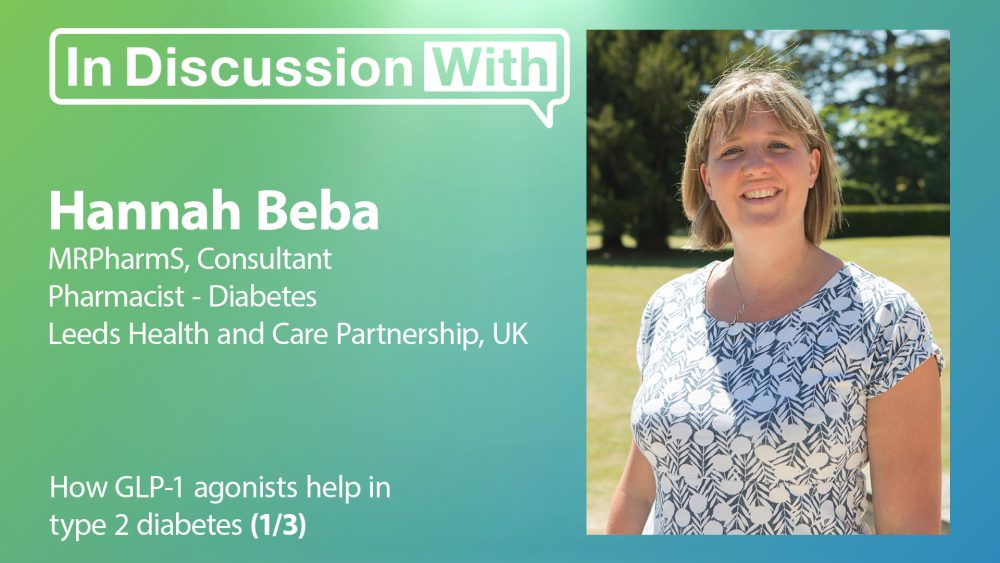 GLP-1 agonists such as semaglutide were developed for treatment of type II diabetes but have also been successful as weight-loss agents for non-diabetics. Many new agents are now in the pipeline. IMI spoke to Hannah Beba, Consultant Pharmacist in Diabetes, Leeds Health and Care Partnership to find out more.
GLP-1 agonists mimic the action of the naturally-occurring incretin GLP-1 to increase insulin secretion, reduce glucagon secretion and maintain and even increase the mass of [insulin-secreting] pancreatic beta cells. In addition, they delay gastric emptying. "You'll feel less hungry over a longer period of time, so it means that people just don't want to eat the portion sizes that they would have done previously and people who do try to carry on eating as they were often will feel sick", explains Ms Beba. This is a point that needs to be discussed with patients when they start treatment, she adds. The GLP-1 agonists available at present are all peptides that have to be injected, but unlike the earliest products that had to be injected frequently, semaglutide (Ozempic) is given by once-weekly subcutaneous injection.
Two new products tirzepatide (Mounjaro) and retatrutide are dual- and tri-incretins, respectively. Tirzepatide acts on both the glucose-dependent insulinotropic polypeptide (GIP) and the glucagon-like peptide 1 (GLP-1) receptors. It is also given as a weekly injection. The results of trials so far suggest that it is more efficacious that the GLP-1 agonists available hitherto. The results from the SURMOUNT-2 trial showed that "more than 45 percent of people who were put on incremental dosing of tirzepatide will reach normoglycemia – which is incredible – and over 80 percent will get to a HbA1c of less than seven percent [53 mmol/mol]", says Ms Beba. The associated weight loss amounted to "more weight loss than [with] some of our weight loss drugs", she adds.
The weight loss can be up to 15 percent of body weight. "That's really what people care about, if I'm being absolutely honest. If they start getting some significant weight loss it completely inspires them to carry on and then they'll even …. make more lifestyle changes. What you find is people just need to get over that hump of … getting nowhere with diet and lifestyle", she says.
Retatrutide is a tri-incretin – an agonist of the glucose-dependent insulinotropic polypeptide (GIP), glucagon-like peptide 1 (GLP-1), and glucagon receptors. It is currently being evaluated patients with type II diabetes (TRIUMPH-2 trial). Early findings suggest that it might be even more efficacious than tirzepatide, but it is still a long way from being marketed.
About Hannah Beba
Hannah Beba is a consultant pharmacist in diabetes at Leeds Health and Care Partnership. Her clinical work involves care of patients with complex type II diabetes in community services, GP practices and primary care networks. She also has senior leadership roles; she chairs the Cardio-renal Metabolic Expert Working Group and the Diabetes Steering Group, both of which feed into the Long-term Conditions Board.
Read and watch the full series on our website or on YouTube.