The added value of pharmacogenomics to prescribing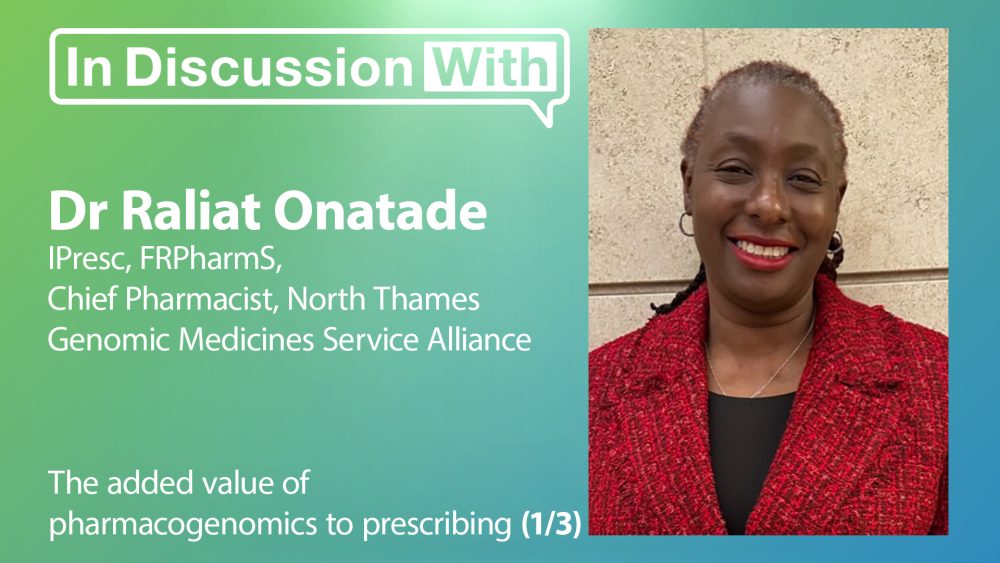 Raliat Onatade, Chief Pharmacist for North Thames Genomic Medicines Service Alliance, recently gave the opening keynote address at the EAHP Congress in Lisbon (March 2023) on the subject of pharmacogenomics and personalised medicine. IMI spoke to her to find out more about the topic and the opportunities that it offers to hospital pharmacists in clinical practice.
Dr Onatade's role in the North Thames Genomic Medicines Service Alliance is concerned with the strategic direction of pharmacy and pharmacogenomics in North Thames and ensuring that it is linked with the national agenda for genomic medicines services.
The terms 'personalised medicine' and 'precision medicine' are often used interchangeably but they are different. Personalised medicine considers the genetic makeup of an individual together with their values, social context, behaviours and attitudes and then tailors the treatment and care on that basis. Precision medicine is usually defined as a model for healthcare delivery which takes into account data, information and analytics. "The outcome really is by and large the same whether it's 'personalised' or 'precision' in that it's tailored to the care of that individual", explains Dr Onatade.
Pharmacogenetic prescribing guidance
Pharmacogenetic information allows clinicians to identify people who handle drugs differently and may therefore be at risk of over- or underdosing of certain medicines. It "can also help us be more efficient with our dosing strategies because you'll know if somebody has got a specific genetic mutation which might make them either more sensitive or less sensitive to the effects of a medicine", says Dr Onatade. Moreover, "when you think about all of that in the round it can also help with, for example, reducing the risk of polypharmacy because you can make sure that you're getting it right first time – reducing the risk of waste as well as reducing the risk of exposure [of] your patient to harm due to a medicine which they may be more sensitive to", she adds.
Precision diagnostics
Another term that is frequently seen is 'precision diagnostics'.  This refers to the diagnosis of specific diseases on the basis of, for example, pharmacogenetic analyses. "Precision diagnostics really drives precision medicine …….and cancer is a really good example – where you can actually diagnose the genetic cause of a tumour, for example, then you can tailor your therapeutic treatment to that genetic cause", explains Dr Onatade.
Dihydropyrimidine dehydrogenase (DPD) deficiency  
"We've been working on the use of DPD- and DPYD-deficiency for a long time it's only very recently that it's become very mainstream", says Dr Onatade.  DPD is an enzyme that is involved in the metabolism of fluoropyrimidine drugs – two commonly-used examples are 5-fluorouracil and capecitabine. "DPYD is the gene that codes for the enzyme. Now, if you have insufficient DPD caused by a mutation in the DPYD gene you are more susceptible to the toxic effects of these chemotherapeutic drugs – and they can be very, very toxic", says Dr Onatade. For this reason, patients should be checked for DPYD mutations before starting treatment with one of these drugs. Hospital pharmacists have two important functions here – the first is to check that the patient has been tested before treatment starts and the second is to provide advice on the change in therapy or dosing so that patients are not at risk of toxic side effects.
Dr Onatade comments: "This genetic variation has been well-known within cancer and oncology circles for a very long time and so for a very long time most oncology centres were actually testing for that before it became widely known. What's happened [more recently] is that NHS England have now mandated the introduction of the test, so now it is an accepted standard of care."
About Raliat Onatade
Raliat Onatade holds three positions:
Chief Pharmacist for Northeast London Integrated Care System
Group Chief Pharmacist for Bart's Health NHS trust also in East London
Chief Pharmacist for North Thames Genomic Medicines Service Alliance
Dr Onatade's EAHP keynote presentation can be viewed at: https://events.eahp.eu/cmGateway/vimeoplayer.html?vimeoId=810496208
Read and watch the full series on our website or on YouTube.