Oral ritlecitinib approved in US for alopecia areata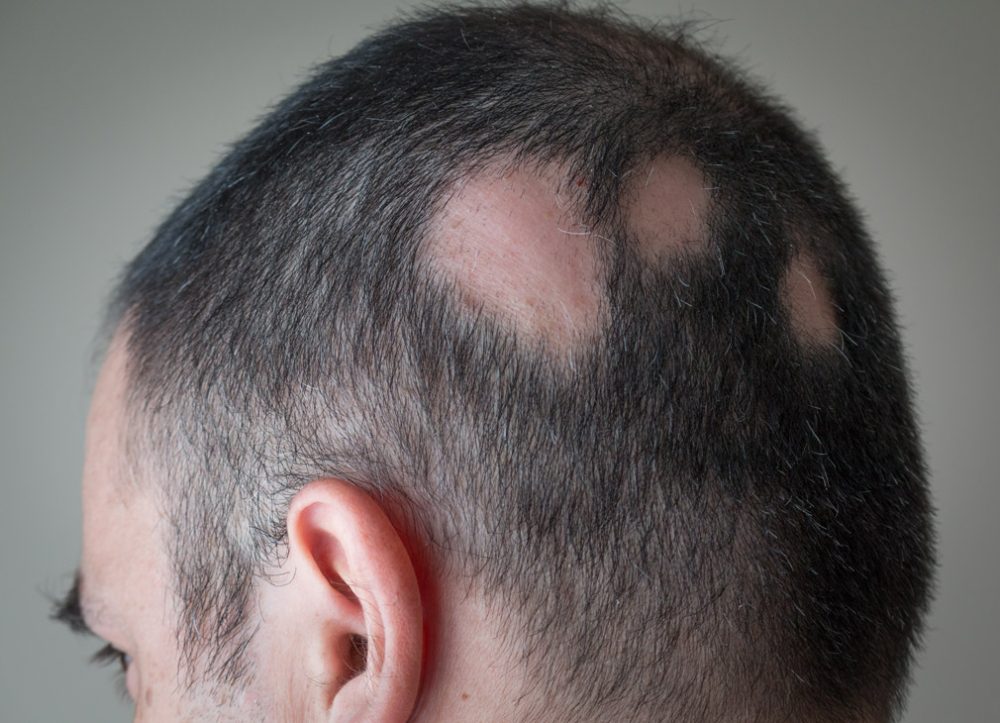 The FDA recently approved the Janus kinase (JAK) inhibitor ritlecitinib (Litfulo) for adults and adolescents with severe alopecia areata. It is, so far, the only treatment approved by the FDA for adolescents (12 years and above) with severe alopecia areata.
Background
Alopecia areata (AA) is an autoimmune disease of the hair follicle. It presents as bald patches – often on the scalp but can also affect other hairy areas e.g. beard area and eyebrows. It can be associated with significant psychosocial problems including anxiety, depression, social isolation and withdrawal.  An increased suicide risk has also been noted in adolescent children
The Janus kinase/signal transducers and activators of transcription (JAK/STAT) pathway is known to be involved in the pathogenesis of AA and for this reason JAK inhibitors (JAKis) have been tested and now approved for use in this condition.  The JAK/STAT pathway is involved in many biological processes and several forms of JAK exist (JAK 1,2 and 3).  Both the JAK1/2 inhibitor ruxolotinib and the pan-JAK inhibitor, tofacitinib were found to be effective in the treatment of AA. Laboratory studies  have shown that selective inhibition of JAK3 or JAK1 "robustly induced hair growth and decreased AA-associated inflammation." 1
Ritlecitinib targets JAK3 whereas baricitinib, which is also approved for severe AA in the US and UK, inhibits JAK1.
ALLEGRO trial
The phase IIb/III, randomised, placebo-controlled, multicentre ALLEGRO  trial provided the basis for approval of ritlecitinib in AA. It involved 718 patients with ≥50% hair loss as measured by the Severity of Alopecia Tool (SALT). The results showed that 23% of patients in the ritlecitinib group had ≥80% scalp hair coverage after six months, compared with 1.6% of the placebo group. Efficacy results were similar for the adolescent patients ages 12 to 17 and adults.
The most common adverse events (at least 4% of patients treated with ritlecitinib) were headache (10.8%), diarrhoea (10%), acne (6.2%), rash (5.4%), and urticaria (4.6%).2
Ritlecitinib in the UK
Ritlecitinib has been approved by the FDA for severe AA, a condition for which current treatments e.g. topical corticosteroids are usually ineffective. It has not been approved for acute AA (defined by disease duration less than six months).  Acute AA has a high rate of spontaneous remission and systemic therapy is rarely required.
NICE guidance for ritlecitinib for treating moderate to severe alopecia areata in people 12 years and over is currently in development, with publication expected in November 2023.
References
Dai Z, Chen J, Chang Y, Christiano AM. Selective inhibition of JAK3 signaling is sufficient to reverse alopecia areata. JCI Insight. 2021 Apr 8;6(7):e142205. doi: 10.1172/jci.insight.142205. PMID: 33830087; PMCID: PMC8119218.
FDA Approves Pfizer's LITFULO™ (Ritlecitinib) for Adults and Adolescents With Severe Alopecia Areata. https://www.pfizer.com/news/press-release/press-release-detail/fda-approves-pfizers-litfulotm-ritlecitinib-adults-and