A holistic approach to drug therapy for heart failure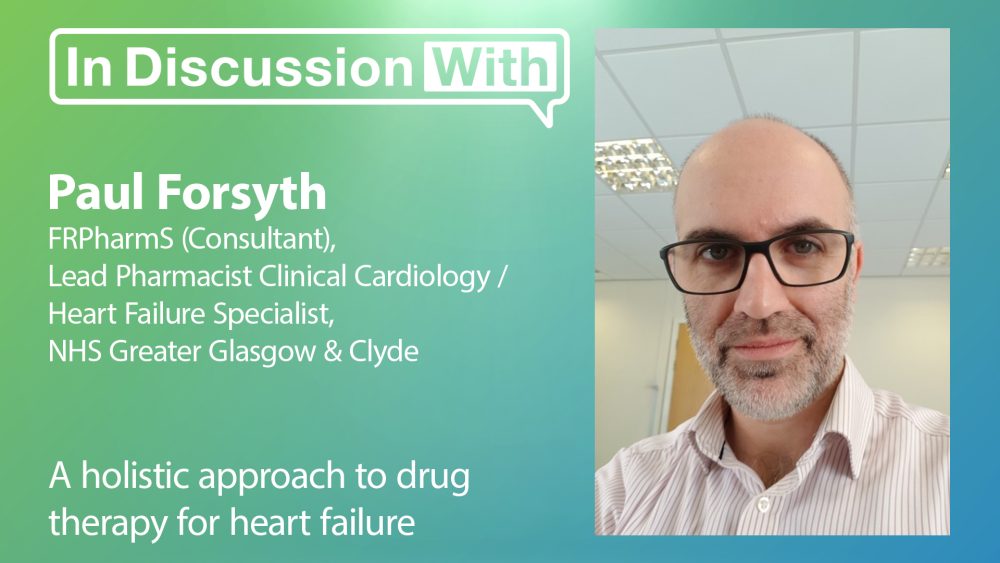 A recent publication described the holistic approach to drug therapy in a patient with heart failure – an area where treatment has changed considerably over the past 30 years.  In this series of short videos, the lead author, Paul Forsyth, Lead Pharmacist, Clinical Cardiology at NHS Greater Glasgow and Clyde describes current thinking about the management of heart failure and how pharmacists can contribute to the work of the cardiology team in this area.
Why does heart failure matter?
"Heart failure is interesting because most people incorrectly think it's a disease and it's not actually a disease at all – it's a clinical syndrome …… a collection of signs and symptoms [including] breathlessness, fluid overload and fatigue", says Mr Forsyth. The syndrome can be brought on by a number of different functional or structural problems in the heart – most commonly left ventricular systolic dysfunction (LVSD).
Shared decision-making is critical to the effective management of heart failure. For this to work well, patients need to understand their disease and its associated risks and also the risks and benefits of the available treatments. In addition, clinicians need to understand what the patient wants to get out of treatment.
How should the four pillars of therapy for heart failure be prescribed?
Current thinking advocates the use of 'four pillars of heart failure therapy'.  The four pillars of therapy comprise:
A renin-angiotensin system inhibitor (RASi) which could be either and angiotensin converting enzyme (ACE) blocker or an angiotensin receptor–neprilysin inhibitor (ARNi)
A beta-blocker
A mineralocorticoid agonist (MRA)
A sodium-glucose co-transporter 2 inhibitor (SGLT2i)
The four drug groups all work differently to slow the progression of the disease. "The order in which you go probably isn't as important as to really trying to get people on to them as quickly as possible and we try and tailor the approach to the individual in front of you",  says Mr Forsyth. The next step is to adjust each medicine to the optimum dose – a process that involves frequent follow up and monitoring for therapeutic and adverse effects and often calls for a team approach.
What are the key challenges in the treatment of heart failure?
The key challenges in heart failure treatment include reaching the target dose, awareness of drug-specific issues that influence effectiveness and tackling adherence problems, says Mr Forsyth. "For three of the four pillars we normally start below the target dose then we have to build them up", he adds. For SGLT2 inhibitors there is only one dose and so patients start on the optimal dose, he notes.
Variations in the responses to drug therapy can occur because of the intrinsic properties of the drugs and/or because of differences in the ways that individuals absorb, metabolise and excrete drugs. In addition, other factors also need to be taken into consideration including the available evidence for effectiveness and the side effect profiles of the different drugs within the same class. A good understanding of these factors enables clinicians to individualise therapy appropriately.
Nevertheless, adherence can be a problem and it is a complicated, multi-factorial phenomenon. The best way to tackle adherence problems is to speak to the patient and find out what the barriers are so that an individualised solution can be found, Mr Forsyth advises.
Who should oversee heart failure management?
The management of heart failure treatment is probably best done by a primary care team and pharmacists can play a major role in prescribing, says Mr Forsyth.
Polypharmacy can be a complicating factor because some drugs may have contributed to the development of heart failure in the first place. A systematic review on polypharmacy in heart failure by Dr Janine Beezer and colleagues has explored the topic in detail.
Mr Forsyth's advice to young pharmacists who might be thinking about specialising in cardiology is unequivocal: "There's no better place to work as a pharmacist than in cardiology and heart failure.   Moreover, specialisation in cardiology also offers pharmacists considerable scope for prescribing, he adds.
Read and watch the full series on our website or on YouTube.