Researchers to explore potential of new treatment against vascular dementia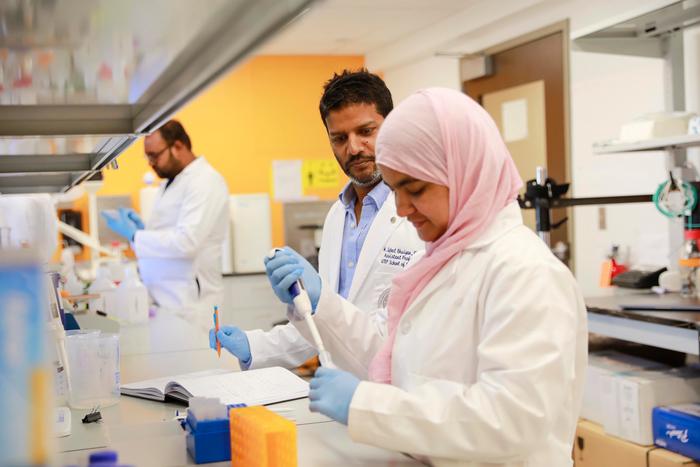 Researchers from The University of Texas at El Paso's School of Pharmacy will explore the viability of a new treatment for vascular dementia, thanks to a $2.2 million grant from the National Institutes of Health (NIH) National Institute of Neurological Disorders and Stroke (NINDS). The grant builds on work that's previously been done by the team and their collaborators.
Vascular dementia — the second most common type of dementia worldwide — is caused by reduced or blocked blood flow in the brain. Similar to Alzheimer's disease, vascular dementia causes memory loss and cognitive problems such as confusion, slowed thinking, and difficulty with problem solving and speaking.
Mohammad Iqbal Bhuiyan, Ph.D., assistant professor in the UTEP School of Pharmacy, is the project's principal investigator. His NINDS-funded research will focus on better understanding the biological triggers behind vascular dementia and investigating a new candidate drug, known as "ZT-1a," to counteract the condition.
"The opportunity to work with my UTEP colleagues and the NINDS to develop an innovative therapeutic strategy excites me the most," Bhuiyan said. "Our study will ideally demonstrate that this candidate drug is effective and can prevent cognitive impairments in dementia patients."
Before joining UTEP, Bhuiyan served as PI and Co-I on several NIH and Veterans Affairs grants, studying ischemic strokes, which occur when a vessel supplying blood to the brain is obstructed.
In a study published earlier this year, Bhuiyan and former colleagues at the University of Pittsburgh discovered that ZT-1a, a compound that belongs to a category of drugs called SPAK inhibitors, is neuroprotective and can suppress the detrimental effects of ischemic stroke.
According to Bhuiyan, the findings suggest that ZT-1a has therapeutic potential against vascular dementia as a brain white matter protectant. Using the NINDS grant, the UTEP team will now test that hypothesis over the next several years.
"The Centers for Disease Control estimate that nearly 14 million adults will live with dementia by 2060," said José O. Rivera, Pharm.D., dean of the UTEP School of Pharmacy. "That is why Dr. Bhuiyan's research has such potential for impact. I congratulate him and his colleagues here at UTEP on receiving this highly competitive grant from the NIH, and I look forward to the insights they will uncover."
Additional UTEP contributors will include postdoctoral researchers M. Tipu Sultan, Ph.D., and M. Khadija Habib, Ph.D.; graduate student M. Shamim Rahman; and research technician Israt Jahan.
The University of Pittsburg and the Children's Hospital of Philadelphia will also contribute to the project.
IMAGE: MOHAMMAD IQBAL BHUIYAN, PH.D., (CENTER) SUPERVISES KHADIJA HABIB, PH.D. AS SHE CONDUCTS LAB RESEARCH. view more 
CREDIT: THE UNIVERSITY OF TEXAS AT EL PASO.