Major step forward in treatment of multiple myeloma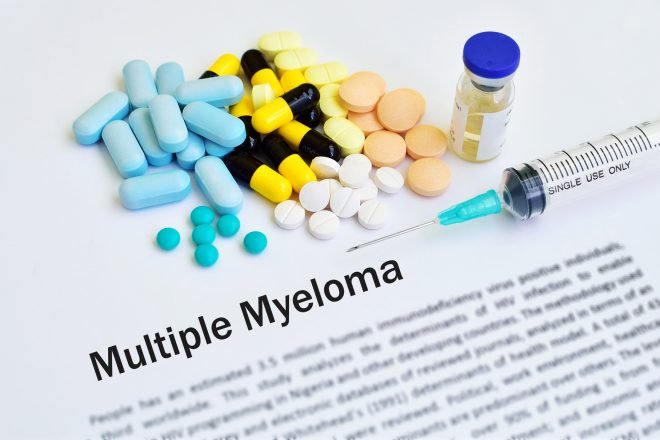 Article by Bruce Sylvester
A CAR (chimeric antigen receptor) T-cell therapy (idecabtagene vicleucel) more than triples the expected length of remission for multiple myeloma patients who have relapsed several times, researchers reported on Feb. 25, 2021 in the NEJM/New England Journal of Medicine, prior to FDA approval of the drug on March 26.
"We have patients that are over two years out from their single infusion of CAR T-cells and still in remission despite having no other treatment options when they were enrolled in this trial," said co-author Larry D. Anderson Jr., M.D., Ph.D., associate professor of internal medicine at University of Texas Southwestern Medical Center in Dallas. "The results mark a true breakthrough with unprecedented depth and duration of remissions from what we hope will be the first cellular therapy option to become available for myeloma patients. Even though we don't yet know if some of these patients may be cured, and many relapse within one to two years, it can at least buy many patients time until other treatment options become available," he added.
In this phase 2 study, the investigators sought to confirm efficacy and safety of idecabtagene vicleucel in patients with relapsed and refractory myeloma. The investigators enrolled subjects who had already undergone at least three previous regimens including a proteasome inhibitor, an immunomodulatory agent and an anti-CD38 antibody.
Subjects received idecabtagene vicleucel target doses of 150×106 to 450×106 CAR-positive (CAR+) T cells. Of 140 subjects enrolled, 128 received idecabtagene vicleucel.
The primary end point was an overall response (partial response or better).
The infusions took place at then start of a two-week hospitalization during which subjects were monitored for possible side effects such as anemia, neutropenia and thrombocytopenia.
At a median follow-up of 13.3 months, 94 of 128 subjects (73%) achieved a response, and 42 of 128 (33%) achieved a complete response.
Median progression-free survival was 8.8 months
"One of the nice things we saw in this study was that the rates of severe CAR T-cell-related toxicities — called neurotoxicity and cytokine release syndrome — were very low in multiple myeloma compared to what we have seen with lymphoma CAR T-cell infusions," Anderson said. "The majority of people had some side effects, but most were low level and manageable, and I would say this therapy is often much better tolerated than a stem cell transplant, which most of these patients had already gone through."
On March 26, 2021, the Food and Drug Administration approved idecabtagene vicleucel (Abecma, Bristol Myers Squibb) for the treatment of adult patients with relapsed or refractory multiple myeloma after four or more prior lines of therapy, including an immunomodulatory agent, a proteasome inhibitor, and an anti-CD38 monoclonal antibody.
Idecabtagene vicleucel is the first FDA-approved cell-based gene therapy for multiple myeloma.