Understanding the systemic inflammatory response in covid-19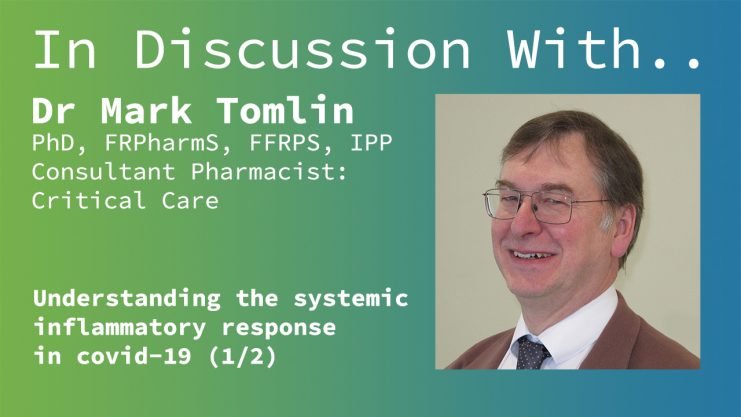 Interview and article by Christine Clark
Although SARS-CoV-2 causes a mild illness in many people, some experience severe illness characterised by a systemic inflammatory response that can lead to multi-organ failure.  
IMI interviewed Mark Tomlin, a consultant pharmacist in critical care, to find out more about the mechanisms that are involved and the drugs that are used to combat the process.
SARS-CoV-2 causes a severe acute respiratory infection. "The virus activates the immune system and kick-starts the body to produce antibodies in order to kill the virus – it's a bit like the starter motor in a car. However, some people are unable to switch off the immune system and these people end up in intensive care with multiple organ failure", explains Dr Tomlin. "I think it's because many of the body's systems are in homeostasis where two opposing processes are in a balance", he adds. Some of the underlying problems are due to imbalances in the normal homeostatic mechanisms and it's important to keep this mind when treatment is selected. 
One of the best examples of a homeostatic mechanism is the clotting cascade. The multiple steps in the clotting pathway are held in check by anti-thrombin III (ATIII), so that thrombi are not formed where they are not needed. "Heparin enhances or augments ATIII and so tips the balance in favour of 'not clotting' – [so this is] an example of a homeostatic mechanism and we push it one way or another [using a drug], says Dr Tomlin.
Sepsis and the inflammatory response
In order to understand the inflammatory response in covid-19 it is important to be aware of the advances in the understanding of sepsis and the inflammatory response that have been made over the past 25 years.  
The first landmark in this story was the launch of Centoxin (nebacumab) in the 1990s. At the time, about one third of deaths in intensive care in the USA were due to Gram-negative bacterial infections and the associated endotoxin release that triggers the inflammatory response. Centoxin was a human monoclonal antibody directed against the bacterial endotoxin. "What we learned from these trials was the importance of selecting the right cohort of patients. If you give Centoxin to patients with Gram-positive sepsis it doesn't work", says Dr Tomlin. The situation was often further complicated by the mixture of antibiotics that patients had received before reaching the intensive care unit. This makes it difficult to culture the infecting organism and means that the intensive care team is often "flying blind", says Dr Tomlin.
The Centoxin trials also provided a clear definition of the systemic inflammatory response syndrome (SIRS). The process starts with pneumonia or some other chest infection. In the case of a Gram-negative infection, endotoxin or exotoxin is released and this triggers the release of a host of inflammatory markers including tumour necrosis factor (TNF), platelet activating factor (PAF), leukotrienes – IL1 and IL6, thromboxanes,  prostaglandins and  nitric oxide. These, in turn stimulate the release of counter-balancing anti-inflammatory mediators such as activated protein C and interleukin-10. The net result is the development of oedema, tissue injury, microvascular thrombi and inhibition of fibrinolysis. The microthrombi can be an important cause of organ death, notes Dr Tomlin. "That's what we really learned with Centoxin – that pathway and a clear definition of where we were going", he says.
Dr Tomlin adds, "I think the other import thing for me about this study was that it established the partnership between pharmacists and consultants in intensive care because we really had to work together to go through the criteria before we were allowed to use this expensive agent. In my hospital we treated 18 patients with this drug and 12 survived. Another hospital I know of gave 24 doses and only had two survivors, so we also learned that adherence to a protocol is important – define your criteria, follow them carefully and get the right patients to get the right drug."
The next landmark was the now infamous TGN 1412 trial in 2004. The drug (TGN1412) was designed to boost the immune response in cancer patients. "This particular drug took the brakes off the immune system so it could be fully activated and really have a florid response", explains Dr Tomlin. In the trial the drug was given to fit young men. "What we saw was an unchecked, super-immune response with profound inflammation and oedema. In other words, if you can't switch off your inflammatory response you're in deep trouble. Again it's the importance of choosing the right cohort of patients and the ability to activate the immune system as well as switch it off or quench it after it has done its job. I think the immune system is a bit like a freight train – it's very slow to start but once it gets going it's very difficult to stop", he says.     
Immunocompromised individuals
Immunocompromised individuals "can't start the motor" of the immune response, explains Dr Tomlin.  One example would be cancer patients, "they may have cancer because their immune systems failed to recognise the abnormal cells or they may have received treatment which later on knocks out their immune system", he says.
Other patients with autoimmune conditions, such as rheumatoid arthritis, multiple sclerosis or inflammatory bowel disease, have immune systems that have "gone into overdrive" and are treated with anti-inflammatory modulators such as steroids, hydroxychloroquine, tocilizumab, anakinra and sarilumab.  Such patients are immunocompromised and at risk of infections and are therefore shielded from SARS-CoV-2.
Read and watch the full series on our website or on YouTube.