GP-based genetic screening for early prostate cancer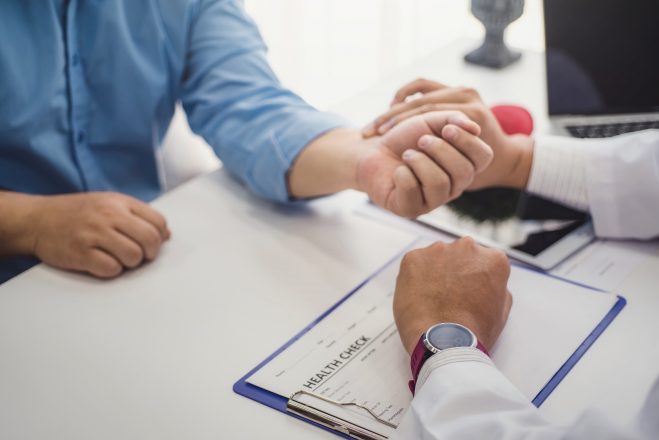 Article written by Bruce Sylvester
By-mail genetic screening, initiated through a primary care physician's office, can spot otherwise undiagnosed cases of prostate cancer, researchers report in a pilot study..
The findings were reported on May 31, 2020 at the 2020 ASCO/American Society of Clinical Oncology virtual meeting.
"Our pilot study assessed men's genetic risk by testing for more than 130 genetic changes that have been linked to prostate cancer. We showed that genetic barcoding of men can safely and effectively identify those at the highest level of risk for prostate cancer, so they can be targeted for follow-up checks, said investigator Professor Ros Eeles, Professor of Oncogenetics at The Institute of Cancer Research, London, and Consultant in Clinical Oncology and Oncogenetics at The Royal Marsden NHS Foundation Trust,.
As background, the authors noted that about 170 single nucleotide polymorphisms (SNPs) are associated with development of prostate cancer.
Even those these markers individually confer a low/moderate risk, that risk is cumulative as the number of identifiable alleles grows. This new study, BARCODE1, is the, "first study to prospectively investigate the use of a genetic profile in PrCa [prostate cancer] screening in the UK general population," they said.
The investigators analyzed saliva samples, received by mail, from 307 healthy males aged 55-69. All had been enrolled through their General Practitioners (GPs).
The researchers extracted DNA for genotyping, conducted using the Eurek Genomics (EG) assay. They calculated a polygenic risk score for each subject, using standard evaluative tools.
Men found to in the top 10 per cent of the genetic risk profile (26 out of the 307) were requested to undergo prostate MRI and biopsy at the Royal Marsden Hospital (RMH) in London. Eighteen subjects accepted and underwent the procedures.
Out of 18 apparently healthy men, seven were diagnosed with prostate cancer.
"The good level of uptake among men and effectiveness at detecting undiagnosed disease show that population screening is possible and could be reproduced on an even larger scale," the authors said.
The investigators studied the aggressiveness of the cancers in men in the top 10 per cent of the genetic score. All seven discovered prostate cancers were diagnosed as manageable by active surveillance, with a mean prostate-specific antigen (PSA) score of 1.8. Scores between 0 and 2.5 are eligible for active surveillance.
Professor David Cunningham, Director of Clinical Research at The Royal Marsden, commented on the implications of the study. ""Earlier and faster diagnosis is often the key to successfully treating cancer. Using genetic screening for men most at risk for prostate cancer will mean we have a much greater chance of being able to treat the disease successfully at an earlier stage, often with less invasive procedures and fewer long-term side effects."
A full pilot study, called BARCODE1, is ready to begin, and it will involve approximately 5,000 patients from 70 GP practices in the UK.