Face masks or face coverings?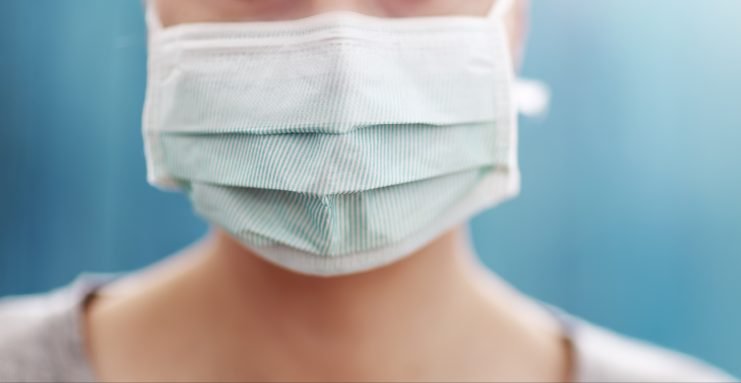 Article written by Christine Clark
Two recent systematic reviews have examined the use of masks
Xiao and colleagues1 found that trials of masks to reduce influenza infections were a mixed bag of trials that involved masking infected persons to prevent passing on infection, masking of uninfected people to prevent from becoming infected and general use of masks to reduce infection rates. Compliance was always an issue – masks don't work if they are not worn – and many studies were small or underpowered. This review found no significant effect of face masks on transmission of laboratory-confirmed influenza.
Jefferson and colleagues (in the updated Cochrane review, preprint)2 concluded that masks alone had no significant effect in interrupting spread of influenza-like illness. They also made the point that further study is necessary and that benefits need to be balanced against harms. They noted that after the SARS epidemic in 2003 a large number of harms were identified including respiratory fatigue, poor work capability, increased nasal resistance, elevated levels of carbon dioxide, facial dermatitis, acne and potential self-contamination events. Although all the trials were conducted during outbreaks of seasonal influenza – a disease with similar modes of transmission to COVID-19 – they were undertaken during relatively low-transmission periods, and this limits generalisability to the COVID-19 situation.
Mask types
There are several different types of masks:
Disposable medical masks (surgical masks, fluid-resistant surgical masks) – designed to prevent contamination of wounds by medical personnel and to protect wearer from splashes/sprays of body fluids.
Respirators (FFP3 masks, N95, P2 masks) tight-fitting, protect wearer against fine particles; disposable
Cloth masks – (non-medical masks, face coverings) often DIY, can be one or more layers of cloth; or antimicrobial fabric. Suitable for repeated use if regularly decontaminated.
For masks to be effective at preventing transmission of infection in non-healthcare settings the predominant mode of transmission would have to be through inhalation of droplets resulting from coughs or sneezes. Masks could then work either by preventing release of droplets from infected persons and/or by preventing inhalation of droplets by uninfected persons. It is now generally accepted that face covering are unlikely to protect the wearer from infection but could protect others by trapping droplets released by coughing and sneezing, especially in enclosed spaces.
In England the public has been advised to wear face coverings rather than surgical masks or respirators.
Washable cloth masks were compared with surgical masks (in healthcare workers) in one study.3 This was a three-armed study that compared surgical masks, cloth masks, and 'no-mask' (control arm) The results showed that cloth masks were associated with significantly higher rates of influenza-like illness (ILI) compared with the control ('no mask') arm. The authors concluded that cloth masks should not be recommended for health care workers. However, the control group followed 'usual practice' with regard to mask wearing. In fact only 1% of the control group wore 'no mask' (the majority wore cloth masks or a mixture of cloth and surgical masks. Thus the results do not tell us whether a cloth mask is better or worse than no mask.
In a recent addendum the authors acknowledged that cloth masks used in the study could have become damp and contaminated during use. They therefore suggest that cloth masks, used a last resort, could be sprayed with sanitizer or subjected to UV disinfection during shift breaks. The cloth masks used were double-layer cotton fabric. Basic principles suggest that UV disinfection would be a poor option because UV light cannot disinfect what it cannot reach. Normal laundering is usually recommended for cloth masks.
DIY masks
The Centers for Disease Control (CDC) has produced detailed guidance on cloth face coverings including instructions for sewn and 'no-sew' face protection masks. https://www.cdc.gov/coronavirus/2019-ncov/prevent-getting-sick/diy-cloth-face-coverings.html.
Another emergency approach comes from the French Medicine Academy which has instructions on how to make a disposable mask using a paper napkin, two elastic bands and a stapler. https://www.connexionfrance.com/French-news/French-Medicine-Academy-How-to-make-Covid-19-mask
Those interested in the particle filtration efficiency of cloth masks will be interested to see a pre-print that shows how adding a layer of nylon stocking (or tights) can improve the filtration efficiency of a mask.4 Konda and colleagues provide a more detailed discussion of the mechanics of masks and note that gaps resulting from an improper fit of the mask can result in more than 60% decrease in the filtration efficiency.5
References
Xiao J, Shiu EYC, Gao H, etal . Nonpharmaceutical measures for pandemic influenza in nonhealthcare settings-personal protective and environmental measures. Emerg Infect Dis 2020;26. 10.3201/eid2605.190994 32027586
Jefferson T, Jones M, Al Ansari L, et al. Physical interventions to interrupt or reduce the spread of respiratory viruses. Part 1: face masks, eye protection and person distancing: systematic review and meta-analysis. medRxiv 2020.03.30.20047217. [Preprint.] 10.1101/2020.03.30.20047217
MacIntyre CR, Seale H, Dung TC, et al . A cluster randomised trial of cloth masks compared with medical masks in healthcare workers. BMJ Open 2015;5:e006577. 10.1136/bmjopen-2014-006577 25903751
Mueller A, Fernandez L. Assessment of Fabric Masks as Alternatives to Standard Surgical Masks in Terms of Particle Filtration Efficiency. medRxiv preprint doi: https://doi.org/10.1101/2020.04.17.20069567.
Konda A et al. Aerosol Filtration Efficiency of Common Fabrics Used in Respiratory Cloth Masks. ACS Nano : https://dx.doi.org/10.1021/acsnano.0c03252