Breakthrough dual therapy emerges for common form of liver cancer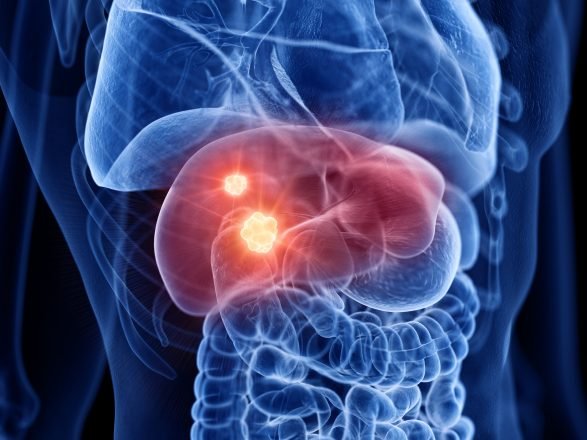 Article written by Bruce Sylvester

Investigators have validated a first-line combination therapy that significantly improves survival in patients with hepatocellular carcinoma, the most common liver cancer.
The findings appeared on May 13, 2020 in the NEJM/New England Journal of Medicine.
"The therapy is a real game-changer for people diagnosed with this aggressive disease," said investigator and lead author, Richard S. Finn, MD, a professor of medicine at the David Geffen School of Medicine at UCLA, Los Angeles and director of the signal transduction and therapeutics program at the UCLA Jonsson Comprehensive Cancer Center. "We now have a new therapy that not only improves survival for people with the disease, which is very challenging to treat, but that helps them live longer while maintaining a high quality of life."
The investigators reported that the combination of atezolizumab, an immunotherapy and bevacizumab, improved overall survival and reduced the risk of death by 42%. The dual therapy also reduced by 41% the risk of worsening disease.
The percentage of shrunken tumors and disappeared tumors more than doubled in the dual therapy group compared to standard treatment.
In RECIST 1.1, an open-label, phase 3 trial, the investigators enrolled subjects with unresectable hepatocellular carcinoma who had not previously received systemic treatment. They randomized the subjects in a 2:1 ratio to treatment with atezolizumab plus bevacizumab or to monotherapy sorafenib. Treatment continued until unacceptable toxic effects appeared or clinical benefit ended.
The primary end points were overall survival and progression-free survival.
The intention-to-treat population included 336 subjects in the atezolizumab–bevacizumab cohort and 165 subjects in the sorafenib cohort.
At primary analysis, the hazard ratio for death with atezolizumab–bevacizumab compared with sorafenib was 0.58 (a significant 42% superiority for the dual therapy, P<0.001). Overall survival at 12 months was 67.2% with atezolizumab–bevacizumab and 54.6% with sorafenib.
Median progression-free survival was 6.8 months for atezolizumab–bevacizumab and 4.3 months for sorafenib, a significant difference (P<0.001).
Grade 3 or 4 adverse events appeared in 56.5% of 329 subjects treated with at least one dose of atezolizumab–bevacizumab, and in 55.1% of 156 subjects treated with at least one dose of sorafenib.
Grade 3 or 4 hypertension appeared 15.2% of patients in the atezolizumab–bevacizumab cohort. Other high-grade toxic effects appeared infrequently.
The authors concluded, "In patients with unresectable hepatocellular carcinoma, atezolizumab combined with bevacizumab resulted in better overall and progression-free survival outcomes than sorafenib."
In an related Editorial published simultaneously by the NEJM, oncologist Robin K. Kelley, M.D, wrote, "These data are momentous, since they identify not only the first therapy to improve survival beyond sorafenib, but also the first successful combination regimen and the first positive randomized, phase 3 trial of immune checkpoint inhibition in this challenging cancer. In defining the new role of atezolizumab–bevacizumab in the expanding treatment landscape for hepatocellular carcinoma, several aspects of the trial data from Finn et al. warrant further scrutiny, including the extent of bleeding risk and implications for a broader population. In addition, subgroup analyses should be performed to discern candidate biomarkers in the context of other immune checkpoint inhibitor trials, and outcomes should be examined for signals of synergy as opposed to additive efficacy, a question that could inform decisions about whether to use a combination or a sequential strategy."