Indomethacin in Covid-19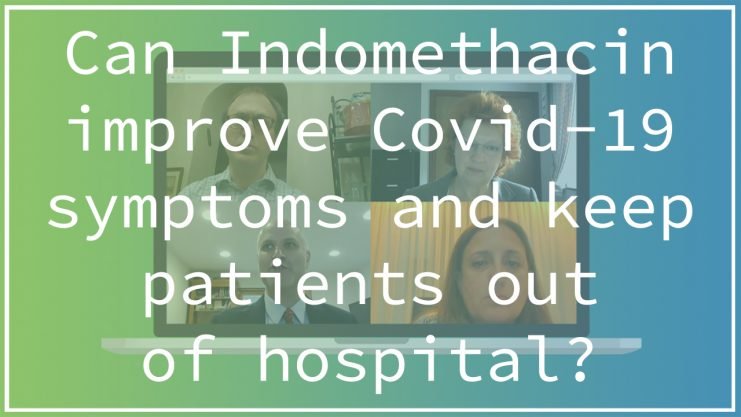 Article by Christine Clark
Doctors in New York have been using indomethacin in the treatment of covid-19 for some time and have gathered valuable, albeit anecdotal, experience in more than 60 patients.
Dr Jonathan Leibowitz, a primary care physician in Brooklyn, New York hit on the idea of using indomethacin after his colleague Dr Robert Rothstein drew his attention to a 2006 study that showed that the drug was active against human SARS-CoV (the virus responsible for SARS) and the canine coronavirus. "We had nothing to offer people for symptom control", he recalls. Paracetamol was only weakly effective and they had been advised not to prescribe Motrin (ibuprofen). Soon afterwards he discovered that his colleague, Dr Aline Benjamin, who is also a primary care physician in Brooklyn, was suffering from covid-19 and he suggested taking indomethacin. She recalls, "My body was aching, my cough was horrendous – I could not say three words without coughing". She took a dose of indomethacin and by the next morning her cough was "a million times better". She continued the treatment for five days and, on the basis of her own positive experience started to prescribe indomethacin for patients with covid-19 symptoms.
So far, the three physicians estimate that about 60 patients in their care have been prescribed indomethacin. About 90 per cent of these have responded positively.
Experience has shown that indomethacin is useful in the management of respiratory symptoms – relieving the pain on taking a deep breath and the annoying (and exhausting) cough. "There are many patients who are not going to die but are going to suffer – now we have something for them", says Dr Leibowitz. Indomethacin is most beneficial in the second half of the course of the disease, when the fever has subsided but incessant coughing is a problem. In fact, "patients often don't contact you until they have a terrible cough – not in the early stage with fever", says Dr Benjamin. Other patients are discharged from hospital when the acute phase is over but they still have to contend with the cough – "sent home to suffer", notes Dr Leibowitz. Indomethacin does not influence the course of the disease but it does relieve much of the suffering, they have found.
Another point that the physicians make is that many of their patients had already been treated using other modalities that had effectively failed. Even after azithromycin, bronchodilators and hydroxychloroquine, indomethacin still had something to offer, they explain.
Perhaps the most telling endorsement of indomethacin is the responses from patients. "I have received many messages of thanks through my patient portal – we didn't get that with hydroxychloroquine!" says Dr Leibowitz.
The potential for gastro-intestinal bleeding is always a consideration, Dr Leibowitz acknowledged. He started cautiously by prescribing 25 mg twice daily but experience has now shown that 25 – 50mg, depending on body size, twice a daily for five days, is appropriate. Overall, indomethacin has a good safety profile and physicians are familiar with the drug and routinely recommend taking it with food. If clinically necessary, famotidine or omeprazole can be co-prescribed for gastro-protection.
The fact that indomethacin is not licensed for this indication was not a concern. There is an inflammatory component to the disease and so the use of an anti-inflammatory can be justified. Moreover, the evidence of indomethacin's effects in SARS-CoV provides a rational basis for its use.
Dr Rothstein emphasised that the mechanism of action of indomethacin in covid-19 is, as yet, not known and trials would be useful to try to understand more about this. Furthermore, the physicians stressed that they were recommending indomethacin –"not just any NSAID" – noting that the symptom relief that they have seen was "out of proportion to what would have been expected with any [other] NSAID". Dr Leibowitz added that when he prescribed Motrin (ibuprofen) for these patients it made no difference to respiratory symptoms.
Looking back over his experience with indomethacin Dr Leibowitz said, "If we had used indomethacin earlier, many patients would not have gone to the emergency room – and infected perhaps 100 other people in the process".
Asked what his message to GPs in the UK and Europe would be, Dr Leibowitz said: "Try it. You have a tool that can help and patients will appreciate it. Be aware of the GI risk. In the absence of active GI bleeding there is no reason not to use indomethacin."
Evidence for indomethacin in covid-19
Much has been published in recent weeks about the question of whether or not to use non-steroidal anti-inflammatory drugs (NSAIDs) in the treatment of covid-19 patients, following the suggestion the French Minister of Health that the effects of NSAIDs could be detrimental.1
The World Health Organisation (WHO) has now concluded that there is no evidence of severe adverse events as a result of the use of NSAIDs.2 Nevertheless, Paul Little (Professor of Primary Care Research, Southampton) has argued that because there is reasonable evidence of a link between NSAIDs and both respiratory and cardiovascular adverse effects in several settings, "a pragmatic and cautionary approach" should be followed. Until further research is available NSAIDs should not be recommended as the first line option for managing the symptoms of covid-19.3
However, NSAIDs may not all be the same. Indomethacin is a NSAID that was introduced in the 1960s and has been used extensively for the treatment of pain and inflammatory conditions. There is a rational basis for the use of indomethacin in the treatment of covid-19, in preference to other NSAIDs. Research carried out in 2006, following the SARS outbreak, by Amici and colleagues4 showed that indomethacin was active (in vitro) against the canine coronavirus. This activity was also observed in vivo and against human SARS-CoV. They concluded that indomethacin acts by selectively blocking viral RNA synthesis and that this action was independent of cyclo-oxygenase inhibition. (The effect was not mimicked by aspirin.)
More recent work by Amici (in viral model systems) has shown that indomethacin both inhibited virus particle production and protected host cells from virus-induced damage (via protein kinase R activation).5
Further evidence to support the use of indomethacin comes in a preprint from Gordon and colleagues6 who noted that Nsp7, a non-structural protein of SARS-CoV-2, was found to interact with PTGES2, a known target of indomethacin. This implies that indomethacin could be tested in COVID-19 patients, as it could indirectly affect the activity of Nsp7, and thus, affect the ability of SARS-CoV-2 to multiply intracellularly.
The latest supporting evidence comes from a preprint (published in April 2020) indicating that indomethacin is a potent inhibitor of SARS CoV-2 in vitro.7
Commentators are broadly agreed that what is needed now is a trial of indomethacin in practice.
References
Day M. Covid-19: ibuprofen should not be used for managing symptoms, say doctors and scientists. BMJ. 2020 Mar 17;m1086.
WHO. The use of non-steroidal anti-inflammatory drugs (NSAIDs) in patients withCOVID-19. Scientific Brief. 19th April 2020
Little P. Non-steroidal anti-inflammatory drugs and covid-19. BMJ 2020;368:m1185
Amici C et al. Indomethacin has potent antiviral activity against SARS coronavirus. Antivir Ther 2006; 11: 1021–1030
Amici C et al Inhibition of viral protein translation by indomethacin in vesicular stomatitis virus infection: role of eIF2α kinase PKR. Cellular Microbiology 2015; 17: 1391–1404
Gordon DE, Jang GM, Bouhaddou M et al. A SARS-CoV-2-Human Protein-Protein Interaction Map Reveals Drug Targets and Potential Drug Repurposing biorxiv http://doi.org/10.1101/2020.03.22.002386
Tianhong Xu et al. Indomethacin has a potent antiviral activity against SARS CoV-2 in vitro and canine coronavirus in vivohttps://doi.org/10.1101/2020.04.01.017624.