SCLC: is it time for novel therapies?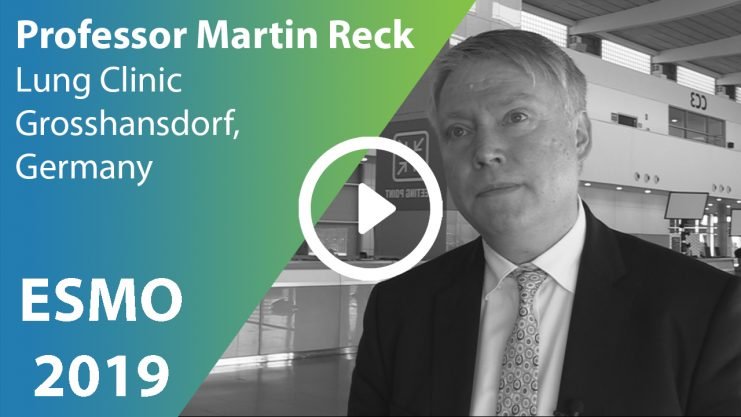 The search for effective therapeutic targets in small cell lung cancer (SCLC) continues and a number of options have been identified. In the meantime the results of CASPIAN and IMPower 133 add to the picture ……..
Written by Christine Clark
Until recently small cell lung cancer (SCLC) has been a 'black box' compared with non-small cell lung cancer (NSCLC) where numerous drivers and disease subtypes have been identified, according to Dr Charles Rudin (Memorial Sloan Kettering Cancer Center, New York). He went on to describe some of the emerging features of the biology of SCLC that might offer targets for therapeutic interventions.
Four molecular subtypes of SCLC have been defined using gene expression profiling. The YAP1 type, characterised by expression of MYC and SOX9, might be susceptible to treatment with aurora kinase A (AURKA) inhibitors such as alisertib.
The almost universal loss of tumour suppressor genes TP53 and RB1 is now recognised as "a hallmark of SCLC"; there are also loss-of-function mutations in epigenetic modifiers CREBBP and NOTCH which suggests that HDAC- inhibitors might be used.
The loss of cell cycle checkpoint regulators, such as RB1 and p53 creates inherent vulnerabilities in SCLC, because the tumour cells become heavily dependent on other checkpoint mechanisms to prevent "catastrophic entry into mitosis" said Dr Rubin. PARP (poly-ADP ribose polymerase – a DNA damage repair enzyme) is of particular interest. Checkpoint regulator proteins are up-regulated in SCLC which makes them targets of interest, he added.
PARP inhibitors (PARPis) are believed to work in two different ways – by inhibition of PARP enzyme activity (leading to persistent single-strand DNA breaks (SSBs)) and by physical 'trapping' of PARP in PARP-DNA complexes leading to enhanced cell death in any tumour cell with an SSB. PARPis can also radio-sensitise and a Phase I/II trial is now under way to test their ability to enhance the efficacy of radiotherapy.
Schlafen 11 protein (SLFN11) predicts sensitivity to PARP inhibitors (and to topoisomerase 1(TOP1)) in SCLC.
Silencing of SLFN11 is associated with acquired chemo-resistance (in a mouse xenograft) through up-regulation of EZH2. A Phase I/II study of an EZH2 inhibitor (DS3201b) in combination with irinotecanfor recurrent metastatic SCLC is now under way, said Dr Rubin.
A number of other cell cycle checkpoint regulators could also be useful therapeutic targets and this area is being actively researched.
CASPIAN
The first-line treatment for patients with extensive stage SCLC (ES-SCLC) has consisted of etoposide + cisplatin or carboplatin (EP) with limited alternatives for over three decades, according to Dr Marina Garassino, (National Cancer Institute, Milan, Italy).
In the CASPIAN trial, the addition of durvalumab to EP demonstrated a statistically significant improvement in overall survival (OS) versus EP alone in patients with treatment-naïve ES-SCLC, without additional toxicity (median OS 13.0 (95% CI 11.5 – 14.8) months vs 10.3 (95% CI 9.3-11.2; HR 0.73 (95% CI 0.591 – 0.909) p = 0.0047.)
Further analysis of the CASPIAN data showed that fewer patients developed new lesions at first progression with durvalumab + EP versus EP, including in lung, liver and bone. The incidence of new brain lesions was similar between arms. The majority of patients had tumour PD-L1 expression of less than 1% and it did not appear to influence clinical outcomes.
Compliance with the treatment regimen was reported to be 60% or more for up to 84 weeks with durvalumab + EP and this was rated "good to acceptable". The time to deterioration in all patient-reported symptoms, functioning and health-related QoL favoured durvalumab + EP compared with EP alone. These results were consistent with efficacy outcomes in this open-label study
IMpower133
The updated analysis of the IMpower133 trial showed that the addition of atezolizumab to chemotherapy (carboplatin and etoposide (EP)) in patients with ES-SCLC resulted in a significant improvement in overall survival (OS). The median OS was 12.3 (95% CI 10.8-15.8) months vs 10.3 (95% CI 9.3 -11.3) months ; HR: 0.70; 95% CI: 0.54, 0.91; p = 0.007. Professor Martin Reck (Grosshansdorf, Germany) said that atezolizumab + CP/ET continued to demonstrate an improvement in OS for first-line treatment of ES-SCLC with 22.9 months of follow-up.
The 18-month "landmark" OS was 34% in the atezolizumab + EP compared with 21% in the EP arm, a survival increase of 13%, emphasised Professor Reck.
Exploratory biomarker analyses – PD-L1 and tumour mutational burden (TMB) – suggested that neither influenced the clinical outcomes.
"These results further support the addition of atezolizumab to EP as the new standard of care for untreated ES-SCLC in an all-comer patient population", concluded Professor Reck.
Atezolizumab + EP was approved for first line treatment of ES-SCLC by the Food and Drug administration (FDA) in March 2019 and by the European Medicines Agency (EMA) in September 2019.
Commenting on the results Professor Johan Vansteenkiste (University Hospital KU Leuven, Belgium) noted that the two trials were similar in many respects and had yielded "statistically significant but clinically moderate effects" for the chemotherapy + immunotherapy combination versus chemotherapy (platinum + etoposide) alone.
Although the trials represent the first progress for decades in stage IV SCLC, only a fraction of the patients experience a beneficial effect and it will be important to find a way to identify them in advance, he said. However, he also noted that a cost-effectiveness analysis (undertaken in the US) had calculated that the incremental cost effectiveness ratio (ICER) for this treatment was $500,000 per quality adjusted life year (QALY)
Based on presentations given at the European Society for Medical Oncology Congress, Barcelona, September 2019