Optimal delivery of immunotherapy in advanced NSCLC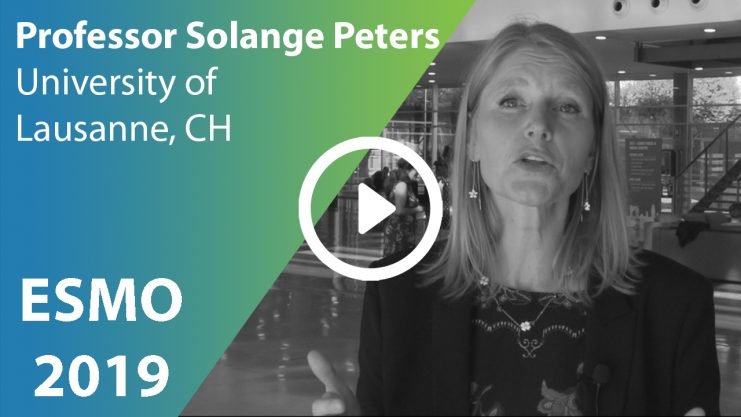 Immunotherapy has been hailed as a "game changer" in the treatment of lung cancer. As experience and understanding grows, optimal ways of delivering this type of treatment are emerging..
Written by Christine Clark.
Biomarkers for immunotherapy
PD-1/PD-L1 blockade is effective in only 10-20% of patients with non-small cell lung cancer (NSCLC) and so biomarkers are needed to identify likely responders and those for whom alternative treatment is better, explained Dr Solange Peters (University Hospital of Vaudois, Lausanne, Switzerland)
Many potential biomarkers have already been identified but only TMB and PD-L1 are of practical value at present. PD-L1 expression on tumour cells is variable across cancer types and is predictive. A cut off of 50% has been defined (and clinically validated) in NSCLC as the optimum point for the maximum number of true positives and minimum number of false positives. Threshold values of less than 50% do not favour anti PD-1/PD-L1 over chemotherapy. Thus, PD-L1 should be used to guide treatment because it tells the clinician who can be given platinum-free treatment, argued Dr Peters. Patients with very high tumour proportion scores (TPSs) of 90-100% achieve excellent responses, she added.
Cancer is characterised by accumulation of mutations and a highly mutated tumour (high TMB) responds better to immunotherapy (IO). TMB is predictive for CTLA-4 and anti-PD(L)-1 in combination. It is helpful when using IO alone but not when IO is combined with chemotherapy (CT). TMB can vary in different regions of the same tumour – blood TMB may provide more consistent, representative results, noted Dr Peters. Pre-therapy TMB on its own helps to inform treatment decisions but does not currently provide unambiguous sensitivity or specificity; the ongoing NEPTUNE and CheckMate 227 trials might clarify the picture, she concluded.
Turning to the gut microbiome Dr Peters said that progression-free survival (PFS) with IO is significantly better if faecal diversity is high. Antibiotic usage prior to IO has a negative effect on the gut microbiome and the response to IO. Overall survival (OS) in NSCLC is significantly shorter with IO after antibiotic treatment. The current consensus is that broad diversity in the gut microbiota leads to a better outcome with IO. Probiotics and dietary fibre help to increase diversity whilst proton pump inhibitors (PPIs) reduce microbiome diversity.
Optimal combinations
Immunotherapy was a "game changer" in NSCLC and is now established as first-line treatment, said Professor Martin Reck (Grosshansdorf, Germany). The optimal combination is the one that achieves the best anti-tumour effect with acceptable tolerability, he continued. Monotherapy is satisfactory for patients with PD-L1 status > 50%, and combination treatment is not needed. On the other hand, some combinations are sub-optimal e.g. targeted treatment and IO. But IO+CT and IO+IO combinations look more promising. There are many ways in which CT can enhance the immunogenicity of tumour and render it more susceptible to treatment with IO. A number of trials have now evaluated IO+CT vs CT alone – all show increased PFS and OS with the combination, he said. Moreover, the efficacy of the combination appears to be independent of histology, age, performance status and current biomarker status.
The optimal population for immunotherapy combinations has yet to be confirmed but TMB may not be the ideal marker. However, biomarker-dependent development of new combinations will be crucial for further progress, said Professor Reck.
Radiotherapy + immunotherapy
Immunotherapy should be given as consolidation treatment (after chemo-radiation) because it is associated with "unprecedented survival improvement" in stage III unresectable cancer, according to Professor Rafal Dziadziuszko (Gdansk, Poland). With modern radiotherapy (RT) patients with unresectable stage III NSCLC can expect a median OS of 24-30 months with a 5-year OS of about 30%. However, protocol compliance is critical for good long term outcomes – protocol violations matter because they result in poorer outcomes, he emphasised.
A number of trials are now examining different IO + RT combination strategies. It is hoped that they will clarify the ideal timing and duration of immunotherapy and patient selection based on clinical and molecular features.
Immunotherapy after toxicity or resistance
Re-challenge with immunotherapy after toxicity or resistance is likely to become more prominent as the use of IO increases, predicted Professor Benjamin Besse (Gustave Roussy Hospital, Paris, France)
In patients who are re-challenged with IO recurrent toxicity or new immune-related toxicity can be expected in 30-50%. However, the two-month (maximum) interval between stopping treatment and re-challenge in published studies is short. Given that current checkpoint blockers have half-lives of about one month, they will still be in blood after four months, meaning that many studies cannot be considered as genuine 're-challenges'. Trials data suggest that patients who have been off treatment for at least one year appear to respond better to re-challenge, said Professor Besse.
The mechanisms of resistance need to be understand so that therapy can be adapted accordingly. Changing to different type of immunotherapy or boosting antigen presentation using a vaccine such as Tedopi might be ways of overcoming resistance. Another approach could be modification of the gut microbiome either by probiotic administration or by faecal microbiota transplant (FMT). In one exploratory study FMT appeared to restore the response to ipilimumab in one melanoma patient, said Professor Besse. Because of the clinical and biological complexity of immune-related adverse events (irAEs) Professor Besse advocates the establishment of tumour boards dedicated to irAEs. "We are in a context of potentially emerging immunotoxicity", he said This will be important because the next wave of immunotherapeutic agents could bring a new wave of toxicities, he warned.
Based on presentations given at the European Society for Medical Oncology Congress, Barcelona, September 2019