Modifying the gut microbiome and personalised anti-tumour vaccines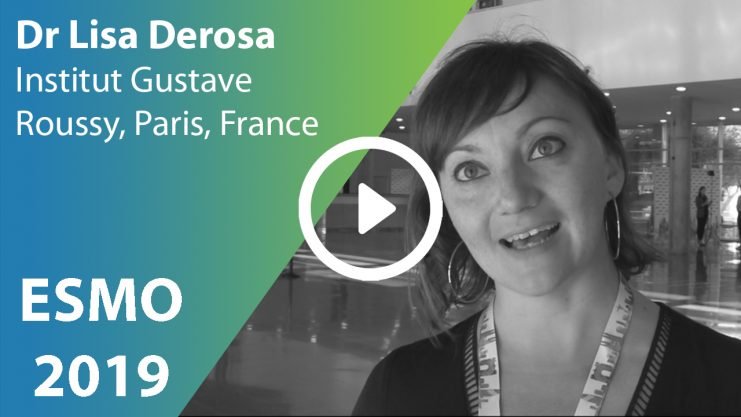 Tumours use a variety of mechanisms to escape the host immune system and overcoming these to increase response rates and improve quality of life are key goals. Manipulation of the gut microbiome and the development of personalised anti-tumour vaccines could be important strategies.
Written by Christine Clark
The gut microbiome and immune response in lung cancer
The gut microbiome can be considered as a 'superorganism' that processes nutrients, produces vitamins, protects the body from other microbes and, most importantly, shapes the immune system, explained Dr Lisa Derosa (Gustave Roussy Hospital, Paris, France). It contains between 39 and 44 trillion microbes and accounts for 3% of the human body mass. In fact, there are up to 2.2 bacteria to every human cell and there are more bacterial than human genes in the human body.
Anti-tumour immunotherapy (IO) requires the presence of gut bacteria for efficacy – without them the treatment loses its efficacy. Antibiotic therapy is associated with a reduction in progression-free survival (PFS) and overall survival (OS) in patients with non-small cell lung cancer. There are now a number of published reports that confirm the negative effect of antibiotic therapy on immunotherapy for other cancers. A meta-analysis confirms that the worst effects relate to antibiotics taken within 30 days of IO, she said.
Metagenomic analyses of gut bacteria of patients receiving anti-PD-1 treatment for renal cell carcinoma (RCC) and non-small cell lung cancer (NSCLC) found that greater diversity of bacterial species at baseline correlated with longer PFS (more than six months). Moreover, faecal bacterial composition differed between responders and non-responders to nivolumab in both RCC and NSCLC patients. The patients with the best clinical responses (PFS >3 months) were found to have gut microbiomes that were enriched in Akkermansia muciniphila. Some 60% of non-responders amongst RCC and NSCLC patients did not harbour A. muciniphila. A multicentre prospective study designed to characterise a 'gut oncomicrobiota signature' for response/relapse in lung cancer patients is ongoing and has already collected stool samples from 400 patients before starting immunotherapy, said Dr Derosa.
Antibiotics given before immune checkpoint treatment altered the diversity and composition of the intestinal microbiota in NSCLC patients. In order to confirm the cause and effect relationship antibiotic-treated mice were recolonised with faecal microbiota transplants (FMTs) using stools from lung cancer responder and non-responder patients. The mice were then injected with tumour cells and later with nivolumab. Those who received FMTs from responders were sensitive to anti-PD1 treatment. Further experiments showed that the addition of A. muciniphila to mouse gut microbiomes turned 'non-responder faeces' into 'good faeces', said Dr Derosa.
A trial is now under way at the MD Anderson Cancer Center to evaluate the impact of gut microbiome modulation using either FMT from responder patients or a live bacterial preparation. The participants will be patients with metastatic melanoma who are about to receive immune checkpoint blockers.
Novel approaches to treat cancer patients from screening to diagnosis and treatment based on understanding microbiota composition and methods to modulate the microbiome to boost immune checkpoint blocker activity are needed, concluded Dr Derosa. Such approaches could include diet, FMT, live bacteria and prebiotics, she added.
Neo-antigen vaccines
The need for anti-tumour vaccines is underlined by the relatively poor responses to immunotherapy so far, according to Professor Nayer Rizvi (Columbia University Irving Medical Center, New York, US). Although considerable effort has gone into manipulating immune checkpoints the outcome has been "less than satisfying", he said.
The next 10 years should see the growth of personalised approaches. So far, anti-tumour vaccines directed at tumour-associated antigens or tumour-specific antigens have been "riddled with failure", he said.
A new approach may be to target (non-self) neo-antigens. Tumour mutational burden (TMB) is a surrogate for predicted neo-antigens. If the genetic code changes (as a result of mutation) the peptide that it codes for will also change and if the new peptide has affinity for both the T-cell receptor and MHC class 1 it may be a suitable vaccine target. Until recently efforts to explore suitable antigens have been hampered by the cost of exome and genome sequencing but now the costs have fallen considerably. Prediction algorithms are used to identify likely new antigens but not all new antigens stimulate T-cell responses, he explained. One study showed that fewer than 5% of predicted neo-antigens are actually presented on tumour cells.
The next big challenge in this field is satisfactory formulation of the vaccine. Early anti-tumour vaccines were peptide-based and were not very stable; mRNA is used in later versions. It may also be necessary to use an immune adjuvant because peptides alone may not trigger a T-cell response of sufficient magnitude. Another approach is to use the 'prime and boost' method commonly used for infectious disease vaccination, he said.
Clinical data are now beginning to emerge. For example, a phase 1b trial of Neo-PV-01, a synthetic long peptide, formulated with the adjuvants montanide and poly ICLC. Professor Rizvi commented that it takes many weeks to make neo-antigen vaccine and so treatment typically starts with anti-PD-1 treatment alone. Preliminary data suggest that responses in lung cancer patients are not very robust.
There is also an ongoing search for public or shared neo-antigens and there is some evidence that these might exist. One KRAS mutation has been identified and certain TP53 hotspot mutations can be considered neo-epitopes, said Professor Rizvi. The identification of suitable neo-epitopes would allow the manufacture of 'off the shelf' vaccines, he explained. Many companies are now working on this approach and it will be exciting to see how it moves forward, he concluded.
Based on presentations given at the European Society for Medical Oncology Congress, Barcelona, September 2019