Late breaking abstracts – FLAURA study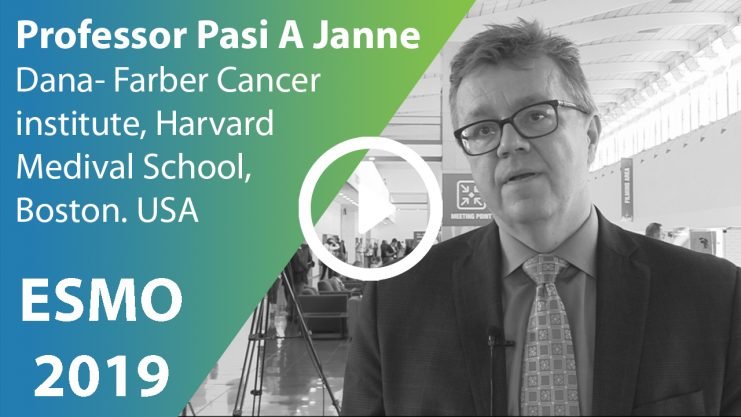 The final analyses of two key trials – Checkmate 227, part 1 and FLAURA should help to position nivolumab + ipilimumab combination treatment and to reinforce osimertinib as the standard of care for first line treatment ……..
Written by Christine Clark
FLAURA
EGFR-mutant disease accounts for 10-15% NSCLC in Caucasians, but 40-50% of lung cancer amongst Asian patients. Five EGFR tyrosine kinase inhibitors (EGFR-TKIs) (gefitinib, erlotinib, afatinib, dacomitinib and osimertinib) are now approved for first line EGFR-TKI therapy. Osimertinib is also approved for the EGFR t790M resistance mutation.
The FLAURA trial compared osimertinib against a comparator EGFR inhibitor (EGFRi) – either gefitinib or erlotinib – in patients with locally advanced or metastatic EGFR-mutant NSCLC, Dr Suresh Ramalingam (Emory University, Atlanta, US) told the audience. The median OS was 38.6 (95% CI 34.5-41.8) months for osimertinib vs 31.8 (95% CI 26.6-36.0) months for comparator EGFRis, with a hazard ratio of 0.799 (95% CI 0.641-0.997, p=0.0462). The OS was better in non-Asian patients.
The time to first subsequent treatment was significantly better with osimertinib 25.5 (95% CI 22.0-29.1) vs 13.7 (95% CI 12.3-15.7) months, HR 0.478 (95% CI 0.393 – 0.581, p=0.0001). In addition, there were more patients remaining on treatment at the time of data cut-off – 61 (22%) vs 13 (5%).
The mean duration of exposure was 20.7 months with osimertinib vs 11.5 months for comparator; nevertheless, fewer patients in the osimertinib group experienced adverse events (AEs) – 51 patients (18%) vs 79 patients (29%).
Dr Ramalingam concluded that the FLAURA trial showed that osimertinib treatment resulted in a significant and clinically meaningful improvement in OS – it extended the median OS by 6.8 months. After three years 28% of patients taking osimertinib remained on treatment. Furthermore, osimertinib had a favourable and consistent toxicity profile despite prolonged exposure. The results reinforce osimertinib as the standard of care for first line treatment of patients with EGFR-mutant, advanced NSCLC, he said.
Commenting on the trial, Professor Pasi Jänne (Dana Farber Cancer Institute, Boston, US) noted that the favourable results appeared to be consistent across all clinical subgroups.
In some centres sequencing of EGFR-TKIs has been the norm – starting with a prior generation EGFR TKI and switching to osimertinib for those who develop T790M resistance mutations. Professor Jänne argued that this is not optimal clinical care because we cannot predict who will develop the T790M mutation, and patients may not be well enough for further treatment when they do develop the mutation. Moreover, biopsies are not always successful and first line osimertinib treatment is associated with a survival benefit. For these reasons EGFR-TKI sequencing should now be discouraged, he said.
The next problem will be acquired resistance to osimertinib. The most common mechanisms are MET amplification and EGFR C797S mutation. Efforts should now be focused on adding other treatments to osimertinib to improve the response yet further with the ultimate goal of curing the disease, he concluded.
Based on presentations given at the European Society for Medical Oncology Congress, Barcelona, September 2019