Immunotherapy – where are we now?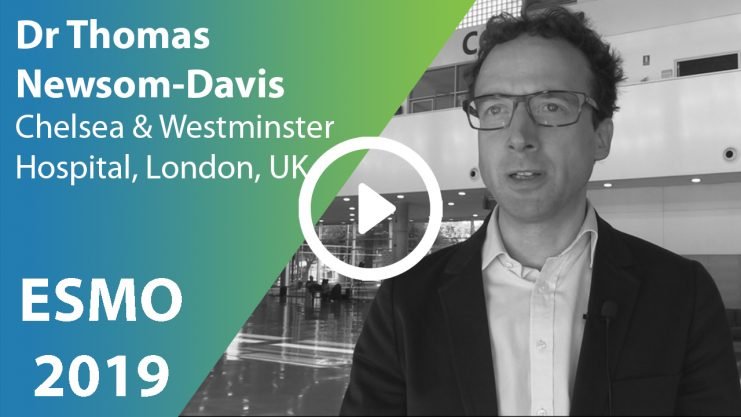 Immunotherapy now has an established place in treatment of non-small cell lung cancer but many questions remain such as the role of tumour mutational burden as a biomarker and immunotherapy in special populations usually excluded from trials, including those with brain metastases ….
Written by Christine Clark.
Tumour mutational burden as a biomarker for immunotherapy
The potential role of tumour mutational burden (TMB) as a biomarker for immunotherapy has been much debated and additional information came from several presentations.
In the B-F1RST trial (poster presentation by Dr Mark Socinski et al.) patients with stage III-IVa locally-advanced or metastatic non-small cell lung cancer (NSCLC) (PD-L1 unselected) were treated with single agent atezolizumab. Blood TMB (bTMB) was measured with a pre-specified cut-off value of 16. The results showed that the objective response rate (ORR) was proportional to bTMB. ORR was 35.7% vs 5.5% for high vs. low bTMB. Progression free survival (PFS) and overall survival (OS) were also longer but the difference did not reach statistical significance.
A previous retrospective analysis suggested that TMB was prognostic in resected NSCLC but conflicting results have emerged from the Keynote studies. Keynote 189 compared pembrolizumab + platinum-based chemotherapy (pembro/CT) against chemotherapy (CT) alone. When the results were analysed according to TMB the OS and PFS, the same pattern was seen regardless of TMB. Similarly, in Keynote 407, which compared pembro/CT against CT alone in patients with squamous histology, TMB was not able to differentiate patients sensitive or resistant to immunotherapy.
In contrast, an analysis of Keynote 042 (presented by Professor Roy Herbst (Yale Cancer Centre, Connecticut, US), which compared pembrolizumab monotherapy against platinum based CT in PD-L1-positive patients, showed that higher tumour TMB levels were associated with improved clinical outcomes for pembrolizumab monotherapy but not for CT. This led to the suggestion that TMB and PD-L1 could be combined and patients who were 'double negative' (low TMB and negative PD-L1) could be excluded from immunotherapy as they were unlikely to respond. However, this idea was overturned when survival data from Checkmate 227 were presented. This trial compared the combination of nivolumab and ipilimumab against CT. Even in the PD-L1 negative + low TMB group, the combination treatment was clearly superior to CT. Commenting on the findings, Dr Federico Capuzzo (Ravenna, Italy)said, "TMB is not useful in clinical practice for selecting patients who should or should not be candidates for immunotherapy".
Immunotherapy – early or late?
Anti PD-1 monotherapy or PD-L1/PD-1 inhibitors in combination with platinum doublet CT, with or without bevacizumab, are already the standard of care for metastatic NSCLC. Atezolizumab monotherapy is also tolerable and efficacious in advanced NSCLC. IMpower 110 is a phase III trial that compares atezolizumab (atezo) with platinum-based chemotherapy (CT) as first line treatment in PD-L1 selected patients with non-small cell lung cancer (NSCLC). The interim overall survival (OS) analysis (presented by Dr David Spigel (Tennessee, US) showed that in patients with PD-L1 greater than 50% (the TC3 or IC3 wild-type group i.e. PD-L1 expression on more than 50% of tumour cells or more than 10% of immune cells) the median OS was 20.2 (95% CI 16.5 – not estimable) vs 13.1 (7.4 – 16.5) months; HR 0.59 (95% CI 0.40 – 0.89), p=0.0106. No new safety signals emerged from this analysis and Dr Spigel concluded that atezo represents a promising first line treatment option for patients with PD-L1 high NSCLC.
An additional analysis of Keynote 407 – a study that compared pembrolizumab +CT vs CT in squamous NSCLC – used 'PFS2' (i.e. the time from randomisation to objective tumour progression on next-line treatment (or death). This has the advantage that it can be used to assess the impact of treatment cross-over on OS and whether therapy in one line positively or negatively affects the efficacy of the next line of therapy. The pembrolizumab combination showed benefit in all subgroups irrespective of PD-L1 expression. Commenting on the results, Dr Capuzzo said that similar results had been seen in several previous trials and the key message is that immunotherapy should be given as early as possible –"there is no reason to wait", he added.
Immunotherapy for special populations
The TAIL study evaluated atezolizumab monotherapy in advanced NSCLC. It was a single arm study that included patients that are typically excluded from trials such as those with renal impairment, CNS metastases, ECOG performance status above 2 or prior anti-PD-1 treatment. Discussing the results, Dr Capuzzo noted that special populations were still under-represented in the study (10% ECOG >2, 15% renal impairment). The efficacy was very modest in some subgroups (ECOG >2, CNS metastases)
A pooled analysis of Keynote trials 021, 189 and 407 examined the outcomes for NSCLC patients with brain metastases who received pembrolizumab + platinum-based CT. The median OS was 18 months with combination treatment (pembrolizumab +CT), vs 7 months with CT alone. This extended OS in patients with brain metastases underlines the importance of careful preservation of cognitive functions, commented Dr Capuzzo.
Based on presentations given at the European Society for Medical Oncology Congress, Barcelona, September 2019