Immunotherapy in thoracic malignancies: what has been achieved in 2019?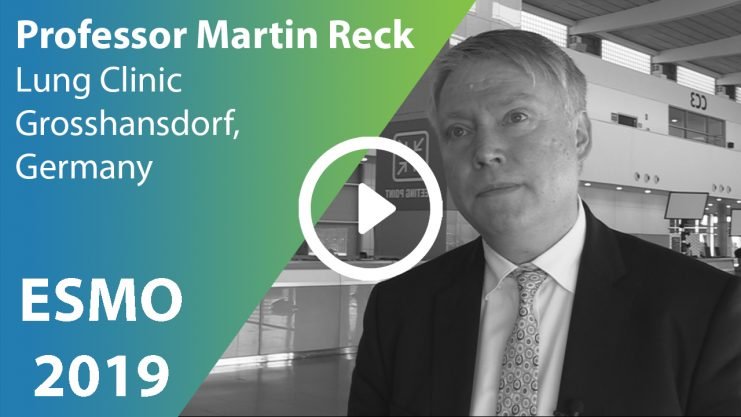 Advances in the use of immunotherapy in thoracic malignancies continued in 2019 with the publication of the results of a number of landmark trials. This has prompted some practitioners to reassess the roles of surgery and radiotherapy ………
Written by Christine Clark.
Surgery
The results of the PACIFIC trial, in which patients with unresectable, stage III non-small cell lung cancer received chemo-radiotherapy (CT-RT) and adjuvant immunotherapy (IO) with durvalumab, demonstrated "impressive improvements in progression free survival and overall survival" potentially "making surgery superfluous", said Mr Ad Verhagen (Cardiothoracic surgeon, Radboud University Medical Centre, Nijmegen, The Netherlands). However, stage III disease represents a heterogeneous group, some of whom have resectable disease. In the PACIFIC trial, adjuvant treatment appeared to have a greater impact on distant metastases, especially brain and lymph nodes. Thus, there could still be a role for surgery (or RT) for local (lung) disease, he argued.
Different combinations of induction and adjuvant therapies need to be tested. One interesting development is the NADIM trial that involves neo-adjuvant nivolumab + CT in resectable stage III NSCLC followed by adjuvant nivolumab treatment for one year. The interim results show a "remarkable" major pathological response (MPR) rate of 89% and an overall survival rate (OS) of 91% at 18 months. This represents a considerable improvement over the PACIFIC results, noted Mr Verhagen.
After neo-adjuvant IO surgery can be performed without delay and it is safe and feasible. However, hilar fibrosis can be an issue and there can also be a high rate of conversion from video-assisted thoracic surgery (VATS) to open surgery.
Open questions remain, including the optimal number of cycles of CT-IO, the best predictors for immune response, the impact of surgery on the immune response and the impact of lymph node dissection.
Mr Verhagen concluded that concurrent CT-RT + adjuvant IO is the standard of care for unresectable stage III disease, whilst for resectable stage III disease induction CT-IO is promising but there are many questions still to be answered.
Radiotherapy
Historical outcomes from stage IIIa and IIIb NSCLC have been poor with less than one third of patients alive at five years, acknowledged Dr Kevin Franks (Leeds Teaching Hospitals, UK). Patients with unresectable stage III disease with good performance status are potentially suitable for curative CT and RT. In 2010 a meta-analysis of concurrent and sequential CT-RT showed a small benefit to concurrent CT-RT. Recent large, randomised trials suggest that concurrent CT-RT delivers a median OS of about 30 months and a five-year OS of about 30%, he said.
RT causes immunological cell death by tipping the balance of the immune system in favour of cancer cell destruction. It also has beneficial abscopal (off-target) effects on remote, non-irradiated tissue.
Adding IO to RT tips the balance further in favour of cancer cell destruction. The combination has been shown to promote tumour regression and long-term, tumour-free survival, explained Dr Franks. Generation of tumour-specific memory immune responses that protect against disease recurrence are believed to play role in this, he added.
Further improvement in the results of IO-RT might be achieved by better targeting of RT with image-guided RT (IGRT) to minimise cardiac damage, he said. Other measures that could help are 'prehab' programmes (including smoking cessation) to get patients into better shape before RT, and steps to improve the gut microbiome. One problem is that RT causes lymphopaenia and some authorities suggest Pneumocystis jirovecii pneumonia (PJP) prophylaxis for all CT-RT patients but this might reduce the effect of post CT-RT immunotherapy.
RT definitely still has a role in the management of stage III NSCLC but many questions need to be answered to optimise its use, concluded Dr Franks.
Immunotherapy for SCLC and mesothelioma
The current standards of care (SoCs) for relapsed small cell lung cancer (SCLC) are associated with poor survival outcomes but the recent introduction of immunotherapy might improve the outlook, according to Dr Alessandra Curioni (University Hospital Zürich, Switzerland)
In first line treatment of extensive-stage SCLC (ES-SCLC) the IMpower 133 trial found that carboplatin + etoposide in combination with atezolizumab was better than chemotherapy alone. The median OS was 12.3 (95% CI 10.8 – 15.8) months vs 10.3 (95% CI 9.3 – 11.3) months; HR 0.76 (95% CI 0.60 – 0.95, p=0.0154). The CASPIAN trial, which compared durvalumab +EP (etoposide/platinum) with EP alone, also showed that the combination was significantly better. The median OS was 13.0 (95% CI 11.5 – 14.8) months vs 10.3 (95% CI 9.3 – 11.2) months, HR 0.73 (95% CI 0.591 – 0.909, p=0.0047). Furthermore, the patient-reported outcomes also favoured durvalumab combination.
The Keynote 028 and 158 trials showed that pembrolizumab in second-line treatment of ES-SCLC led to a median OS of 7.7 (95% CI 5.2-10.1) months. The CheckMate 032 trial failed to show that nivolumab + ipilimumab was superior to nivolumab alone. Similarly, the CheckMate 331 trial failed to show that nivolumab alone was superior to CT (topotecan or amrubicin).
A high tumour mutational burden (TMB) may indicate increased amounts of neoantigens presented on tumour cell surface and this could lead to more efficient detection of tumour cells by the immune system and better responses to IO. Dr Curioni noted that in the CheckMate 032 trial patients with high TMB had a one-year OS of 62.4% compared with about 20% for those with low and medium TMBs.
SCLC as a result of transformed EGFR mutant NSCLC does not respond to treatment with checkpoint inhibitors.
There are numerous ongoing trials of IO in SCLC including new combinations with agents acting at different points in cell cycle such as PARP inhibitors and JAK inhibitors.
Mesothelioma
The current first line treatment for mesothelioma is pemetrexed and cisplatin or cisplatin alone and the median OS is 12.1 vs 9.3 months. Real-life data with current treatment regimens shows that the median OS for first-line treatment is 14 months, and 6.4 months for second-line treatment leaving "huge room for improvement", said Dr Curioni.
Mesothelioma does not have a high TMB but it is a solid tumour with one of the highest T-cell inflamed microenvironments. Several trials have examined the impact of IO in second- or third-line treatment of mesothelioma. These include NivoMes, MERIT, MAPS2 and Keynote 028. DREAM is a trial of first-line IO in mesothelioma using cisplatin, pemetrexed and durvalumab followed by maintenance durvalumab. So far, response rates of about 80% and a progression-free survival of about seven months have been reported.
Cellular therapies might also play a role in mesothelioma treatment. A Phase 1 trial of mesothelin-targeted CAR T-cells has been reported and the DENIM trial is investigating the effect of dendritic cell therapy. Finding the most effective route for delivery remains a challenge, said Dr Curioni.
There are a large number of ongoing trials for mesothelioma involving both immunotherapy approaches and cellular therapy.
Based on presentations given at the European Society for Medical Oncology Congress, Barcelona, September 2019