Planned treatment stoppage not seen in real world practice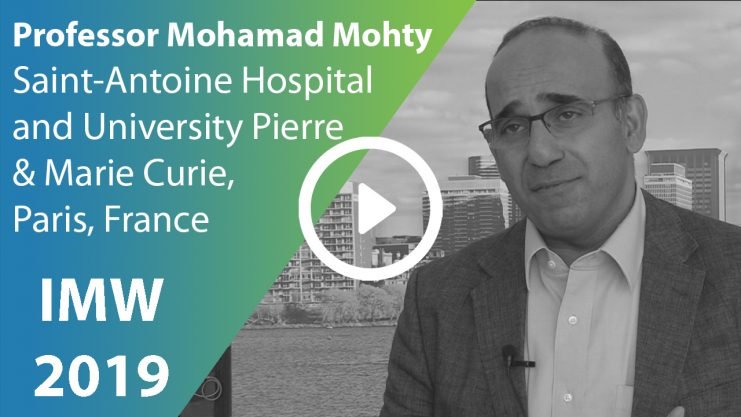 Many newly diagnosed patients receive multiple myeloma treatment for more than 12 months, according to data collected from treatment centers around the world, showing that the shift away from fixed duration treatment is occurring beyond the realm of clinical trials, according to findings presented at the International Myeloma Workshop.
Written by Thomas R.Collins.
The data come from the first 650 patients enrolled in the INSIGHT trial, which is planned for enrollment of more than 4,000 patients, said Professor Katje Weisel, myeloma specialist at the University of Tubingen. So far, an analysis shows that 39% of the patients wouldn't be eligible for a clinical trial because of a variety of factors, including low platelet count and history of malignancy, underscoring the importance of real-world treatment habits.
"We can say that the data from the INSIGHT myeloma trial — and this is still a work in progress in this very large trial — are consistent with a change in the paradigm from fixed duration therapy to continuous treatment," Professor Weisel said.
For example, researchers found that 66% of transplant-eligible patients receiving the bortezomib-lenalidomide-dexamethasone regimen were on this treatment for at least 12 months, followed by bortezomib-thalidomide-dexamethasone at 57% and bortezomib-cyclophosphamide-dexamethasone at 53%. The numbers were lower for non-transplant-eligible patients — 56% for those receiving lenalidomide-dexamethasone, 47% for bortezomib-lenalidomide-dexamethasone and 42% for bortezomib-thalidomide-dexamethasone.
Researchers also found that transplant-eligible patients tended not to be moved quickly to a new therapy, with 81% to 94% of patients not being switched to another regimen for at least 12 months, depending on the regimen. For the 7 most common regimens given to non-transplant-eligible patients, that switch occurred at least 12 months after initial treatment only 77% of the time (bortezomib-melphalan-prednisone) to 39% (bortezomib-dexamethasone).
Professor Weisel was encouraged that early stoppage of treatment tended not to be part of a patient's original plan. Of the 38 patients on bortezomib-cyclophosphamide-dexamethasone with discontinuation data available, 10 discontinued due to a planned end of treatment, with 4 of those moving on to a transplant. And of the 67 on bortezomib-lenalidomide-dexamethasone, 30 stopped due to a planned end of treatment, with 17 of those moving to transplant. None of the 24 with this data available in the bortezomib-thalidomide-dexamethasone and lenalidomide-dexamethasone groups had a planned stoppage.
Among relapsed or refractory patients, a planned discontinuation was even less likely to be the reason for discontinuation.
"Planned end of therapy only accounts for a small proportion of treatment discontinuations especially in the relapsed setting," Professor Weisel said.
"Through INSIGHT MM, we are characterizing the longitudinal treatment path for patients, and gaining a better understanding of how long-term regimens are used in routine clinical practice, treatment sequencing and reasons for discontinuation, highlighting the importance of real-world data," Professor Weisel said.
In other findings involving transplant-eligible newly diagnosed patients, researchers doing a pooled analysis found that bortezomib-lenalidomide-dexamethasone (VRD) achieved a very good partial response more often than bortezomib-thalidomide-dexamethasone (VTD) over 6 cycles.
Both regimens are recommended in guidelines, but no randomized controlled trial numbers are available comparing the two. These data came from the 2012 PETHEMA GEM and VTD:GEM2005 studies.
The VGPR rate improvement for VRD over VTD was statistically significant and clinically relevant — 66.3% to 51.2% (p=.003), said Professor Joan Blade, from Hospital Clinic of Barcelona. VRD administered subcutaneously yielded lower rates of peripheral neuropathy and discontinuations from toxicity, he said.
"These results," Professor Blade said, "support the favorable benefit-risk profile of VRD versus VTD as induction treatment in transplant-eligible, newly diagnosed multiple myeloma."