Favourable early findings seen in older patients with comorbidities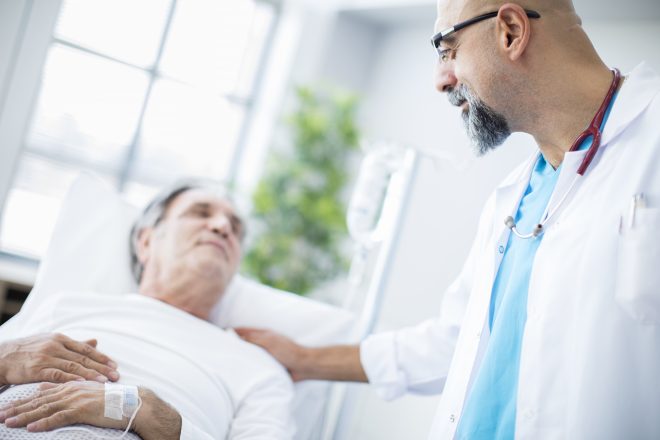 Preliminary results from a real-world study show that patients at an older age with a high comorbidity burden had their normal activities uninterrupted when they switched to the proteasome-inhibitor (PI) ixazomib from bortezomib, but about a third had treatment-related adverse events, according to findings presented at the International Myeloma Workshop.
Written by Thomas R. Collins.
Improvement in outcomes following long-term proteasome inhibitor treatment compared to no PI treatment is often not seen in the real world setting as it is in clinical trials, because of poor adherence, impact on quality of life, comorbidities and other factors, said Dr Habte Yimer, an oncologist and researcher with Texas Oncology.
In the U.S. MM-6 study, researchers assessed how well patients did after a switch to the oral ixazomib from injectable bortezomib. Newly diagnosed multiple myeloma patients (NDMM) across 25 sites who are not eligible for transplant first receive bortezomib-based induction treatment for 3 cycles and were switched to an ixazomib-lenalidomide-dexamethasone regimen for a maximum of 26 cycles or until disease progression or toxicity emerges. The study is ongoing, and 80 patients have been enrolled so far.
At the meeting, data on the first 25, from 10 centres, were presented. Their median age was 72 and 45% had Stage III at diagnosis. Forty-five percent of patients had anaemia, 45% hypertension and 45% renal or urinary disorders.
Researchers are relying on patient use of actigraphy devices, and found that, with 3,236 steps recorded per day and 8.35 hours of sleep per night, normal activities and sleep have stayed at acceptable levels.
More data will be presented later, Dr. Yimer said.
"US MM-6 will provide useful real-world data, including health-related quality of life and actigraphy, for patients treated with ixazomib-lenalidomide-dexamethasone and receiving long-term proteasome-inhibitor-based therapy," he said. "The study will demonstrate the feasibility of in-class transition from an injectable to an oral proteasome inhibitor."
In another study, an analysis of lenalidomide-bortezomib-dexamethasone compared to lenalidomide-dexamethasone in older patients not eligible for transplants found benefits and some drawbacks from the triplet therapy. To see whether clinical trial data was borne out in real life data, researchers at Brown University and Yale University looked at U.S. Medicare records from 2007 to 2015 for more than 4,100 patients who were an average of 76 years old. They found that the time to treatment failure was better for the triplet — 1.7 years — than the doublet at 0.8 years. They also found that overall survival for the triplet was 3.4 years compared to 2.7 years.
But — said Dr Peter Barth, assistant professor of medicine at Brown — this came at the expense of a higher hospitalization rate (relative risk 1.17), more frequent anaemia (RR=1.16) and neuropathy (RR=1.49). Researchers also found that more patients in the triplet group had a consolidative transplant — 26% to 6%.
"Lenalidomide-bortezomib-dexamethasone," Dr. Barth said, "offers time to treatment failure and overall survival benefit for older patients with myeloma who can tolerate higher potential short-term toxicity, confirming the results of the SWOG S0777 in a population-based setting."