Treating HL in the new millennium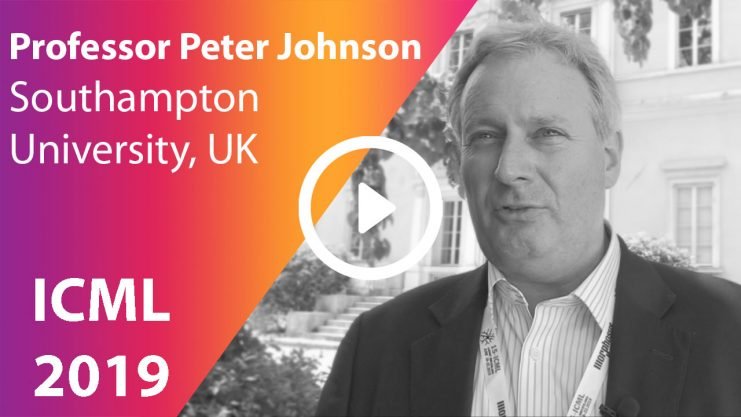 Prof Peter Johnson (Southampton, UK) discusses where there is consensus and controversy in the management of HL in 2019, as well as talking about the key takeaways from his presentation on balancing efficacy and toxicity in the modern era.
Written by Christine Clark.
"Hodgkin lymphoma (HL) is curable with about 90% of cases being cured with first line therapy and more than 85% of patients alive at 10 years", said Professor Peter Johnson (University of Southampton, UK). Given that the median age of presentation is 30-35 years, it is now important to focus efforts on minimising toxicity, especially late effects of radiotherapy or chemotherapy, he continued.
The evidence from recent trials for early stage disease suggests that therapy adapted by interim PET after two cycles of ABVD is a reasonable approach. Chemotherapy alone can be considered for people with low metabolic tumour volume (MTV) at presentation, those at high risk of secondary cancer/cardiac damage from involved field radiotherapy (IFRT) and those with a negative interim PET (Deauville score of 1, 2 or 3). For those with positive interim PET scores (Deauville score 5 and Deauville score 4 if the MTV was high at presentation), intensified therapy using escalated BEACOPP (eBEACOPP) before involved node radiotherapy (INRT) should be considered.
Turning to advanced stage disease, he suggested that a combination of risk-adapted and response-adapted treatment should be used. Low-risk patients should receive ABVD initially and high-risk patients should receive eBEACOPP or brentuximab vedotin +AVD (BV+AVD). Thereafter, the intensity of treatment should be adjusted according to the interim PET results.
Further investigation of antibody-drug conjugates and checkpoint inhibitors could allow these schemes to be refined further in future, perhaps by using the new drugs early in the course of the disease, he concluded.
Relapsed and refractory Hodgkin lymphoma
Between 10 and 30% of HL patients will develop primary refractory or relapsed (R/R) disease, according to Ann LaCasce (Dana Farber Cancer Institute, Boston, Ma, USA). Stem cell transplant remains the standard of care, but novel therapies such as BV and checkpoint inhibitors are active in this situation and many new immune therapies are in development. BV-containing salvage regimens (e.g. BV+augmented ICE or BV+bendamustine) are associated with high complete remission rates. PDL-1 expression is prominent in HL and the PD-1 inhibitors, nivolumab and pembrolizumab, are approved for use in R/R HL. A combination of BV and nivolumab at first relapse elicited good results with an overall response rate of 80% and CR rate of 61% at 21 months. A PET-adapted trial in children and young adults of BV+nivolumab induction followed by BV+nivolumab, BV+bendamustine or ASCT, according to response, reported an overall response rate of 82%. A combination of BV, ipilimumab and nivolumab was well-tolerated and produced an overall response rate of 95%.
There are many new immune therapies with promising activity, said Dr LaCasce. One such is AFM13, a bi-specific molecule targeting CD 30 on tumour cells and CD 16A on NK cells (CD30xCD16A) – thereby bringing the two together and causing tumour cell lysis. Another is camidanlumab tesirine, an antibody-drug conjugate that binds to CD25 on the tumour cell surface and delivers its toxic warhead. This elicited an overall response rate of 73% but was associated with unexpected drug-induced Guillain-Barré syndrome in a few patients. Finally, Dr LaCasce noted that the outcomes with allo-transplantation had improved considerably since before 2000 and about 40% of recipients now achieve long-term remissions.
Case example
A case discussion in a separate session presented by Dr Anna Sureda (Catalan Institute of Oncology, Barcelona, Spain) illustrates the clinical course for patients with R/R HL.
A 20 year old man was diagnosed with classical nodular sclerosing HL, Stage IIB. He had a bulky mediastinal mass, weight loss and a fever. He failed to respond to six cycles of ABVD, with a Deauville score of 5 at the end of treatment. A second biopsy confirmed the diagnosis and he received two cycles of ESHAP, but with no effect. Third line therapy with BV was administered, but with no response after four cycles. At this stage he was enrolled in a clinical trial for AFM13-103. After 13 weeks of treatment he achieved a partial remission (PR) (Deauville score of 2), and by 26 weeks "a very good PR". Six weeks after the last dose of AFM13 he received a haplo-identical stem cell transplant. Nine months later he is alive, well and in complete remission (CR).
HL in the elderly
"Hodgkin lymphoma is a different disease in the elderly and people over the age of 65 years do not do well at all", said Professor Andreas Engert (University of Cologne, Germany)
Elderly patients tolerate treatment poorly; grade III-IV toxicity, in particular leukopaenia and infections, is seen in 70% of patients. Treatment delays, dose reduction and early termination of treatment result in poor dose delivery in elderly HL patients, explained Professor Engert.
One new approach to make treatment more tolerable is use of AVD + lenalidomide in the 60-75 year age group. In a Phase I study patients achieved a progression free survival (PFS) of 68%, and OS 83% at 34 months.1 Another approach was to use BV first-line followed by six cycles of AVD and then BV consolidation for those who achieved a CR or PR. This resulted in a two-year event-free survival (EFS) of 80% and OS of 90%. Finally, treatment with B-CAP (with growth factor support) resulted in a12-month PFS of 73.9%.
Professor Engert concluded with a plea for more trials in elderly HL patients.

Reference
Böll B et al. Doxorubicin, vinblastine, dacarbazine and lenalidomide for older Hodgkin lymphoma patients: final results of a German Hodgkin Study Group (GHSG) phase‐I trial. Br J Haematol 2019;185: 42-52
AVD – doxorubicin, vinblastine, dacarbazine
ABVD – doxorubicin, bleomycin, vinblastine, dacarbazine (ABVD)
BEACOPP escalated (eBEACOPP) – increased-dose bleomycin, etoposide, doxorubicin, cyclophosphamide, vincristine, procarbazine, prednisone
ICE – ifosfamide, carboplatin and etoposide
ESHAP– etoposide, methylprednisolone (solumedrol), high-dose cytarabine (ara-C) and cisplatin
B-CAP – brentuximab vedotin, cyclophosphamide, doxorubicin and prednisone