Next generation CAR T cells for lymphoma and beyond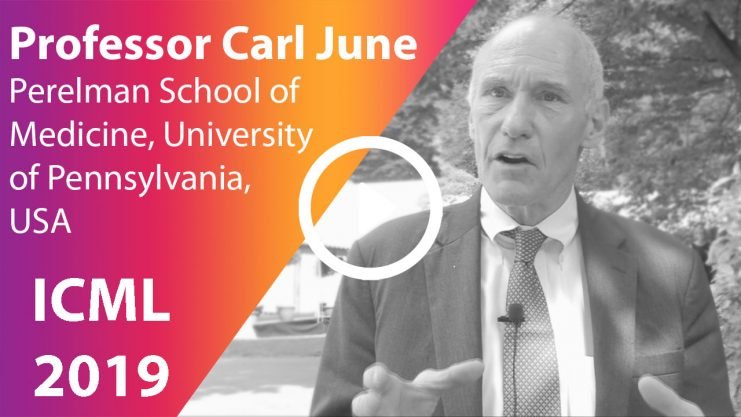 The first CAR T-cell treatment was administered in 2010 but the field has developed rapidly since then and in the first quarter of 2018 more than 100 trials were registered, said Professor Carl June (University of Pennsylvania, USA).
Written by Christine Clark.
Whereas vaccines work with natural immune systems, CAR T-cells are synthetic. Synthetic immune systems offer the prospect of installing high-affinity T-cell receptors and chimeric antigen receptors. Moreover, T-cells can be designed to be resistant to checkpoints and hostile environments, he said.
CAR T-cells can be thought of as "more of a process than a drug", explained Professor June. The procedure involves obtaining T-cells – either autologous or allogeneic (from cord blood, healthy donors or induced pluripotent stem cells (iPSC)) – that are then 'reprogrammed', by the incorporation of a tumour antigen receptor, and multiplied in a laboratory. After lympho-depleting treatment, the CAR T-cells are administered to the patient where they proliferate and destroy cancer cells.
First generation CAR-T cells carried an extracellular antigen receptor and an intracellular signalling domain (zeta chain) but they were short-lived in the body and had little anti-tumour effect. Increasing the size and complexity of the signalling domain – especially incorporation of the 4-1BB co-stimulatory domain – was found to increase persistence and activity.
The signalling domain changes the metabolic fitness of CAR T-cells so modifying the signalling domain allows activity to be programmed. Thus, Kymriah and Yescarta both target CD19 but have different signalling domains – 4-1BB in Kymriah and CD28 in Yescarta – and different properties; Kymriah persists for one year in the body but Yescarta only persists for six weeks.
Most of the clinical experience so far has been in the treatment of leukaemias, but this may have important lessons for the use of CAR T cell therapy in lymphomas.
Dose is an important consideration with T-cell therapy and it is related to tumour size, explained Professor June. His first three T-cell therapy patients had between three and seven pounds of tumour, he recalled. For tumour eradication approximately a 1:1 ratio between killing cells and tumour cells is required. This can be achieved either by infusing "huge numbers of T-cells" (tumour infiltrating lymphocytes) or by infusing a small number of CAR T-cells that are programmed to divide and multiply. Failure to achieve a critical mass of T-cells could explain why early trial results were disappointing, he noted.
Long-term persistence and expression of tisagenlecleucel (Kymriah) was associated with a durable remission in leukaemia. Persistence for seven years had been reported in two patients, said Professor June.
One patient with CLL who received tisagenlecleucel developed delayed tumour lysis syndrome (TLS) some 45 days after infusion. By day 50 the patient had fever, hypoxia and hypotension and expanding CART 19 cells became detectable; he was treated with tocilizumab. Further investigations showed that the patient had reprogrammed his CAR, undergone a rapid and massive expansion of clonal CAR T-cells. In this case the patient needed only one CAR T-cell that divided more than 30 times to "eradicate a massive tumour burden". Further investigations showed that unintentional knockout of TET2 was responsible for enhanced CAR T function in this case.
Another lesson from paediatric acute lymphoblastic leukaemia (ALL) is that cytokine release syndrome (CRS) only occurs in responding patients and is regarded as "on target toxicity". The symptoms of CRS include a high fever, flu-like syndrome and, if severe, unstable hypotension. CRS is treated with tocilizumab to block interleukin 6 (IL6) effects.
CAR T cells are living drugs. The cells that deliver the therapeutic effects can evolve in patients and may not be the same as the product that was infused. The pharmacology of CAR T cells is very different from that of 'inert' drugs but autologous cells are inherently safe, said Professor June. Some 476 patients have now received engineered T-cells at the University of Pennsylvania, providing 1709 patient years of exposure. Of these, 352 patients are still alive. CD19 CAR T-cell therapy looks much less toxic than standard chemo-radiotherapy for ALL, although the risks of secondary malignancy are as yet unknown, he acknowledged.
The mechanisms of resistance to CART include the loss of target (CD19) or inadvertent transduction of tumour blast cells to make "CARB" cells.
Kymriah has been used to treat for relapsed/refractory (R/R) diffuse large B cell lymphoma (DLBCL) and experience in this area is steadily growing. However, there are limitations on the current "vein to vein" approach, in particular the patient drop out between recruitment and infusion of the engineered product. For example, in the JULIET study 43 out of 141 patients dropped out at this stage. There are also limited facilities for manufacturing CAR T-cells and many "unknowns" in DLBCL, he concluded.