Double hit lymphoma – so what?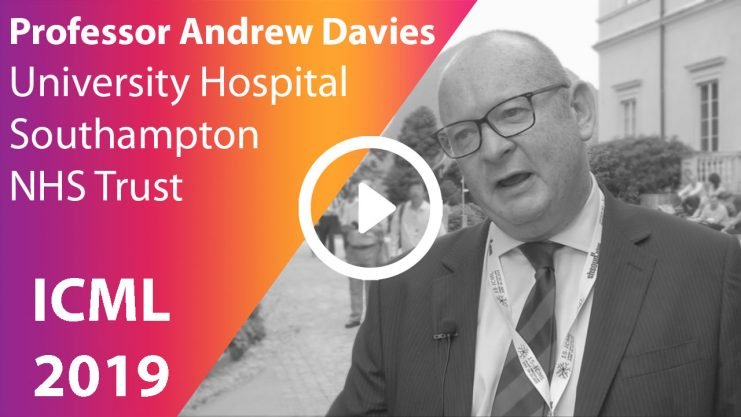 Professor Andrew Davies (Southampton, UK) discussed his presentation on double hit lymphoma.
Written by Christine Clark.
The WHO 2016 revised classification contained the group "high-grade B cell lymphoma with MYC and BCL2 and/or BCL6 rearrangement", known as 'double hit' (DHL) or 'triple hit' (THL) lymphomas depending on the number of translocations present. They differ from double-expressor lymphomas (DELs) which express high levels of MYC and BCL2 but lack the translocations, and, crucially, have a better prognosis, according to Professor Andrew Davies (University of Southampton, UK).
DHL and THL represent 5-10% of all DLBCLs. Patients typically present in the sixth or seventh decade of life, often with poor risk clinical features such as stage III-IV disease and high lactate dehydrogenase (LDH) values. In addition, DHL/THL is associated with a higher risk of CNS disease. R-CHOP is inadequate therapy for these patients.
Recent work by the Lunenburg Lymphoma Biomarker Consortium showed that DH and TH predict inferior outcomes; survival curves show a steep fall in the first 24 months after diagnosis, noted Professor Davies.
Diagnosis of DHL and THL
In the UK the National Institute for Healthcare Excellence (NICE) recommends the use of fluorescence in-situ hybridisation (FISH) to identify a MYC rearrangement in all people presenting with a histologically high-grade B-cell lymphoma.1 If a MYC rearrangement is found then FISH should be used to identify the immunoglobulin partner and the presence of BCL2 and BLC6 rearrangements. However, FISH is expensive and this approach may not always be practical in all healthcare settings, said Professor Davies. Moreover, the turn-round time for FISH testing can sometimes be long, he added. For these reasons a number of schemes have been proposed to restrict the use of FISH whilst maximising the number of cases identified.
Treatment of DHL and THL
There is no established standard of care for DHL/THL, although many clinicians have used intensified regimens. R-CHOP is associated with poor outcomes – in one study the 5-year overall survival (OS) and progression-free survival (PFS) rates were 27% and 18% respectively.2 DA-EPOCH-R emerged from retrospective analyses as the most promising treatment. A multicentre prospective study of DA-EPOCH-R in patients with single (MYC) and double hit lymphoma reported a 48-month event free survival (EFS) of 71.0% and overall survival of 76.7%.
"In my view we should use DA-EPOCH-R for DHL and THL", said Professor Davies.
In future, as screening procedures improve, it is likely that more patients will be identified with Stage I or II (limited stage) disease. Such patients might benefit from less intensified regimens but at present there are insufficient data.
CNS events are a real concern; one report from the MD Anderson Cancer Center showed a 13% cumulative risk of CNS progression (at three years) and it is thought that prophylaxis could improve outcomes. "All DHL/THL patients need evaluation of CSF and a prophylactic strategy", said Professor Davies. Ideally, intravenous methotrexate should be administered, but this may be difficult to deliver together with DA-EPOCH-R, he added.
High dose chemotherapy for consolidation has not been shown to improve PFS or OS. Allo-transplantation may not be an option for DHL/THL because, in practice, it may be difficult to achieve a durable remission.
Novel approaches
Turning to novel approaches Professor Davies noted that DHL and THL patients responded to treatment with CD19 CAR T cells in the JULIET study.
The HOVON 130 Phase II study which used R-CHOP+ lenalidomide in MYC-positive patients resulted in a PFS of 66% and OS of 85% at one year. Lenalidomide down-regulates MYC target genes, said Professor Davies.
Other combination studies in DHL are under way; these include combinations of DA-EPOCH with lenalidomide, DA- EPOCH with venetoclax and DA- EPOCH with nivolumab consolidation.
In conclusion, Professor Davies said that FISH should be used in all cases, if possible, treatment with DA-EPOCH-R was the best option at present and CNS prophylaxis should always be given. Allo-transplantation and CAR T-cell therapy are suitable second line options, if available.
Notes
Dose-adjusted EPOCH-R, DA-EPOCH-R – etoposide, prednisone, vincristine, cyclophosphamide, doxorubicin, rituximab
R-CHOP – rituximab plus cyclophosphamide, doxorubicin, vincristine, and prednisone
References
NICE. Non-Hodgkin's lymphoma: diagnosis and management. NG52 July 2016. https://www.nice.org.uk/guidance/ng52
Johnson NA et al. Concurrent Expression of MYC and BCL2 in Diffuse Large B-Cell Lymphoma Treated With Rituximab Plus Cyclophosphamide, Doxorubicin, Vincristine, and Prednisone. Journal of Clinical Oncology 2012; 30: 3452-3459