Transplantation, Consolidation and Maintenance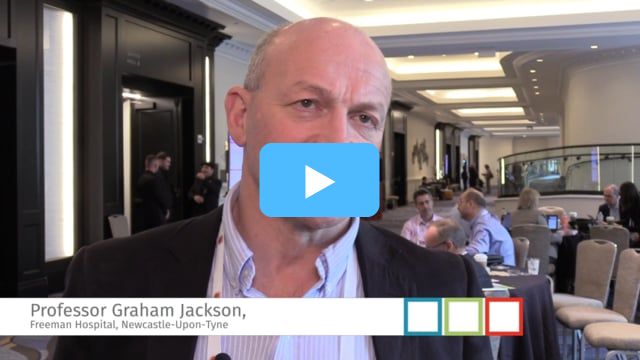 Autologous stem cell transplantation (ASCT) remains the standard of care option for those patients with newly-diagnosed multiple myeloma (MM) who are eligible for and able to tolerate it. However, consolidation and/or maintenance therapies are required to ensure maximum benefit of the initial therapy and to maintain disease control for as long as possible.
Interviewer: Hannah Chatfield. Article: Maria Dalby.
Professor Graham Jackson (Newcastle-Upon-Tyne, UK) gives his thoughts on consolidation therapy
In the International Myeloma Foundation satellite symposium at ASH 2018 Dr Shaji Kumar(Mayo Clinic, Rochester, MA) and Professor Philippe Moreau (University Hospital of Nantes, France) outlined current and future approaches to consolidation and maintenance therapy from their respective US and European horizon. Dr Kumar highlighted the results of STaMINA trial which showed comparable PFS rates in patients receiving consolidation with a tandem ASCT, consolidation with four cycles of VRd or no consolidation followed by lenalidomide maintenance,1and supports the proposed treatment recommendation that there is no role for VRd consolidation following VRd induction. While tandem ASCT is not recommended as standard of care, patients with high risk cytogenetics have been shown to benefit significantly from tandem ASCT compared with single ASCT in terms of PFS and OS2,3 and having a discussion with high-risk patients regarding tandem ASCT is therefore justified.
Dr Mathew Jenner (Southampton, UK) and Professor Gareth Morgan (Arkansas, USA) review current maintenance therapies in myeloma 
Lenalidomide maintenance plays an important role in the post-transplantation setting and should be considered for all patients, based on the findings of a meta-analysis of three phase 3 studies which showed that lenalidome maintenance therapy can prolong OS by 2.5 years compared with placebo.4 In this meta-analysis, the survival benefit of lenalidomide maintenance was seen in all predefined subgroups with the exception of patients with high-risk cytogenetics and patients with ISS stage III disease; for these patients bortezomib maintenance therapy is recommended as this has been shown to significantly prolong PFS.5 For patients at very high risk of relapse, as defined by del(17p) cytogenetics, combination maintenance therapy with VRd may be considered based on study data showing significantly prolonged OS.6
In his talk Professor Moreau underlined the importance of the choice of induction therapy to achieve prompt disease control and a high response rate and allow for an adequate stem cell harvest. In Europe VRd is increasingly used as the induction therapy of choice thanks to superior efficacy and favourable toxicity compared with the standard of care options VTd and VCd.7,8VRd induction has also been shown to achieve a high rate of MRD negativity9 which in Professor Moreau's view is a very important endpoint. Studies are ongoing with novel combinations, such as the FORTE study with carfilzomib10 and the CASSIOPEIA and PERSEUS studies with daratumumab that are expected to show further improvements in the quality and depth of response to induction therapy.
Dr Mathew Jenner (Southampton, UK) discusses tandem transplantation
With regards to consolidation therapy, although the European guidelines do not recommend this11 Professor Moreau highlighted recent study data with very long follow-up that shows that tandem ASCT prolongs OS compared with single ASCT after bortezomib induction,12 and also showed data from France that consolidation therapy with VTd following VTd induction and ASCT resulted in prolonged PFS compared with no consolidation.13 Importantly, consolidation therapy has also been shown to increase the MRD negativity rate.9
The CASSIOPEIA study will also evaluate daratumumab as consolidation therapy with VTd and Professor Moreau predicted that this combination will be highly effective. In the maintenance setting Professor Moreau pointed out that although the meta-analysis of lenalidomide maintenance indicated that patients with high-risk cytogenetics and/or ISS stage III disease do not benefit, the UK Myeloma XI study showed a clear PFS benefit with lenalidomide maintenance in patients with t(4;14) and/or del(17p) cytogenetics.14 Further improvements are anticipated from maintenance therapy with ixazomib as single agent15 or in combination with lenalidomide, and in the CASSIOPEIA study with daratumumab maintenance.
In another oral abstract session Professor Sonja Zweegman (VU University Medical Center, Amsterdam) presented the results of the randomised phase 2 HOVON-126/NMSG 21.13 study (abstract 800) in which transplant-ineligible patients with newly diagnosed MM received induction therapy with ixazomib, thalidomide and low-dose dexamethasone (ITd) followed by ixazomib maintenance or placebo. A total of 148 patients were included in the study and 78 patients were randomised in the maintenance phase. The primary endpoints in the study were ORR following ITd induction and PFS following maintenance therapy with ixazomib versus placebo. ITd induction resulted in 81% ORR with 47% of patients achieving at least VGPR; however, no significant difference was seen in PFS with ixazomib maintenance versus placebo. Professor Zweegman speculated that this lack of benefit of ixazomib maintenance could be due to the dose having been too low, or that the median follow-up period of 23.4 months was too short since previous studies with ixazomib have indicated that the effect of ixazomib may be delayed.15,16
An oral abstract session dedicated to upfront ASCT in MM included results from the FORTE study that were presented by Dr Francesca Gay (University of Turin, Italy) (abstract 121) and showed that a regimen of carfilzomib in combination with lenalidomide and low-dose dexamethasone (KRd) administered as induction followed by post-ASCT KRd consolidation or as 12 cycles (KRd12) were superior to carfilzomib in combination with cyclophosphamide and low-dose dexamethasone (KCd) in terms of response and MRD negativity rates, with comparable toxicity.
Another presentation by Dr Ceri Bygrave (University Hospital, Wales) of a landmarked analysis from the UK Myeloma XI study identified high-risk cytogenetics as significantly associated with PFS shorter than 12 months (abstract 122). A large multi-centre phase 2 study was presented by Professor Ravi Vij (Washington University School of Medicine) (abstract 123) in 172 patients with newly-diagnosed MM who received ixazomib, lenalidomide and low-dose dexamethasone (IRd) as consolidation therapy following ASCT and achieved deepened response and higher MRD negativity rates – during consolidation the MRD negativity rate improved from 26% post-ASCT to 37%, and the proportion of patients achieving VGPR or better improved from 76% post-ASCT to 85%.
The final analysis of the phase 3 GIMEMA/MMY-3006 presented by Dr Paola Tacchetti(University of Bologna) showed that triplet therapy with VTd is associated with significantly prolonged PFS and OS compared with Td over a follow-up period of 10 years, not only in patients with standard-risk disease but also in patients with intermediate-risk and high-risk disease as defined by cytogenetics, ISS stage and achievement of CR.
References
Stadtmauer EA, Pasquini MC, Blackwell B, et al. Comparison of Autologous Hematopoietic Cell Transplant (autoHCT), Bortezomib, Lenalidomide (Len) and Dexamethasone (RVD) Consolidation with Len Maintenance (ACM), Tandem Autohct with Len Maintenance (TAM) and Autohct with Len Maintenance (AM) for up-Front Treatment of Patients with Multiple Myeloma (MM): Primary Results from the Randomized Phase III Trial of the Blood and Marrow Transplant Clinical Trials Network (BMT CTN 0702 – StaMINA Trial). Blood 2016;128:LBA-1-LBA-1.
Cavo M, Salwender H, Rosiñol L, et al. Double Vs Single Autologous Stem Cell Transplantation After Bortezomib-Based Induction Regimens For Multiple Myeloma: An Integrated Analysis Of Patient-Level Data From Phase European III Studies. Blood 2013;122:767-767.
Cavo M, Gay FM, Patriarca F, et al. Double Autologous Stem Cell Transplantation Significantly Prolongs Progression-Free Survival and Overall Survival in Comparison with Single Autotransplantation in Newly Diagnosed Multiple Myeloma: An Analysis of Phase 3 EMN02/HO95 Study. Blood 2017;130:401-401.
McCarthy PL, Holstein SA, Petrucci MT, et al. Lenalidomide Maintenance After Autologous Stem-Cell Transplantation in Newly Diagnosed Multiple Myeloma: A Meta-Analysis. J Clin Oncol 2017;35:3279-3289.
Goldschmidt H, Lokhorst HM, Mai EK, et al. Bortezomib before and after high-dose therapy in myeloma: long-term results from the phase III HOVON-65/GMMG-HD4 trial. Leukemia 2018;32:383-390.
Nooka AK, Kaufman JL, Muppidi S, et al. Consolidation and maintenance therapy with lenalidomide, bortezomib and dexamethasone (RVD) in high-risk myeloma patients. Leukemia 2014;28:690-3.
Rosinol L, Oriol A, Rios R, et al. Bortezomib, Lenalidomide and Dexamethasone (VRD-GEM) As Induction Therapy Prior Autologous Stem Cell Transplantation (ASCT) in Multiple Myeloma (MM): Results of a Prospective Phase III Pethema/GEM Trial. Blood 2017;130:2017-2017.
Rosinol L, Oriol A, Teruel AI, et al. Superiority of bortezomib, thalidomide, and dexamethasone (VTD) as induction pretransplantation therapy in multiple myeloma: a randomized phase 3 PETHEMA/GEM study. Blood 2012;120:1589-96.
Paiva B, Puig N, Cedena MT, et al. Impact of Next-Generation Flow (NGF) Minimal Residual Disease (MRD) Monitoring in Multiple Myeloma (MM): Results from the Pethema/GEM2012 Trial. Blood 2017;130:905-905.
Gay F, Cerrato C, Rota Scalabrini D, et al. Carfilzomib-Lenalidomide-Dexamethasone (KRd) Induction-Autologous Transplant (ASCT)-Krd Consolidation Vs KRd 12 Cycles Vs Carfilzomib-Cyclophosphamide-Dexamethasone (KCd) Induction-ASCT-KCd Consolidation: Analysis of the Randomized Forte Trial in Newly Diagnosed Multiple Myeloma (NDMM). Blood 2018;132:121-121.
Moreau P, San Miguel J, Sonneveld P, et al. Multiple myeloma: ESMO Clinical Practice Guidelines for diagnosis, treatment and follow-up. Ann Oncol 2017;28:iv52-iv61.
Cavo M, Goldschmidt H, Rosinol L, et al. Double Vs Single Autologous Stem Cell Transplantation for Newly Diagnosed Multiple Myeloma: Long-Term Follow-up (10-Years) Analysis of Randomized Phase 3 Studies. Blood 2018;132:124-124.
Leleu X, Fouquet G, Hebraud B, et al. Consolidation with VTd significantly improves the complete remission rate and time to progression following VTd induction and single autologous stem cell transplantation in multiple myeloma. Leukemia 2013;27:2242-4.
Jackson G, Davies FE, Pawlyn C, et al. Lenalidomide Maintenance Significantly Improves Outcomes Compared to Observation Irrespective of Cytogenetic Risk: Results of the Myeloma XI Trial. Blood 2017;130:436-436.
Dimopoulos MA, Gay F, Schjesvold FH, et al. Maintenance Therapy with the Oral Proteasome Inhibitor (PI) Ixazomib Significantly Prolongs Progression-Free Survival (PFS) Following Autologous Stem Cell Transplantation (ASCT) in Patients with Newly Diagnosed Multiple Myeloma (NDMM): Phase 3 Tourmaline-MM3 Trial. Blood 2018;132:301-301.
Moreau P, Masszi T, Grzasko N, et al. Oral Ixazomib, Lenalidomide, and Dexamethasone for Multiple Myeloma. N Engl J Med 2016;374:1621-34.