WCLC 2018: Variety of approaches can work in oligometastatic disease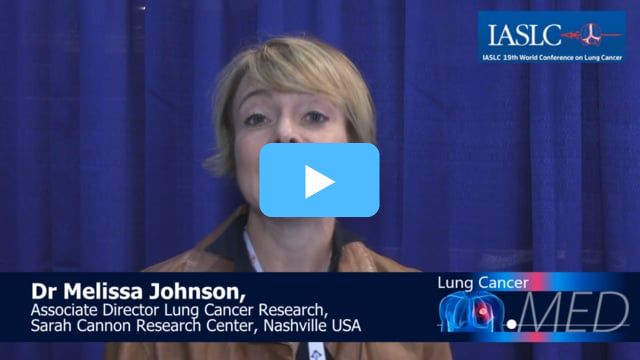 Creative approaches that can be used to keep control of oligometastic disease in patients with non-small cell lung cancer were discussed here at the IASLC 19th World Conference on Lung Cancer.
By Thomas R Collins / Interviewer Esther Drain
Dr Melissa Johnson (Nashville, USA), Professor Ross Camidge (Denver, USA), Dr Sanjay Popat (London, UK)
Chemotherapy can make sense after initial treatment in patients who were thought to have early-stage disease, but who actually have Stage IV disease found intra-operatively that didn't show up on scanning, said Professor Ross Camidge, director of thoracic oncology at the University of Colorado.
This "pseudo-adjuvant" treatment approach makes sense, Professor Camidge said, because these patients are similar to those who have been found to derive curative benefit from adjuvant therapy in early-stage trials. About 1 in 20 patients fall into this "undecided" category, with immune systems that might be able to fight off the disease if only given a bit of extra treatment.
"The only thing that's different is we know it's Stage IV NED (no evidence of disease) as opposed to we're just assuming it's there in some patients who we thought had earlier-stage disease," he said. "That's why the idea of pseudo-adjuvant treatment is attractive."
He acknowledged that "there's zero data to support this one way or another — but what would I do? I would give 3 or 4 cycles of a cisplatin-based doublet, ideally." He would also use CT scans of the chest and abdomen for surveillance, starting at about 6 weeks, and then about every 3 months for 2 years, followed by every 6 months for 2 years.
He also tracks serum markers.
"if you're doing CT scans and everything looks fine and then the serum tumour markers go up, that tells me something's going on and it tells me I'm missing it on the CT scan."
In oligoprogressive disease, in which a clone evolves in the environment of treatment but in a confined area, ablative therapy is gradually being embraced, Professor Camidge said.
The idea is that an early stage of progression can be detectable and, if it's wiped out with local ablative therapy and the same systemic treatment is continued, you can improve results.
"By zapping it, you're buying time until the next independent event occurs, or you're simply debulking the disease and allowing the patient to continue to benefit from the drug," he said.
In another talk, Professor Hak Choy, chair of radiation oncology at the University of Texas Southwestern, said stereotactic body radiotherapy (SBRT), together with immunotherapy, is "the future" in the management of oligometastatic disease. SBRT acts almost as a vaccination, causing a "disruption" to the disease that changes the presentation of tumour antigens on the cell surface that were previously hidden or unrecognizable, making immunotherapy more effective, he said. He said adding SBRT to an immunotherapy is practical because just a few days in between drug cycles is all that's needed.
"The goal is cure and survival, not palliation anymore," Professor Choy said. "We want to prolong the survival as long as we can by treating aggressively."