WCLC 2018: PACIFIC: durvalumab results impressive, but not without questions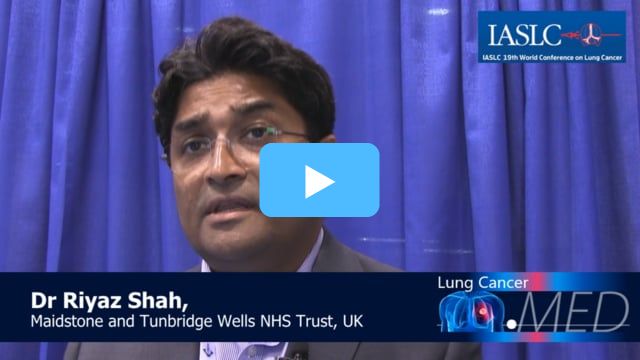 Patients with unresectable stage III non-small cell lung cancer taking durvalumab had significantly better overall survival than those on placebo after standard chemotherapy and radiation, according to the latest results of the phase III PACIFIC trial presented here at the IASLC 19th World Conference on Lung Cancer.
By Thomas R Collins / Interview by Esther Drain
Professor Andrea Bezjak (Toronto, Canada), Dr Melissa Johnson (Nashville, USA), Dr Riyaz Shah (Maidstone, UK), Dr Thomas Newsom-Davis (London, UK) discuss the implications of treatment of advanced NSCLC with durvalumab: The PACIFIC study.
The results follow data presented previously that showed a progression-free survival (PFS) benefit for durvalumab over placebo.
Platinum-based chemoradiotherapy has been the standard of care for decades, but with poor outcomes — just 15% to 30% of patients are alive after 5 years.
Durvalumab represents a major step forward, said Professor Scott Antonia, chair of thoracic oncology at the Moffitt Cancer Center, who presented the new PACIFIC findings.
"This is the first study in many years to demonstrate a survival advantage in this patient population," he said.
In the first planned analysis of PACIFIC — with 713 patients enrolled regardless of PD-L1 status — researchers reported an improvement in PFS of 11.2 months.
The latest findings show that, at 24 months, 66.3% of patients in the durvalumab arm were still alive, compared to 55.6% in the placebo arm (HR = 0.68).
Updated PFS data show a median PFS advantage of 11.6 months. At 18 months, 49.5% of durvalumab patients were alive and progression-free, compared to 26.7% in the placebo group (HR for PFS = 0.51).
PD-L1 testing wasn't required, but data for those for whom it was done show that both for those with at least 25% PD-L1 expression and those with less than 25% — the pre-specified tiers — there was a PFS benefit. There was a similar benefit for overall survival for those in that upper tier, but not the less than 25% tier, an analysis showed.
Post-hoc analyses showed a PFS and OS benefit for those with greater than 1% PD-L1 status, researchers said. There was no such benefit for those with less than 1%, although this was not statistically significant.
Professor Everett Vokes, chair of the department of medicine and professor of medicine and radiation oncology at the University of Chicago, said the findings were impressive. But he cautioned that the trial doesn't include data on local control.
"We do know that response rates from the initial publication were higher with durvalumab than they were with placebo — so there's at least some hint that local control was likely improved — but it's not proven," he said.
He also drew attention to the post-hoc analyses suggesting that durvalumab didn't improve PFS or OS in those with less than 1% PD-L1 expression. He acknowledged this wasn't a significant finding, but, "on the other hand, this is 140 or 150 or so patients of the 450 on which biospecimen was tested, and I think it gives some pause and reflection for work to be done in the future." He said questions also remain about optimal duration of durvalumab use.
Nonetheless, it is now a go-to therapy in this group of patients, he said.
"I think that maintenance durvalumab is the new standard of care and it also serves now as the control reference for future trials."