BSH 2018: Molecular biology to drive rational drug usage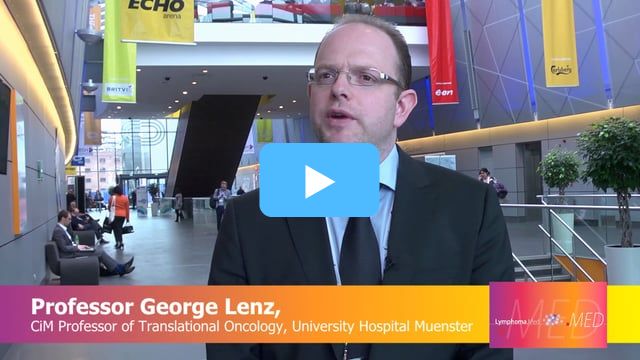 Gene expression profiling has shown that that the activated B-cell and germinal centre B-cell subtypes of diffuse large B-cell lymphoma are driven by different oncogenic pathways and this may provide options for targeted treatment in future… 
Article by Christine Clark. Interviews by Hannah Chatfield.
Professor George Lenz (University Hospital Münster) gives an overview of his presentation at the Lymphoma SIG, where he discussed using molecular biology to guide rational drug combinations.
Diffuse large B-cell lymphomas (DLBCLs) account for 30-40% of all lymphomas in adults but it represents a heterogeneous group of diseases, according to Professor Georg Lenz (Professor of Translational Oncology, University of Münster, Germany). There are a variety of clinical subtypes and there is a heterogeneous response to treatment, for example the R-CHOP regimen cures only 65% of patients.
Gene expression profiling might offer a reliable, reproducible way to distinguish subtypes. Three subtypes of DLBCL have been characterised – ABC (activated B cell-like), GCB (germinal centre B cell-like) DLBCL and PMBL (primary mediastinal B cell-like), but 15–20% cannot be classified according to gene expression profiling.
Almost every retrospective analysis shows that the GCB subgroup, in general, has better outcomes than the ABC subgroup. It is important to understand the variations in the biology of the tumour subtypes because these are likely to affect the response to treatment. The oncogenic pathways that drive the tumour cells are critical because specific pathway inhibitors can only work if the pathway in question is operating in the tumour.
Molecular DLBCL subtypes are 'addicted' to different oncogenic pathways, said Professor Lenz. (A published review has described the processes in detail – Lenz G & Staudt LM. Aggressive Lymphomas. N Engl J Med 2010; 362:1417–1429.)
ABCs are characterised by oncogenic NF-κB signalling leading to inhibition of apoptosis and cell proliferation. This pathway can be inhibited by ibrutinib which inhibits Bruton's tyrosine kinase (BTK). One trial showed that about 40% of ABCs responded to ibrutinib treatment, but GCBs did not, demonstrating that ibrutinib works predominantly in the ABC subtype. The 40% response rate further underscores the heterogeneity of these tumours, said Professor Lenz.
The PHOENIX trial has been designed to evaluate ibrutinib +R-CHOP (rituximab + cyclophosphamide, doxorubicin, vincristine, and prednisone) compared with R-CHOP alone in frontline DLBCL therapy. This trial includes only patients with non-GCB DLBCL, that is, a mixture of ABC and unclassified DLBCL subtypes.  The results are expected soon.
Loss of the tumour suppressor phosphatase and tensin homolog (PTEN) is associated with activation of the PI3 kinase /AKT oncogenic pathway that leads to inhibition of apoptosis and cell proliferation. One study showed that 55% GCBs had completely lost PTEN. Such cells are completely 'addicted' to constitutive PI3K/AKT signalling, said Professor Lenz. AKT inhibition could therefore be a good treatment strategy for PTEN-deficient DLBCLs.
PI3 kinase alpha and delta inhibition down-regulates NF-κB signalling and could therefore be used for ABC patients. A Phase II trial of copanlisib, a pan-PI3 kinase inhibitor with particular activity against the alpha and delta isoforms expressed in malignant B-cells, has yielded promising results.  The trial included patients with relapsed/ refractory DLBCL. The objective response rate (ORR) was 25% and the response was better amongst ABCs than GCBs. The results suggest that copanlisib might be a useful bridge to other treatments.
Professor Lenz concluded that:
ABC and GCB DLBCL patients are characterised by differences in survival and the two different types are driven by different oncogenic pathways
ABCs seem to benefit from BTK and/or PI3K alpha/delta inhibition whilst GCBs could potentially benefit from AKT inhibition
The incorporation of novel agents into molecularly-defined subsets of DLBCLs is crucial to improve to improve the prognoses of affected patients
Based on a presentation given at the British Society of Haematology 58th Annual Scientific Meeting, Liverpool, UK.