BSH 2018: Hodgkin lymphoma: tackling treatment challenges in the older patient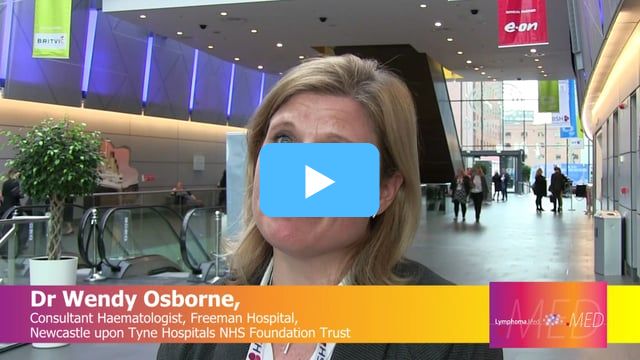 Managing Hodgkin lymphoma in elderly patients can be challenging, given that trial data do not reflect the picture in elderly patients and performance status can vary widely. The absence of clinical trials in this group of patients represents a major unmet need ……
Article by Christine Clark. Interviews by Hannah Chatfield.
Dr Wendy Osborne (Newcastle) discusses the challenges of treating older patients.
Older patients with Hodgkin lymphoma have disproportionately inferior outcomes, according to Dr Wendy Osborne (Consultant Haematologist, Freeman Hospital, Newcastle). They tend to present with low-volume, widespread stage IV disease, are often EBV-positive and tolerate many treatments poorly. There is no standard treatment for elderly HL patients and this is partly because clinical trials do not usually include elderly patients, prognostic scores do not apply to the over-65-year age group and performance status varies widely between individuals. The most common first line treatment in the UK is VEPEMB (vinblastine, cyclophosphamide, procarbazine, etoposide, mitoxantrone and bleomycin), followed by ABVD (adriamycin, bleomycin, vincristine, dacarbazine), and ABVD for two doses followed by AVD or ChlVPP (chlorambucil, vinblastine, procarbazine and prednisolone).  Regimens that have been used in trials for older patients with HL include VEPEMB, PVAG (prednisone, vinblastine, doxorubicin, gemcitabine), CHOP (cyclophosphamide, doxorubicin, vincristine, prednisolone) and BEACOPP/BACOPP (bleomycin, etoposide, doxorubicin, cyclophosphamide, Oncovin (vincristine), procarbazine, prednisolone).
Case study
A 74-year-old woman who presented with night sweats and weight loss was diagnosed with stage IV HL, confirmed by biopsy. She was treated with five cycles of VEPEMB and achieved a complete metabolic response (CMR). Treatment was discontinued after the fifth cycle due to concerns about bleomycin lung toxicity (BLT).
It is estimated that 24% of patients over the age of 60 will develop BLT. Risk factors for BLT include age, cumulative bleomycin dose, renal insufficiency and pulmonary radiation. However, according to a review of the German HD10 and HD13 trials bleomycin is safe in early stage disease if only two courses of bleomycin are given.
Five months later the patient relapsed and a PET scan confirmed stage III relapse of classical HL. The DECC (lomustine, etoposide, chlorambucil, dexamethasone) oral regimen was prescribed as second line salvage treatment. DECC is the standard second line salvage treatment for patients who are not fit enough for intensive salvage and autologous transplant. This patient still had active disease at the end of DECC treatment and further treatment was considered.
According to a recent UK survey, brentuximab vedotin (BV) is now the most common agent for second line treatment in elderly patients. (BV is not licensed for second line treatment or first line salvage.) BV is licensed for second line salvage for patients who are not suitable for autologous stem cell transplant; up to 10 cycles can be given and a CT scan or PET/CT must be performed after the fourth cycle.
This patient was given BV but after four cycles she began to experience difficulty in fastening small buttons and peripheral neuropathy was diagnosed. Peripheral neuropathy occurs more commonly in elderly patients treated with BV, noted Dr Osborne. BV doses were withheld until the neuropathy improved and then restarted at a lower dose but after seven cycles she had progressive disease and was switched to corticosteroid palliative therapy at home.
Dr Osborne concluded that the key messages from this case are:
There is only limited evidence for an optimal approach to first-line treatment options for elderly HL patients and this represents a large area of unmet need.
The risk of BLT is high in older (over 65 years) patients and treatment should be limited to two cycles.
Patients must be monitored carefully for peripheral neuropathy with BV and the dose should be reduced if neuropathy of Grade II or more develops.
Response-adapted clinical trials for older patients with HL are urgently needed.
Based on a presentation given at the British Society of Haematology 58th Annual Scientific Meeting, Liverpool, UK.