ECCO 2018: Improving patient care in IBD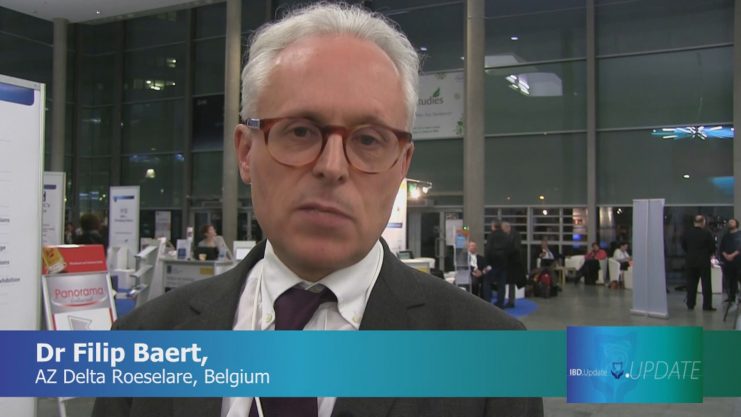 As a community IBD professionals are well aware of the need to raise the bar in terms of delivering quality care that maintains tight disease control and anticipates the disease course rather than merely react to it.1,2 To have a chance of success, such tight control must be based on hard data from close monitoring of relevant surrogate biomarkers of disease activity and mucosal healing. The recently-published phase-3 multi-centre study CALM is the first to show that dose adjustment of anti-TNF therapy based on clinical symptoms in combination with biomarkers achieves better clinical and endoscopic outcomes in CD than the conventional approach of relying on symptoms alone.3
Articles by Maria Dalby. Interviews by Peter Mas Mollinedo.
Dr Filip Baert (AZ Delta Roeselare, Belgium) reviews outcomes from the CALM study.
The most established biomarkers to date are faecal calprotectin (FCP) and C-reactive protein (CRP). Professor Walter Reinisch from Vienna presented a post hoc analysis from the CALM study which assessed the link between mucosal healing and the cut-off levels for FCP and CRP used in CALM. The analysis showed that at 48 weeks after randomisation, patients who had an FCP <250µg/g and a CRP <5 mg/l were significantly more likely to have achieved a Crohn's Disease Endoscopic Index of Severity (CDEIS) <4 with no deep ulcers. The odds ratios for achieving this endpoint were 18.4 (95% CI 7.7, 44.0) for FCP, and 4.5 (95% CI 2.3, 8.7; p<0.001 for both) for CRP. FCP <250µg/g was significantly associated with achieving the endoscopic endpoint regardless of disease location, although the effect was more pronounced in patients with colonic disease. The investigators concluded that FCP is suitable as a surrogate marker in treat-to-target strategies for CD.
In a plenary talk on opportunities for remote monitoring, Professor Daniel Baumgart from the University of Alberta highlighted work carried out by investigators in Denmark on home testing of FCP. An early version where the patient photographed a coloured test strip with a mobile phone, sent to the clinic and received the result back within 15 seconds showed good correlation with ELISA testing.4 This concept was further developed to include remote FCP monitoring and disease-specific education and advice via a website or mobile app; this concept was highly acceptable to patients and showed benefits in terms of improved treatment adherence and quality of life with fewer clinic visits,5 and also significant reductions in disease activity and FCP levels which allowed treatment to be individualised.6, 7
Self-management initiatives based on health behaviour and coaching interventions, such as myIBDcoach in the Netherlands, have been shown to reduce outpatient visits and hospital admissions compared with standard care, although no difference was seen in terms of flares, use of steroid rescue medication, emergency visits or surgery.8 Remote monitoring via the internet is now an integral part of clinical practice in many centres, including in Professor Baumgart's own centre in Canada where many patients live far from the clinic. The University of Alberta has developed the ConnectCare smart platform where patients can interact with the care team and patient-reported outcomes can be entered on the electronic medical record, which can then aid decision-making and suggest action based on integrated information. As mobile technology and artificial intelligence continue to involve, remote disease management based on data from via biosensors and smart devices connected to the Internet of Things will soon become a reality in IBD; the challenge for clinicians and researchers will be to ensure that real-life use of the new technologies fulfils their potential to save lives, improve the quality of care, and reduce health-care costs.
The importance of engaging patients in direct interaction with the IBD team was highlighted by Germari Bianchi, a young South-African woman currently living in Italy, who was diagnosed with CD in April 2006. Her IBD journey has been fraught with flares, hospital admissions and coping with multiple treatment failures, but by refusing to be defined by her condition she has achieved victories that are all the sweeter for the difficulties and anxieties endured along the way: completing her PhD in geology, getting married, and giving birth to her first child. Her own experience of taking part in clinical trials has taught her that taking an active part in the day-to-day management of her condition can help her feel better and overcome her fears. Encouraging patients to take part in clinical studies will benefit both patients by empowering them as stakeholders in their own care, and IBD professionals by providing important patient-reported data for research.
References
Peyrin-Biroulet L, Sandborn W, Sands BE, et al. Selecting Therapeutic Targets in Inflammatory Bowel Disease (STRIDE): Determining Therapeutic Goals for Treat-to-Target. Am J Gastroenterol 2015;110:1324-38.
Colombel JF, Narula N, Peyrin-Biroulet L. Management Strategies to Improve Outcomes of Patients With Inflammatory Bowel Diseases. Gastroenterology 2017;152:351-361 e5.
Colombel JF, Panaccione R, Bossuyt P, et al. Effect of tight control management on Crohn's disease (CALM): a multicentre, randomised, controlled phase 3 trial. Lancet 2018;390:2779-2789.
Elkjaer M, Burisch J, Voxen Hansen V, et al. A new rapid home test for faecal calprotectin in ulcerative colitis. Aliment Pharmacol Ther 2010;31:323-30.
Elkjaer M, Shuhaibar M, Burisch J, et al. E-health empowers patients with ulcerative colitis: a randomised controlled trial of the web-guided 'Constant-care' approach. Gut 2010;59:1652-61.
Pedersen N, Thielsen P, Martinsen L, et al. eHealth: individualization of mesalazine treatment through a self-managed web-based solution in mild-to-moderate ulcerative colitis. Inflamm Bowel Dis 2014;20:2276-85.
Pedersen N, Elkjaer M, Duricova D, et al. eHealth: individualisation of infliximab treatment and disease course via a self-managed web-based solution in Crohn's disease. Aliment Pharmacol Ther 2012;36:840-9.
de Jong MJ, van der Meulen-de Jong AE, Romberg-Camps MJ, et al. Telemedicine for management of inflammatory bowel disease (myIBDcoach): a pragmatic, multicentre, randomised controlled trial. Lancet 2017;390:959-968.