ISH/BSH 2016: Professor John Radford (The University of Manchester) and Dr Graham Collins (Oxford University Hospitals) discuss the key issues to come out of the session on challenging current clinical practices in HL. Also included associated article entitled 'Rethinking risk for better outcomes in ASCT'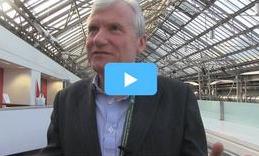 Rethinking risk for better outcomes in ASCT
by Christine Clark
Dr Craig Moskowitz, Memorial Sloan Kettering Cancer Center, NY, USA.
Patient populations are changing – before 2010 all relapsed or refractory Hodgkin lymphoma (HL) patients were told they needed salvage therapy followed by a transplant but this may be changing, according to Dr Craig Moskowitz (Clinical Director, Division of Hematologic Oncology, Memorial Sloan Kettering Cancer Center). There are six groups of patients who need second line treatment – those with (1) relapsed advanced HL, (2) primary refractory advanced HL, (3) early stage HL treated with full course chemotherapy, (4) early stage HL treated with four months' chemotherapy followed by radiation and the rare patients who received short course (5) chemotherapy or (6) chemo-radiotherapy but relapse with advanced-stage disease.
A frequent question is, "Should we transplant patients who do not have negative PET scan after salvage chemotherapy?"  Studies at Memorial Sloan Kettering Cancer Center (MSKCC) showed that those in remission defined by functional imaging had a 3 out of 4 chance of being cured and those not in remission had a 1 in 4 chance of cure.  These latter patients should be treated differently but still with curative intent, emphasised Dr Moskowitz. A later study, in which salvage chemotherapy with the ICE regimen was used, showed that patients who had PET-negative nodal disease had better outcomes than those who had PET-negative extra-nodal disease – and this is an important message, said Dr Moskowitz.
The AETHERA study protocol did not include PET scanning but about two thirds of patients had PET imaging anyway. The findings suggested that if a patient was PET-negative pre-transplant, then there was no role for post-transplant therapy. Again, it turned out that extra-nodal disease was the single most important risk factor to determine outcome for patients with HL.
Early stage HL, treated with chemotherapy alone, that relapses with early stage HL, can probably be cured easily but it is unclear how much treatment is needed so, at present, these patients are given salvage chemotherapy and transplantation.
Primary refractory HL is defined as biopsy-proven disease during or at conclusion of ABVD chemotherapy. A recent review of patient data (at MSKCC) shows that the key step is getting disease under control in first 3-9 months post-transplant when most relapses or transplant failures occur  – if this is done outcome is good. This is important information because sometimes patients with primary refractory disease are told that the prognosis is very poor but this is not the case, said Dr Moskowitz.
Another common question is, "Does the use of brentuximab vedotin (BV) pre-transplant impact outcomes? (Dr Moskowitz noted that BV is not authorised for this indication in the UK but is routinely used in the USA as part of salvage chemotherapy.) Five separate phase 2 clinical trials have examined the use of BV pre-transplant  – BV followed by  ICE, BV as a single agent, BV and bendamustine, BV and ICE and BV and ESHAP.  A study conducted at MSKCC (MSKCC 11-142) involved giving six doses of BV pre-transplant and additional chemotherapy to those who had a positive PET scan after BV. The results were outstanding – more than 80% who had negative PET response to the treatment programme were likely cured, said Dr Moskowitz.
Probably the correct place for pre-transplant BV is in those patients with a lesser disease burden. Salvage chemotherapy alone has a 60% CR whereas BV alone has a 30% CR, he said.
Post-transplant BV was approved by FDA in 2015 and all patients in the USA are now entitled to receive post-transplant BV for one year. The results of the AETHERA study (which compared BV with placebo, post-transplant) showed that there was almost a 20% increase in progression free survival (PFS).  The two most important risk factors (for poor responses) were extra-nodal disease at time of relapse, and the absence of a complete response to salvage chemotherapy.
Increasing numbers of patients are receiving BV early and so the question arises, "What if a patient is not BV-naïve?" Dr Moskowitz recommended a common sense approach. If the patient has a CR to BV-AVD but the duration remission is short, then makes no sense to give BV again; however, if there is a good response to BV followed by a remission longer than six months and later relapse, then it is reasonable to give BV again.
If peripheral neuropathy develops then the drug should be stopped and the patient should not be given any other drug that causes peripheral neuropathy.
For refractory or relapsed HL in BV-naïve patients, experience at MSKCC shows that remission duration of less than one year is not unfavourable – indeed it is the norm. The following groups of patients should be considered for BV treatment: those with extra-nodal disease, heavily pre-treated patients, any patient who needs more than one salvage treatment and any patient with multiple risk factors.
Ideally, allogeneic stem cell transplant should be avoided – it is preferable to cure upfront, said Dr Moskowitz. Being in remission (i.e. PET-negative) at the time of autologous stem cell transplant is the single most important factor for success, according to the ad-hoc analysis of PET in the AETHERA trial, he added.