ECCO 2016: Marian O'Connor (Harrow, UK) and Helen Terry (CCUK) discuss the importance of the IBD nurse, how the role has changed, how the UK had led the way and what the future holds for IBD nurses.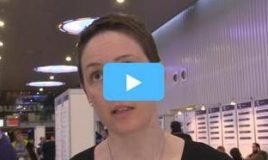 The future is now – importance of the IBD nurse in patient care.
by Maria Dalby
Marian O'Connor (St Mark's Hospital, London, UK ), Silvio Danese (Milan, Italy) and Palle Bager (Aarhus University Hospital, Denmark).
IBD nurses provide a vital link between patients and gastroenterologists by delivering individualised support and helping patients adopt a proactive approach to living with IBD. However, rising patient numbers and evolving IBD treatment paradigms are putting IBD units under pressure and hospitals must ensure IBD nurses have adequate resources to manage this workload and maintain the quality of care in the future. This year's Nurses of ECCO (N-ECCO) educational symposium explored the role of IBD nurse specialists within multidisciplinary teams and discussed what the future might hold in terms of challenges and opportunities.
Introducing the symposium, Marian O'Connor from London described how the IBD nurse role has evolved in the UK over the past two decades, from its first introduction in 1995 by Sheila Phillips1 through to the recent publication of the IBD Standards document in 2013 which states that each British hospital should have a minimum of 1.5 full-time IBD nurse specialists. At a European level, N-ECCO was formed in 2007 and a consensus statement document published in 2013 which defines the IBD nurse specialist as an "autonomous clinical expert in IBD who is responsible for the assessment and provision of evidence based care planning, and treatment evaluation, and who provides practical information, education and emotional support for patients with IBD" who practices within the professional competency and accountability of nurses in each individual country.2  The key role of the IBD nurse as a provider of support and education to improve the quality of IBD care remains the same as it was 20 years ago. However, nurses are increasingly acquiring advanced degrees and extended nursing skills including independent prescribing, and the role of the IBD nurse has widened and now encompasses many more aspects of IBD care.
Dr Silvio Danese from Milan in Italy highlighted the importance of IBD nurse specialists from the gastroenterologist's point of view and described how his own IBD nurse colleague had been instrumental in the creation of an IBD centre in Milan ten years ago. The IBD nurse is a central figure in the multidisciplinary team. Once the patient has attended the first hospital visit and the therapy has been decided, the IBD nurse becomes the 'hub' and coordinates the treatment. IBD nursing has been shown to be  highly efficient in terms of reducing consultation and in-patient time3, 4 and improving the quality of care and making patients feel supported and understood.5 In biologic clinics, the IBD nurse plays a key role in coordinating referrals, ensuring patient registries are maintained and providing education and counselling.
Palle Bager from Aarhus University in Denmark looked into the future and predicted that the role of the IBD nurse increasingly is going to involve delivering IBD care via e-health and social media platforms and aiming for greater patient flexibility. IBD nurses are already involved in every step of delivering biologics and as more patients gain access to biological therapy this will become an increasing part of the IBD nurse remit. Education and research will be required to cope with this greater workload, as well as wider collaboration between sites and specialists.
References
Phillips S. Gut reaction. Nurs Times 1995;91:44-5.
O'Connor M, Bager P, Duncan J, et al. N-ECCO Consensus statements on the European nursing roles in caring for patients with Crohn's disease or ulcerative colitis. J Crohns Colitis 2013;7:744-64.
Nightingale AJ, Middleton W, Middleton SJ, et al. Evaluation of the effectiveness of a specialist nurse in the management of inflammatory bowel disease (IBD). Eur J Gastroenterol Hepatol 2000;12:967-73.
Hall A. Recognizing the depth of the IBD nurse specialist role. Gastrointestinal Nursing 2011;9:46-49.
Belling R, Woods L, McLaren S. Stakeholder perceptions of specialist Inflammatory Bowel Disease nurses' role and personal attributes. Int J Nurs Pract 2008;14:67-73.