For grade 2 glioma, radiation plus chemo betters radiation alone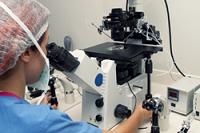 by Bruce Sylvester: Patients with grade 2 glioma who received radiation therapy plus PCV chemotherapy (procarbazine, lomustine and vincristine) have achieved longer progression-free survival and overall survival than patients who received radiation monotherapy, researchers reported on April 7, 2016 in the New England Journal of Medicine.
"This is the first phase III trial to demonstrate conclusively a treatment-related survival benefit for patients with grade 2 glioma," said lead investigator Jan Buckner, M.D., oncologist and chair of the Department of Oncology at the Mayo Clinic Cancer Center in Rochester, Minnesota.
The investigators enrolled 251 subjects diagnosed with grade 2 astrocytoma, oligoastrocytoma, or oligodendroglioma who were under 40 years old and had undergone subtotal resection or biopsy, or who were 40 years old or older and had undergone biopsy or resection of any of the tumor.
The investigators stratified the subjects by to age, histologic findings, Karnofsky performance-status score, and presence or absence of contrast enhancement on preoperative images.
They randomized the subjects to radiation monotherapy or to radiation therapy followed by six cycles of combination chemotherapy.
The median follow-up was 11.9 years, and 55% of the patients died.
The researchers found that subjects who had received radiation therapy plus chemotherapy achieved statistically significantly longer median overall survival than did those who had received radiation monotherapy (13.3 vs. 7.8 years; P=0.003).
The rate of progression-free survival at 10 years was 51% in the radiation plus chemotherapy group, compared to 21% in the radiation monotherapy group. The rates of overall survival at 10 years were 60% for the radiation plus chemotherapy group and 40% for the radiation monotherapy group.
"Our results indicate that initial radiation therapy followed by PCV is necessary to achieve longer survival in patients with grade 2 glioma and that salvage therapy at relapse after radiation therapy alone is less effective," said Bruckner. "It has also been hypothesized that other genetic alterations may be responsible for a small subset of patients whose glial brain tumors are chemotherapy-resistant. However, radiation therapy plus PCV appears to represent the most effective treatment identified to date for the majority of patients with grade 2 glioma," he added.